CPVC cement is a solvent for joining plumbing pipes and keeping them firm. But for a better outcome, you need to understand all the differences between the orange and yellow CPVC cement.
Whether you are a new professional plumber or a DIY enthusiast homeowner who needs a refresher on CPVC cement, you must know the best solvent available. This article will show you the differences between the two best CPVC cement, allowing you to choose the best one for your project. 
A Quick Comparison Table 
Here's a quick comparison between Yellow and Orange CPVC cement. You can come to a quick decision with it. 
| | | |
| --- | --- | --- |
| Aspects | Yellow CPVC Cement | Orange CPVC Cement |
| Special Feature | Protects Pipes From Corrosion | Approved For Corzan CPVC Piping Systems |
| Benefit | No Primer Needed | Thicker Version Can Fill Gaps for Solid Bonds |
| Usage | Cold and Hot Water Systems | All Types of CPVC Pipes |
| Set Times  | 4 – 5 minutes @ 30° F to 50° F2 – 3 minutes @ 50° F to 70° F1 – 2 minutes @ 70° F to 90° F | 4 – 5 minutes @ 30° F to 50° F2 – 3 minutes @ 50° F to 70° F1 – 2 minutes @ 70° F to 90° F |
| Container Size | 4 Ounce, 8 Ounce, 16 Ounce, 32 Ounce, Gallon | 4 oz., 8 oz., 16 oz., 32 oz., Gallon |
Key Differences Between Yellow And Orange CPVC Cement
Made by Oatey, FlowGuard Gold 1-Step all-weather fast set Yellow cement works for cold and hot water systems up to 200°F or 93°C. With a specially designed preventive formula, it protects pipes from corrosion. 
On the other hand, fast-set Orange cement comes in two variants, Oatey Heavy Duty Orange CPVC Cement and Oatey Medium Orange CPVC Cement. Professional plumbers have used hot and cold water systems for more than 100 years. 
Here are some key differences between Yellow and Orange CPVC cement: 
Oatey has designed this FlowGuard Gold 1 step Yellow cement for all-weather protection for pipes round the year from corrosion. With a recommended application temperature of 0°F to 110°F, it sets fast and offers a low VOC. 
On the contrary, Oatey Orange CPVC cement with medium and heavy-duty variants is approved for Corzen CPVC piping systems. With medium and thick viscosity, this CPVC cement quickly fills gaps and provides more working time. 
Oatey recommends using this cement between 40°F and 110°F for a better result. 
Both Yellow and Orange CPVC cement offer some specific benefits. Let's check them out. 
With Yellow CPVC cement, you will not have to apply any primer if your local code permits. While it is pretty easy to apply, you will get excellent gap-filling properties because of its medium body component size. 
Besides, it meets California South Coast Air Quality Management District requirements, a bonus for that locale. 
Similarly, Medium body Orange CPVC cement provides excellent gap filling properties and is pretty easy to use. But the thicker version can fill gaps for solid bonds. 
Yellow CPVC cement is designed to use for cold and hot water systems. You can use this solvent for a temperature up to 200°F. 
Most importantly, you can use it with copper hot and cold potable water pipe witting up to 2 inches in diameter with an interference fit. 
In contrast, you can use Orange Medium CPVC cement with all types and classes of CPVC pipe having 6 inches diameter with an interference fit.
The number is 12 inches fittings in diameter. Besides, you can use this low VOC fast set cement for solvent welding. 
Set time is essential for cement or solvent because it determines how much time you will require to finish the project. 
For Yellow CPVC cement, you will require 4 to 5 minutes at 30° F to 50° F to set. Similarly, it will take 2 to 3 minutes at 50° F to 70°F and 1 to 2 minutes at 70° F to 90° F. 
The set time is similar for both variants of Orange CPVC cement. So, there's no difference between them in setting performance. 
Container size is always important as it allows buyers to pick up the exact amount they need. It can be a determinant factor when choosing between two products.
For what's it worth, both these products come in various similar size containers as the same company manufactures them. You will find 4 oz., 8 oz., 16 oz., 32 oz., and gallon containers for Yellow and Orange CPVC cement. 
Which CPVC Cement Is Best For You?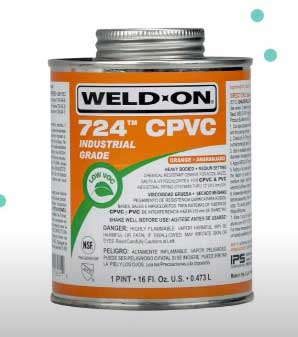 With a detailed discussion of this nature on Yellow and Orange CPVC cement, it shouldn't be hard to understand what should be the best product for your project. 
But if you are still confused, here's the deal, I will help you decide. 
Before I share it with you, let me say that both products are very high quality and perform excellently.
Back to what I was saying, you should choose Yellow CPVC cement if your project is about hot and cold potable water pipes. 
Otherwise, you should go with Orange CPVC cement as it is compatible with any CPVC pipe having 6 and 12 inches diameter. 
Frequently Asked Questions (FAQ) 
What is yellow CPVC glue used for?
Yellow CPVC glue is a low VOC and fast set cement that on solvent weld copper tubes hot and cold potable water pipes with a maximum diameter of 2 inches. 
What is medium orange CPVC cement used for?
Medium Orange CPVC cement can work with 6 inches pipes and is used for drainage pipe, waste, and vent systems based on its features. 
What is the strongest CPVC glue?
Oatey Medium Bodied Fast Set Orange CPVC Cement is the strongest glue recommended for up to a 200°F and is compatible with any CPVC pipes. 
Will Orange CPVC glue work on PVC?
Interestingly, Orange CPVC glue will work on PVC pipes. But it is wise to use a suitable primer and cement for a specific application. 
Conclusion 
Have you ever thought about what could happen if you have the wrong CPVC glue and your plumbing pipes are damaged? 
The good news is, no need for you to imagine it anymore. You are good to go as you have read my yellow vs. orange CPVC cement review. 
So, go out there, purchase the right one and nail your project.