For commercial purposes, a typical lawnmower won't be sufficient. You'll need power, constant speed, durability, and versatility simultaneously to deal with heavy-duty mowing projects.
In this case, I've found the Ferris FW15 after researching and checking countless online lawnmowers. To help you get a detailed idea about it, I've shared my experiences with this super-efficient product and a comprehensive review. So let's get deeper into it!
Features of Ferris FW15 Walk-behind Mower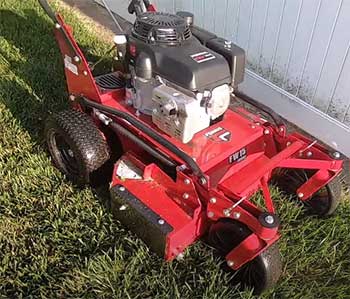 A powerful engine is the first thing to consider if you tend to perform lawn-mowing like a pro!
Even my personal focus has always been a top-notch engine as it gives the real strength needed to a lawn mower.
Luckily, the Ferries FW15 has got you covered with its 10.2 Horsepower engine.
Coming in 389 CC cylinder, you'll find it so powerful and stronger to deal with any lawn; it doesn't matter whether it is a small farm or a large-sized lawn.
Thus, this commercial lawn lower ensures optimal traction to go either backward or forward, even if the terrain appears to slope. This is how I got the maximum results for the most accessible and challenging jobs.
Thanks to the automatic air-cooling option, the engine stayed out of overheating issues even after I used it for an extended period on heavy-duty mowing!
Hands down, an efficient deck plays a significant role in keeping the engine and its nearby components well-protected. As a result, it has to be sturdy and large in size.
I don't think you need to worry about the Ferries FW15. This price segment will let you get a 32″ mulch deck, including dual steel-cutting Marbain blades (12 & 14 gauges) with a thickness of 5mm.
Personally, I've found its cutting height ideal as well, which is 3.8 to 12.7 cm. Because of its 2.7mm timed steel deck, you'll find the Ferris FW15 way more durable than the traditional choices. And yes, they're fast enough to be commercial-grade blades.
Can you guess which feature makes me fall in love with it? Here it is, the single-hand control system! Unlike the mainstreams, Ferris FW15 is easily controllable and moveable, despite having a bulky structure. The credit goes to the convenient handle it comes with.
To add icings to the cake, the maker of this model has added four adjustable positions to adjust the handlebar. That's why I found it so comfortable operating using my hand only. I hope you'll find it convenient too!
Excellent Design and Construction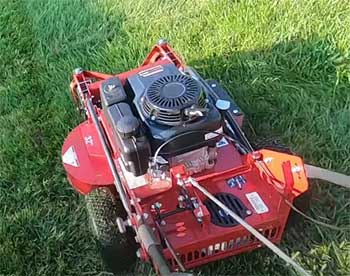 I don't think you can leave any objection to its overall design, size, and construction.
Despite having a weighty frame, the manufacturer of the Ferris FW15 has made it in such a way that it will easily fit in relatively tight areas.
Apart from its compact design, its build quality deserves praise for having a heavy-duty steel frame.
And look at the color; alluring red with a combination of classic black can easily take the "wow" out of your mouth!
Wheels allow a lawnmower to push, run, or take a particular load. Even if the engine is top-notch, you can't get the most out of your mowing task in case the wheels appear weaker or fragile.
Fortunately, this won't be the case with the Ferris FW15. Here, I got to enjoy both caster and fixed wheel configurations. The front caster wheels get a locking mechanism, allowing your mower to stay fixed if needed. It comes in a standard size of about 10.5 inches.
For supporting the weight and constant pressure, you'll find the rear wheels stronger and a bit bigger coming in around 13 inches.
Unparalleled Hydro Transaxle
Before purchasing this excellent walk-behind mower, I had to struggle mowing over wet grasses and terrains.
But when I got the Ferris FW15, I noticed its peerless hydro that ensured precise controls and tractions on hilly surfaces. I got enough flexibility even over the wet grass.
Hassle-free Height Adjustment
The height adjustment option is one of its striking features, although many lawn-lower experts don't understand its necessity. With its assistance, you can lower and raise the deck by cutting every type of grass effortlessly.
Surprisingly, the Ferris FW15 comes in a single-point height adjustment cutting option, making it a multi-functional walk-behind mower to stand against all kinds of grasses, including weeds, twigs, damp grasses, and so forth.
Lastly, the Ferris FW15 won't let you down in speed. While mowing my lawn, when I turned the mower forward, it went not less than 4 miles per hour at the maximum speed.
Also, if you turn reverse, you'll get a max speed of 2 miles per hour. Here is its performance appraisal.
What Could Have Been Better with Ferris FW15?
As I've mentioned, you'll find the Ferris FW15 bulky as it weighs around 280lbs. Consequently, it's going to be a bit complicated to transfer it between locations unless you do the task by turning the engine on.
In this budget segment, most commercial lawnmowers have at least 1 gallon of gas tank capacity. But when it comes to the Ferris, it gets a tiny .55 gallons of total space.
As the engine is much more powerful, it will produce more gases. So you'll have to refill it, mainly when you perform heavy-duty mowing constantly.
Last Words!
The Ferris FW15 review shows all of its striking features, including the significant advantages and some of its minor drawbacks. With its superior engine and heavy-duty 32″ deck, you're allowed to perform almost anything related to lawn mowing.
Moreover, its single-hand operation allowed me to control it effortlessly. You can change it in 4 different positions depending on your comfort zone. Hopefully, you'll love it!