When choosing a dedicated quality mower, you want to consider its workability, safety features, adjustable settings, ergonomics, durability, versatility, etc.
But which brand to choose?
Hundreds of brands are there. Recently, I have used a Worldlawn mower.
Worldlawn is a reputed brand that manufactures a wide range of lawn mowers. These grass-cutting equipment can provide a decent value for your investment. Your hard work will not go in vain.
Let's dive into Worldlawn Mower review to learn more about their products.
Features of Worldlawn Mowers
Worldlawn is a prominent brand for lawnmowers in the market. Their mowers have many unique features that them apart from the competitors.
Wide Ranges of Lawn Mowers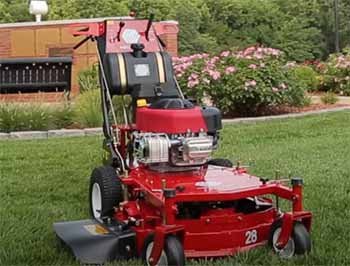 Worldlawn manufactures various lawn mowers such as Viper, Gater, Cobra, King Cobra, Diamondback, Python, Venom, Sidewinder, etc.
For example, its Viper mowers come with Hydro-Gear transmission and adjustable cutting height.
Cobra Mowers come with a zero-degree-turning radius system and dual fuel pump.
This type of mower can pass through the center of gravity of its own efficiently. It does not need additional space for turning. This allows you to use the equipment within a limited scope.
Many Worldlawn mowers come with a Hydro-Gear Transmission system. It has several benefits. For example, you can control the mower at different speed levels.
 This comes in handy for mowers because you don't need consistent speed. Plus, it allows the equipment to transmit power to remote zones.
Operating the machine is more easygoing than manual-based mowers. You can quickly stop the mower in an emergency. Also, it applies torque efficiently and smoothly. 
Lawn mowers from Worldlawn have steel decks. This manual is a perfect addition to such heavy-duty mowers. Powder paint is applied on top of the deck surface to protect it.
Corrosion and rust can't do any harm to them. Furthermore, this type of deck can withstand a lot of abuse due to its impact-resistant properties.
The manufacturer has designed it appropriately to protect the engine, and your feet Debris and blades won't directly touch the engine area.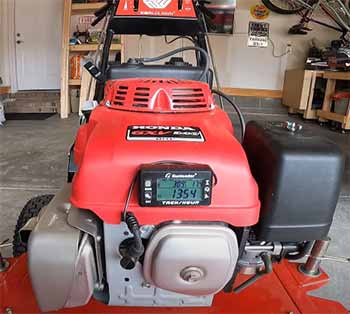 Worldlawn mowers have Yamaha, Kawasaki, or Briggs & Stratton engines.
The manufacturer uses this engine type since it has higher torque and cleaner combustion.
For example, Kawasaki engines are well known for their impressive fuel efficiency and cutting capabilities.
They have only a 15% failure rate, lower than many other engines.
Yamaha engines are also good. They have advanced engine systems and unmatched reliability. In addition, this engine is highly durable and simple to operate.
Briggs & Stratton engines can withstand wear and abuse for a long time. They can last 8 to 10 years easily. Smoothing starting the engine is one of their noticeable features.
Worldlawn mowers come with an electrical PTO. This particular part plays a vital role in the blade engagement to cut various sizes of grass and weeds efficiently.
An electric lawnmower clutch makes the blades more reliable for precise cutting. You don't need to go for repeated cutting. Plus, it makes maintenance tasks easier. 
You just need to turn on the switch simply. It will automatically engage the mower by sourcing power to the blades. You can disengage by turning off the switch.
Adjustable Cutting Height
Worldlawn mowers have an adjustable cutting height ranging from 1.5″ to 5″. But it will vary from one series to another. Operating the mower appears simple.
You just need to raise or lower the blade position to determine the right height level. Set the height level at 3.5 to 4 inches to cut out-competes weeds, and tolerate grubs.
But if you want to cut the regular lawn, set the height level at 2.5 inches. This helps you ensure a healthy environment for the lawn by cutting them in an appropriate size.
Worldlawn mowers come in 2 to 24.5 inches blade sizes. You can adjust the size depending upon the grass size. Usually, larger lawns need large-sized blades.
A bigger blade will reduce the mowing time significantly because it allows you cut a large area at a time. This will save you time and cut down the fuel cost.
However, avoid using any larger blades that the manufacturer does not recommend. Otherwise, it may damage the engine, deck, and blade.
Hydro Oil Cooler Standard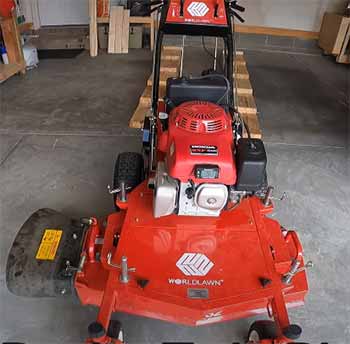 Many lawn mowers feature a Hydro oil cooler. This helpful device keeps the Hydraulic Oil cool.
It can effectively control the system and prevent overheating issues.
The machine disallows the hydraulic oil from reaching unusable temperatures.
Hence, they will be no compromise in its system efficiency since it will run continuously.
You don't need to use too much water in the system, which may cause corrosion issues to the engine. Plus, it ensures smooth oil circulation.
Many Worldlawn mowers come with a dual fuel pump. The fuel or liquid is transferred to the fuel injector or carburetor from the gas area.
Dual fuel pumps are more efficient in operating the machine than single-based fuel pumps. If one pump stops in the middle of mowing, you can continue running it with the other.
Plus, this type of pump allows you to utilize the maximum horsepower of your lawn machine. Cutting the lawn at the most efficient rate is what you will love about it.
What Could've Been Better With Worldlawn Mower?
Though Worldlawn Mowers have many advantages, some users complained about a few aspects of their lawns.
Poor Quality Welding Parts
Some customers complained the welding parts of the lawn mark are prone to break easily. They had to be more careful to avoid putting excessive pressure on the welded parts.
Otherwise, it will lead to premature breakage issues within a short period.
The mower deck belt doesn't have the correct belt tension. It is sometimes too loose or too tight. The belt may get damaged if you loosen it too much. An extremely tight belt will result in ruining the pulleys.
Many users complained that its transmission becomes slippery automatically. It means you don't change one to another. Instead, it automatically jumps to another gear.
However, it can happen from overheating or lower levels of Transmission Fluid.
Inconvenient Customer Support
Some customers are not happy with the customer support of Worldlawn. Their employees failed to provide the right solution for their problem.
Plus, it often takes several days to get their customer support.
Frequently Asked Questions (FAQs)
Where are Worldlawn mowers made?
Worldlawn mowers are made in Beatrice, Nebraska, United States.
Who is a Worldlawn mower made by?
Jiangsu World Plant-Protecting Machinery Co., Ltd. is the primary manufacturer of Worldlawn mowers.
Is Worldlawn still in business?
Worldlawn has shifted its manufacturing site from California to Beatrice. They did not change the encore name. But, the company added Worldlawn's brand to it.
Who is Worldlawn?
Worldlawn is a leading brand in the US market that makes various outdoor power equipment. Lawn mowers and snow throwers are the two most common items they manufacture. You can use them for commercial and residential purposes.
Final Words
Different types of lawnmowers are available in the market. But not all will give you the same experience. Since I have personally used Worldlawn mowers, I know how reliable and efficient their machines are.
Though they have some flaws, they will still add significant value to your lawn. It will surely be an excellent long-term investment.
You can look for other Worldlawn Mower Reviews to learn more about the brand.