With the Woodpeckers Woodworking T-Square, you can quickly and accurately move your pencil from 1 mm to 600 mm without the use of a tape measure. It gives you the perfect and accurate measurement with less error.
It is called T square because it almost looks like the letter 'T'.
There are various types of T square available in the market. In this article, we will talk about Woodpecker T square alternatives so that you can get the best T square for your project.
Substitute For Woodpecker T-square
T square is mainly used in technical drawing. It can also be used to draw angled and vertical lines when combined with a fixed square.
However, the main purpose of using a T-square is to draw a perfect perpendicular that is exactly 90 degrees. So, if you feel that you want to explore more options other than Woodpecker T square, you are at the right place.
Here are some substitutes for Woodpecker T square which you can consider for your work:
Johnson JTS54HD T-Square is one of the best T squares you can ask for. Its blade length is 54″ with 3/16″ of thickness. So if you want to cut some large boards, it will definitely help you with the measurement.
Another great thing about this T square is that it is lightweight. It is made of extruded aluminum which is known for this lightweight feature.
On the other hand, heavy T squares are extremely difficult to work with, and sometimes you can not get the perfect measurement.
Keeping these things in mind, Johnson JTS54HD T-Square can be the best Woodpecker T-square alternative.
Incra T-rule can be another great alternative. If you are seeking a marking rule, then you should definitely try Incra T-rule. Incra has a solid reputation in the woodworking world for producing high-quality tools and accessories.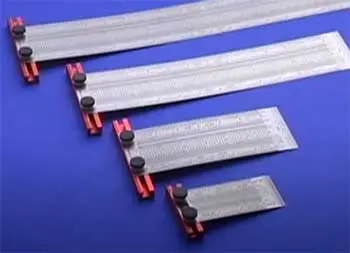 It assists you in marking both parallel and perpendicular lines.
It is a hybrid model, which means it works like both a square and a ruler. It is made of stainless steel, and it makes this T rule long-lasting.
But it has some cons also. The steel utilized for the rule is extremely flimsy and not even close to being flat, which can be considered a flaw.
If the rule were flat, its flimsiness would be excused, but this rule has a constant curve in it.
The Alvin is a straightforward T-square with a 12′′ blade length. For drafting and drawing works on paper or foam board, this is the finest option.
Its plastic head is a good thing because it does not provide scratch on drafting canvas or paper when it comes in contact with them.
However, do not forget that the head also features a scale with a 1/16′′ graduation that will be useful for marking certain places. The head is attached to the blade with four rivets to ensure the safety of the blade and head.
However, it does not work on wood. Because of its extremely lightweight feature and plastic head, it is not suitable for carpenter work either.
Kapro Adjustable T Square
Kapro T square can be a perfect alternative for Woodpecker T square because of its amazing features. The head's adjustment facilitates sliding. This means that you can change the blade length to fit the surface of your workpiece.
With the aid of angle marking, you might also change the head's angle with respect to the blade. For doing this, simply undo the lock, make the necessary adjustments, and then tighten it.
The blade's length is 48 inches, making it ideal for use on large projects like tracing lines on drywall, plywood, OSB, and other board materials. It also has a foldable head and blade, which makes it easier to carry.
So if you are planning to carry your T square from one place to another, you can consider buying this.
Just like the other T square, it has some drawbacks also. The adjustable head becomes very sturdy sometimes, which leads to inaccuracy. But using some lubricant on the adjustable head might solve this problem.
Is Woodpecker T-square Worth It?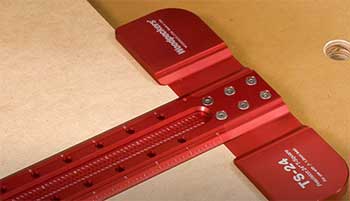 Woodpeckers are renowned for their top-notch quality tool. Without a doubt, this T-square lives up to its reputation.
Woodpecker T-square is precisely straight, and its base glides smoothly against the edge.
The base uses microscopic lips to keep the square supported on the stock. The holes inside the rule will make your work a lot easier.
Also, the holes are sufficiently large for your pencil to slide around, so you do not need to use thick lead.
Considering its quality and easy-to-use feature, Woodpecker T-square is totally worth it.
Frequently Asked Question (FAQ)
How accurate are woodpeckers squares?
Woodpeckers squares are extremely accurate. Its square is a 12″ blade and an 8″ handle and their production technique guarantees that the accuracy is one-thousandth of an inch.
Where are woodpecker tools made?
The entire line of Woodpecker Tools is made in the United States. To ensure that your item is well-made and delivered in a timely manner, they handle all of the machining, engraving, assembling, and packing themselves. Their team of committed engineers is always working to increase the effectiveness of their shop time.
How do you use T square woodworking?
Woodworking T square is very easy to use. Put your T square on the board or paper or whatever you want to measure. Then, mark the paper according to your preference. You can also use the holes of the T square for marking. These 1mm holes are set at 1/16″ intervals, allowing you to insert a pencil and measure accurately.
Final Words
The T- square is an essential tool for woodwork. Woodworkers, engineers, draftsmen, and other occupations in a variety of fields also require this tool.
A T-square can make your work much easier than measuring tape and give you the ultimate accuracy.
Woodpecker T-square is capable of doing almost all the measuring activities for your woodworking project, but you should still know about some Woodpecker T-Square alternatives in case of emergency.
This article will also tell you which features to look for while buying a T-square.