While Woodpecker tools are designed with serious woodworkers in mind, they can be rather expensive and difficult to come by. However, there are some cheaper alternatives to Woodpecker tools that can still get the job done without breaking the bank. 
In this blog post, you will know about some alternatives to Woodpecker tools, that are suitable for any woodworker at any skill level!
Woodpeckers Tools Alternatives That Are Available
Here is a list of these substitutes I am about to talk about:
Incra Tools
Starrett 
Woodraphic
Lee Valley
Wood chisel
iGaging
Several tools can be considered as a Woodpeckers substitute and the outcome is to some extent similar.
These are some of the Woodpeckers tools alternatives that you can consider that are really cheaper and a good number of people have already used this tool to get the job done.
So, let's get to know about these tools.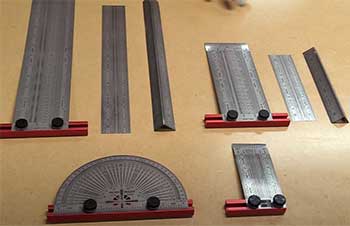 There are so many recommendations for this particular brand as an alternative to the Woodpeckers tool.
The tools that come from this particular brand perfectly make themselves substitutes for the Woodpecker tools brands.
This brand is created by the Taylor Design Group, Inc. Chris Taylor founded the company in the year 1987 after inventing two products of this brand.
Incra has been serving the woodworkers ever since while doing all the complicated wood jobs.
But some of the users say that they may not prefer buying it as they are a bit complicated to use for a newbie. But expert woodworkers will get accustomed to it for years and years of practice.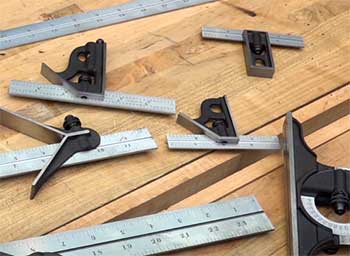 Starrett tools are also considered a substitute by so many users.
You will find that in many forums people are praising the output of the tools of this brand.
It seems to be more versatile and cost-effective compared to the Woodpeckers tool.
This tool is accurate, precise, and longer-lasting. PEC seconds are another good pick that is being recommended by the users in a lower range of price.
Starrett C11H-12-16R Combination Square is another tool of the same or a lesser price range to consider.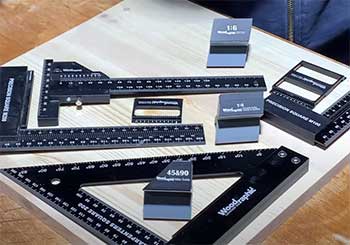 Woodraphic Precision Square Bundles are picked by so many users as an alternative to the Woodpecker tools.
They cost less than the Woodpecker tools, which are being given the most consideration while the measurement seems also very correct.
The tool is very much stable to do the job yet very lightweight which is astounding to some users.
This seems affordable to most users when it comes to pricing. Learn all the differences between Woodraphic and Woodpecker tools.
Lee Valley is another pick from us. It has a line of engineer's squares that is meant to do the job with proper precision.
It is significantly cost-effective for this deviation per inch in sizes up to 8 inches for under $30 each. The users may not find any dimension marks but it is not required to verify the square of this product.
When you are under a budget constraint then you can give it a try.
A woodworking chisel can be a good cost-friendly alternative as well. In short, it is called a Wood chisel.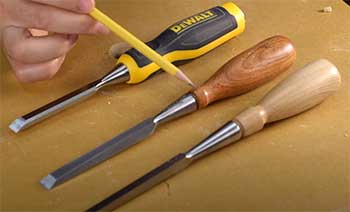 The main purpose of using this tool is to sharpen the surface of the wood rather than having a measurement of it.
It can be used to do multi-purpose works like shaping, sharpening, dressing, shaping, and working on a solid material, mostly wood.
You will not have to let go of a fortune for this tool, unlike the Woodpecker tools.
So, many people take it as an alternative to it do varieties of jobs.
These tools have been used for centuries and can be bought quite cheaply at your local hardware store. They come in different types including straight, fluting, and U-shaped varieties, so check them out before making your purchase.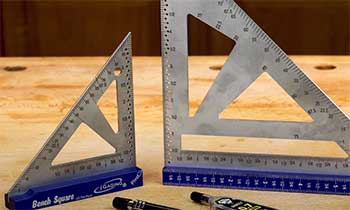 When it comes to having a cheaper alternative to the Woodpecker tools, then the users would name iGaging without any doubt.
Their measuring tools have got the acceptance by the users. They seem to give the best outcome considering the money that needs to be paid for availing them.
You can consider having iGaging tools if you think Woodpecker tools are going to be costly for you. This is a good precision tool that will not let you regret it once you get it to do the job.
So, if you think you need to find out some alternatives to the Woodpeckers tools then the mentioned alternatives can help you out.
But it is better before picking up anything to be sure about the features that the tool might bring in and if it will be convenient for you to work with.
Woodpecker Tools: Is It Worth It?
The Woodpecker tools are being used for woodwork. With the assistance of Woodpecker tools, you will be assured about making the best quality wooden products.
It makes the best well-made wood tools that are going to last for years to come.
There are some features that Woodpeckers tools bring in that make them so expensive compared to the other Woodpeckers tools alternatives. So, the people who can afford it don't seem to hesitate to pay the price as they feel it will be worth their investment.
But if you have a very tight budget, then you will have no other option than to seek other alternatives. But here the question remains if the other alternatives serve better just like Woodpecker tools.
If there are cheaper alternatives that serve just like the Woodpecker tools then there is no point in investing in woodpecker tools in exchange for a lot of o money.
Frequently Asked Questions (FAQ)
What do you think about the measuring equipment?
My personal opinion of these expensive measuring implements that provide precise angles and straight lines is this, if you cannot cut along a straight line, it does not matter how you got the line.
Why is the price so high?
I hope that Woodpeckers has a scientific explanation of why aluminum is the best possible material for their tools. By picking up some other material they can reduce the cost to some extent.
Wrapping Things Up
Just because a product is cheap doesn't mean it isn't worth it. While considering cheaper alternatives to Woodpecker tool, you need to take this into your consideration.
If you're just starting, consider using cheaper alternatives, so you can buy more gear and learn as you go. Some notable alternatives are mentioned in this blog post.
You can pick any of these and carry on the job at a reasonable initial cost.