Want to add screens to your doors?
You have two amazing options: Wizard Screens and Phantom Screens. Both of these brands offer different benefits and aspects that cater to different needs and preferences.
Yet, the design, installation, durability, customizability, warranty coverage, and expense are very different from each other.
Keep reading this article as we discuss the critical distinctions. So, without further ado, let's get started.
A Quick Comparision Table
| | | |
| --- | --- | --- |
| Specifications | Wizard screens | Phantom screens |
| Design | Innovative | Sleek and minimalist |
| Installation | Easy | Complicated |
| Durability | Decent | Excellent |
| Customizability | More | Less |
| Warranty coverage | A limited five-year warranty(mesh and hardware excluded) | Limited lifetime warranty (mesh excluded), Labor warranty for first 24 month |
| Expense | Affordable | Expensive |
Key Differences Between Wizard Screens And Phantom Screens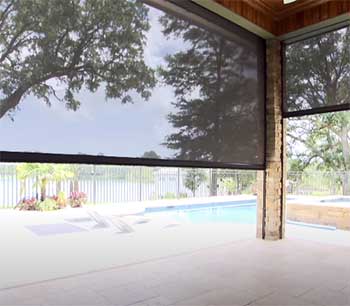 Regarding design, Phantom Screens, and Wizard Screens offer two distinct options.
Phantom Screens are well-known for their sleek and minimalist look, making them an excellent choice for homeowners who want to preserve the aesthetic of their doors.
These screens are made with high-quality materials and are almost invisible when not in use, creating a seamless look to blend in with any door design.
On the other hand, Wizard Screens offer a more customizable design with various color options, allowing homeowners to match their screens to the style of their home. These screens are designed to provide an extraordinary outlook of your living space.
For example, their SlideView patio door screen has an impressive design and whisper wheels for quiet operations and an enhanced look.
When it comes to installation, Phantom Screens are designed for easy installation and are typically installed by professionals. Phantom can be a better choice if you are not confident in your DIY skills or want a professional-looking installation.
In addition, Phantom Screens are installed with minimal disruption to the door and surrounding areas, making them a convenient option.
On the other hand, Wizard Screens can be installed by homeowners, making them a more cost-effective option. Also, the brand has a mobile installation service to make your job easier.
But, our suggestion would be to install the screen with a professional.
Both Phantom Screens and Wizard Screens are designed to last. All of the Phantom Screens are made with high-quality materials like extruded aluminum frames.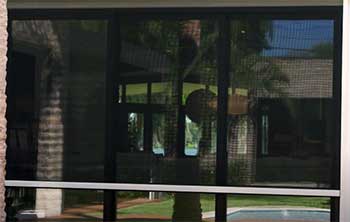 It can withstand heavy usage and harsh weather conditions.
However, they require more maintenance due to their retractable design.
Besides, Wizard Screens are known for their durability and are built to last.
Especially their SlideView and BetterView screens provide superb protection against harsh weather.
But, according to the consumers, they have less durability rating compared to Phantom.
Customizability-wise, Wizard Screens offer more options, including different color options, size options, and screen types. These screens are built to be highly customizable.
They even have other frame options, like vinyl, aluminum, and wood. Eventually, it becomes suitable for people who want to create a screen that perfectly matches the style of their home.
Phantom Screens, on the other side, offer fewer customization options. But they are still designed to blend seamlessly with any door design. So, looking for a sleek and minimalist solution? Phantom will not detract from the overall look of your home.
Better warranty coverage ensures sustainability and high quality. Usually, spending money on the screen is a lifetime and expensive investment. A better screen warranty policy is always an advantage as you don't change your door or window screen more often.
 Where Wizard offers a limited five years of warranty on all the components except the mesh, Phantom comes with a limited lifetime warranty and a two-year labor warranty.
This labor warranty covers the delivery and labor costs for defects for the first 24 months. So, the Phantom screen is a better choice for better peace of mind.
Price is a significant concern as retractable screens were always an expensive investment. Phantom Screens are generally costlier than Wizard Screens due to their sleek design and professional installation process.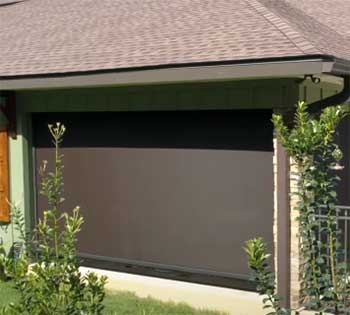 These screens are an excellent option for homeowners looking for a high-end solution and willing to invest in a screen that will last for years to come.
Conversely, Wizard Screens are more cost-effective and offer a more budget-friendly option for homeowners.
These screens are an excellent option for those searching for screens that suit their tight budget.
In general, the price of Phantom screens is around 200 to 300 dollars higher than the Wizard ones for single doors.
Which One Is A Better Pick For You?
Long story short, if your priority is durability, better warranty protection, and a minimalistic and aesthetic look, Phantom will gratify you the most.
But if you are more of a customization freak, willing to have screens with decent durability and easy installation at an affordable price, go for Wizard screens.
Again, it all depends on what your requirement is.
Frequently Asked Questions (FAQ)
Who owns Phantom screens?
Syb Rypma is one of the founders of Phantom screens. He made a partnership with the Rooke family and created Phantom. Nowadays, the CEO of the company is Esther De Wolde.
What is the cost of a phantom screen door?
The expense depends on your desire. A regular Phantom legacy double door can cost up to 1280 dollars. But you will be charged an extra 40 to 60 bucks for a customized one.
Are Phantom screens reliable?
Phantom has provided excellent screens for at least 30 years, making it one of the most trustworthy screen brands on the market. Their superb material choice, high-quality build, and sustainability attracted customers from around the world.
How long do Phantom screens last?
Phantom screens are always built to last for a lifetime. Your warranty can expire, but the screens will last for years. Eventually, your kids will have your screens as an inheritance.
Conclusion
That's all for today. We anticipate the comparison between Wizard and Phantom screens has enlightened you about the distinctions.
Eventually, when considering these brands, it is essential to consider factors such as design, installation, durability, customizability, price, functionality, ease of use, maintenance, and home value.
Considering these factors, you can make an informed decision and choose the solution that best meets your needs and preferences.
Till then! Good luck, and have a nice day.