When it comes to patio furniture, Tropitone is a well-known brand all over America. Tropitone first started its journey in 1954 as a commercial brand for furniture.
Soon, people started to love their works because of their high-end materials, comfort, timeless design, and durability. They initiated to prefer Tropitone as residential patio furniture.
However, I will cover all the questions related to its expense in this article. So, let's get started.
Why Is The Price Tag Of Tropitone So High?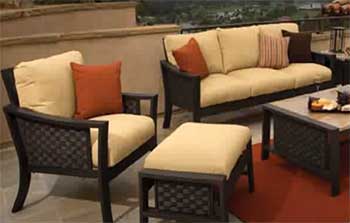 The motive for indoor and outdoor furniture is different.
Outdoor or patio furniture needs to be tougher than regular furniture because patio furniture faces rough conditions like harsh weather, UV rays, termite, Etc.
As a matter of fact, Tropitone patio furniture is made using efficient methods maintaining high-quality materials, iconic design, excellent finish, and unmatched built quality.
But, the price tag is quite high as they offer some amazing and durable furniture.
Because of some distinct characteristics, Tropitone is costly. In this blog post, you will know why Tropitone furniture comes with a higher price tag and if they are worth your investment.
Tropitone is mostly known for outdoor furniture, which is meant to be tough. So, the company ensured good quality materials to make them sustainable.
Tropitone uses aluminum and stainless steel for frames. This material is excellent against harsh weather and is versatile and durable for all kinds of conditions.
 With water-resistant fabrics, UV- resistant vinyl straps, EZ span strap segments, and high-density nylon bushing and glides, Tropitone ensure comfort and longevity.
 Also, all these high-end materials ensure a long-lasting furniture set capable of fighting against the toughest environmental condition possible. In addition, this company has developed a great relationship over the years with premium suppliers so that they can ensure the best quality product to the customers.
Incomparable Built Quality
With high-quality materials, furniture requires build quality. Without efficient build quality, materials do not mean anything.
Because of its unique build, Tropitone furniture has become more expensive. However, the company makes sure that everything is efficient while processing.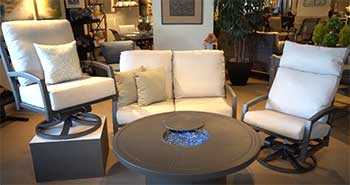 For example, Tropitone is one of the first companies that set a standard for powder coating in the outdoor furniture industry.
Powder coat ensures that your furniture is tough enough against the summer sun, storm, snow, and so on.
Moreover, Tropitone's powder coating is three times thicker than regular paint. By ensuring great finishes, Tropitone promises durability on joints.
Even if you mismanage it by any chance, it will hold up its posture. Despite the environmental exposure, it won't suffer any damage to the joints. So, the better the quality, the more costly it is.
Aesthetic and Timeless Designs
Design is a significant consideration for furniture. When you purchase furniture, you want them to stay in style and design for a while. Keeping that in mind, Tropitone offers more than 300 designs, aesthetic colors, and materials.
So, you have many options to choose from according to your interior and exterior design. Moreover, their designs are boundless.
Torpitone's furniture manufacturers produce beautiful, polished, and desirable products that remain stylish season after season, year after year, and even decade after decade. Without any worries about expiration, you can purchase them.
However, the price increases drastically with their aesthetic and timeless designs and product longevity.
If you compare a piece of regular or indoor furniture to patio furniture, you will be surprised to know how long they last. For example, keeping an item of indoor furniture outside for some days will show no difference. But if you keep it for a couple of weeks, you will see significant damage.
As Tropitone furniture offers aluminum and stainless steel frames with water-resistant fabrics and UV-resistant vinyl straps, they easily tolerate sun, snow, rain, wind, dust, and even termite attacks.
So, this is a good reason why Tropitone furniture is so valuable. Furthermore, Tropitone provides warranty coverage of 15 years to ensure you better service. Watch some of its impressive collection from here!
Tropitone furniture is pretty complicated to build. Compared to other countries, the build-up cost in the United States of America is expensive. For example, a complicated build can cost up to $400. In addition, the sales tax rate is also associated with product costs.
Tropitone products are made in the USA, so their price is pretty high. Moreover, the company does not compromise the quality, finishing, designs, and materials. As a result, it is no wonder why their patio furniture is so expensive.
Frequently Asked Questions (FAQ)
Does Brown Jordan own Tropitone?
On September 15, 2014 – Brown Jordan International announced the acquisition of Tropitone Furniture, Co-creating a company with net sales of nearly $400 million. By acquiring, Brown Jordan gained prominent interest equity of Tropitone.
Where is Tropitone furniture made?
Tropitone operates its distribution and manufacturing of patio furniture in Irvine, California, and Sarasota, Florida. Since 1954, they have provided good quality products according to consumer demand.
Is it worth buying expensive patio furniture?
Considering their materials, sustainability, iconic design, and test of time, patio furniture is worth of high investment. Again, if you have a tight budget for furniture, go for traditional furniture.
What is Tropitone made of?
Generally, Tropitone uses aluminum for frames as they are versatile and sustainable. Also, stainless is used for better finishing and design with a beautiful outlook. Moreover, using powder coat, water-resistant fabrics, UV- resistant straps, high-density nylon bushing, and glides makes them more durable. So people can use them for decades.
Conclusion
That's a wrap for today. With sturdy craftsmanship and longevity, patio furniture is an expensive investment while satisfying you the most.
Eventually, at the end of the blog post, I hope you have a comprehensive idea of why Tropitone is so high and why they are worth every penny. With superb customer service and good quality products, you can choose your patio furniture according to your home design.
Thus, with a bit of search, you will find out if this product can full fill your needs in agreement with your budget.