Empire Today, formerly known as Empire Carpet, is one of the largest and most well-known flooring retailers in the United States. If you've watched television anytime in the last couple decades, you've likely seen one of their catchy and ubiquitous commercials.
And if you've ever gotten an estimate from Empire Today, you may have experienced some serious sticker shock. There's no doubt about it – Empire Today's flooring options come at a premium price compared to many other retailers.
Below, we'll explore some of the key reasons why Empire Today's products command such high prices.
Reasons For Empire Today Being So Expensive

Reason 1: Name Brand Recognition
Empire Today has built up strong brand name recognition over its 60+ years in business. They've achieved this through consistent advertising across all forms of media – TV, radio, print, and now digital.
Their popular jingle "Eight hundred – five eight eight, two three hundred….Empire!" has cemented Empire as one of the most recognized brands in flooring. This level of brand awareness allows Empire Today to charge a premium for their flooring that customers are willing to pay.
Reason 2: Convenience and Speed
A major part of Empire Today's value proposition is speed and convenience. Their tagline "Floors in a day" says it all. With Empire, you can have new carpeting or hardwood floors installed throughout your home literally overnight.
Other flooring retailers often require you to wait weeks or longer for installation.
This level of speed and convenience is extremely appealing to certain customers. And Empire Today is able to charge higher prices because of it, since some customers are willing to pay more to have flooring installed on their own accelerated timeline.
Reason 3: Free In-Home Estimates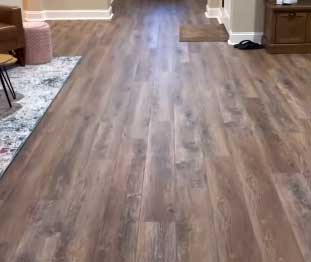 Empire Today offers free in-home estimates, which is not something you'll get from many flooring retailers and big box stores.
An Empire associate will come measure your home and provide a quote for installation and materials.
This is a convenient service that gives customers piece of mind about pricing.
However, the cost of providing these free in-home estimates across the country gets built into Empire Today's flooring prices.
And any special discounts or promotions offered during the in-home visit serve to inflate the original price, so Empire can then appear to be offering a deal.
Reason 4: Aggressive Upselling
The Empire Today sales associates who provide in-home estimates are known to be skilled at upselling customers to more expensive flooring options.
Their well-honed sales tactics help customers "see the value" in upgrades like thicker carpet padding, exotic hardwood species, or premium ceramic tiles.
The sales associate may start by showing budget-friendly options, and then highlighting how much better the premium floors will look in your home. This strategy often convinces customers to spend more than they originally planned.
These upsells boost profits for Empire, allowing them to command higher prices across the board.
Reason 5: Versatile Payment Options
Unlike most flooring stores, Empire Today offers flexible payment options including 12 months special financing and no interest payment plans. Qualified customers can get high-end flooring from Empire Today and spread payments out over time.
This convenience comes at a cost, which Empire factors into its pricing. But for some customers, the ability to get expensive flooring now and pay for it slowly over time is worth the higher prices Empire charges.
Reason 6: Proprietary Branding of Products
Many flooring materials sold by Empire Today are branded with the Empire name and logo. This includes their carpeting, hardwood, laminates, tiles, and vinyl flooring options.
By putting their name on products, Empire can command more customer loyalty and retention.
And since Empire controls the design and manufacturing of products bearing their brand, they can set retail prices higher than generic flooring options. Customers are paying a premium for the Empire brand name on their new floors.
Reason 7: High-Pressure Sales Tactics
There are many reports of Empire Today sales associates using questionable, high-pressure sales tactics in order to close deals.
These include continually dropping prices to make customers feel like they're getting a bargain and using emotional manipulation by asking things like "don't you want nice floors in your home for your family?"
These overly-pushy sales methods generally work to the benefit of Empire, boosting sales numbers and allowing them to overprice goods compared to more subtle retailers. It leaves some customers feeling coerced and regretful of big spending sprees pressured by Empire's sales team.
Reason 8: Misleading Price Matching Policies
Empire Today claims they will price match any competitor's quote on identical flooring products. But the key words there are "identical flooring products."
Empire knows that each retailer sells mostly their own proprietary-branded flooring options.
So when a customer comes to Empire with a cheaper quote from somewhere else, there will almost never be an "identical" product for Empire to try and price match. The price match offer sounds appealing but it's quite deceptive and rarely results in customers getting any discount or concessions from Empire.
Reason 9: Cheaper Options Often Out of Stock
According to many former Empire Today sales associates, the retailer will intentionally run out of stock or limit availability of their most affordable flooring options. This forces customers into picking from the higher-priced options, which boosts company profits.
For example, Empire may steer customers away from their entry-level carpet and claim it's backordered. Then they'll promote the mid-tier and premium carpeting as better options worth the price.
This bait-and-switch tactic often convinces customers to purchase more expensive flooring than they planned for.
Reason 10: Difficulty Canceling Orders
Empire Today makes it very difficult for customers to cancel or return orders – even during their legally-mandated 3 day cancellation period. The company often uses stall tactics or refusal of refunds until legal action is threatened.
Knowing that it's a major hassle to cancel or reverse orders, Empire feels empowered to overprice items and use questionable sales tactics. Many customers get trapped or tricked into expensive purchases from Empire that they later regret.
Frequently Asked Questions (FAQ)
Why is flooring so expensive?
There are a few key reasons why quality flooring is expensive:
1. Materials – Hardwood, natural stone, and plush carpeting use higher-end materials that cost more.
2. Labor – Proper installation requires skilled workers and takes considerable time and effort, which drives up labor costs.
3. Transportation – Shipping heavy flooring materials long distances adds to costs.
4. Branding – Retailers charge premiums for brand name recognition and proprietary products.
5. Store Overheads – Maintaining retail stores and large warehouses adds overhead expenses for retailers.
Can you cancel Empire Today contract?
Yes, Empire Today orders can be cancelled but it can be very difficult. Empire makes customers follow obscure cancellation policies and often uses stalling or confusing tactics. Pursuing legal action is sometimes the only way customers can successfully cancel Empire contracts and get refunds.
Who owns Empire flooring?
Empire Today is owned by the private equity firms Advent International and CVC Capital Partners. They acquired the company in 2018. Empire operates as its own entity with headquarters in Northlake, IL.
What is Empire Today annual revenue?
Empire Today's annual revenue is estimated to be around $1.1 billion per year. They are the largest installer of flooring in the country after Home Depot and Lowe's. Empire has been averaging double digit sales growth annually since being acquired in 2018.
Final Thoughts
Empire Today built their business on speed, convenience, and branding. But those benefits come at a steep price – their flooring options are undoubtedly expensive compared to big box stores and other flooring retailers.
From proprietary branded products to free in-home estimates to flexible financing, every aspect of Empire's business model is tuned to maximize revenues. For many customers, the elevated prices at Empire are worth it for luxurious brand-name floors installed on their timeframe.
But awareness of sneaky sales tactics and misleading promotions can help consumers make the most informed choices when considering this premium flooring retailer. With realistic expectations about Empire's pricing, shoppers can weight the conveniences of their service versus cheaper flooring options available elsewhere.