If you're in the market for vinyl plank flooring, you've probably come across two big brand names: MSI and Lifeproof. Both companies make luxury vinyl plank (LVP) flooring designed to stand up to daily wear and tear while looking like natural materials like hardwood or stone.
But which one should you choose for your home?
In this guide, we'll compare MSI vs Lifeproof vinyl plank flooring to help you decide which brand is better for your needs and budget. We'll look at the pros and cons of each in terms of quality, style options, warranties, and more.
A Brief Comparison Table
| | | |
| --- | --- | --- |
| Feature | MSI Vinyl Flooring | Lifeproof Vinyl Flooring |
| Core | Limestone composite | SPC (stone plastic composite) |
| Wear Layer Thickness | 6-20 mil | 6 mil plank, 20 mil tile |
| Warranty | Limited lifetime residential, 5-10 year commercial | Limited lifetime residential, 5-10 year commercial |
| Styles Available | 150+ patterns | 60+ patterns |
| Average Cost | $3-5 per sq.ft. | $2-3 per sq.ft |
| Where to Buy | Various flooring retailers | Home Depot only |
| Realistic Looks | Highly realistic textures and visuals | Very realistic wood and stone visuals |
| Waterproof | 100% waterproof | 100% waterproof |
| Installation | Floating click-lock, glue down | Floating click-lock, glue down |
| Thickness | 4.5mm to 6mm | 2.5mm to 5.5mm |
| Scratch Resistance | Very good with thicker wear layers | Good with 6 mil wear layer |
| Indentation Resistance | Good with limestone core | Excellent with rigid SPC core |
Overview of MSI Vinyl Plank Flooring

MSI is a flooring manufacturer that makes a wide range of vinyl, laminate, hardwood, and tile products. Their luxury vinyl plank flooring is sold under the well-known brand names of Everlife and Alpha.
Some quick facts about MSI's LVP flooring lines:
Everlife – MSI's premium vinyl plank collection with the thickest wear layers and high-definition imaging technology for realistic looks.
Alpha – Budget-friendly line with thinner wear layers but still durable and scratch-resistant.
Wear layer – Ranges from 6 to 20 mil thick. The thicker the wear layer, the more durable the floor.
Warranties – Limited lifetime residential, 10-year light commercial.
Styles – Over 150 different vinyl plank floors covering wood looks, stone, tile visuals, and more.
Now let's look at the key benefits and downsides of choosing MSI luxury vinyl flooring.
Pros of MSI Vinyl Flooring
Durability: MSI's thickest 20 mil wear layers can withstand heavy residential foot traffic for decades. The floors are dent, scratch, stain, and fade resistant.
Realistic looks: The Alpha and Everlife planks use high-resolution imaging and texturing to capture the natural beauty of real wood and stone. Many styles are almost indistinguishable from the real thing.
Waterproof: MSI's rigid core luxury vinyl planks are 100% waterproof, making them ideal for kitchens, baths, basements, and other damp areas. No underlayment needed.
Affordable: While not the cheapest LVP around, MSI offers excellent value at middle-of-the-road price points. Their entry-level Alpha lineup is very budget-friendly.
Easy installation: MSI's floors feature an innovative Uniclic click-locking system for quick and easy floating installation, no glue required. Planks can also be glued down.
Extensive style selection: With over 150 vinyl plank floors to choose from, MSI offers a huge variety of color and style options to suit any decor. Lots of trendy and unique looks.
Potential Downsides of MSI
Not as durable as WPC: MSI uses a limestone-based rigid core rather than the stone plastic composite (SPC) cores found on some luxury planks. WPC cores are generally more dent and scratch resistant.
Occasional quality issues: There are some complaints of poorly cut planks, fragranced off-gassing, and damage out of the box. Quality control could be improved.
Not suitable for all rooms: MSI does not recommend their LVP for wet rooms like laundry rooms and saunas. For those areas, go with a fully waterproof floor.
Overview of Lifeproof Vinyl Flooring
Lifeproof is a brand of luxury vinyl plank and tile owned and produced by Home Depot. As a house brand, it aims to offer quality LVP flooring at competitive prices exclusively through Home Depot stores.
Here are some basics about Lifeproof vinyl flooring:
Core – SPC or stone plastic composite for rigidity and stability
Wear layer – 6 mil for vinyl plank, 20 mil for tile products
Warranty – Limited lifetime residential, 5 or 10 year commercial
Styles – Around 60 wood, stone, and tile looks covering classic to trendy
Next let's see how Lifeproof LVP stacks up in terms of benefits and downsides.
Benefits of Lifeproof Luxury Vinyl Flooring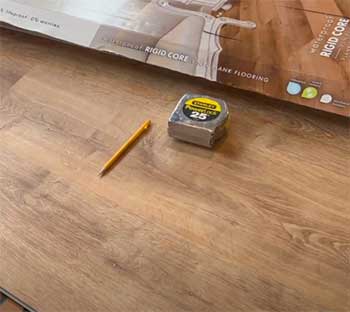 Affordable price: Lifeproof hits a nice sweet spot – not the cheapest but not expensive either, at $2-5 per square foot. Great value for the quality.
Durable and scratch-resistant: The floors stand up well to pets, kids, and high traffic areas thanks to the rigid SPC core and protective wear layer.
Spills, moisture, and waterproof: From kitchen splashes to basement flooding, the floors withstand it all. No moisture damage to swell or warp them.
Quick DIY installation: The floors click together simply with no glue or nails needed. Most homeowners can install Lifeproof plank flooring in just a weekend.
Realistic visuals: Styles like weathered hardwood or natural stone look very convincing thanks to advanced printing technology and texture.
Large product selection: With scores of colors and patterns covering stone, wood, and tile visuals, you can find a floor for any design taste.
Potential Drawbacks of Lifeproof
Not suitable for all wet areas: While waterproof, Lifeproof LVP is not recommended for laundry rooms, saunas and other very damp spaces.
Prone to damage if overheated: The planks can melt, scorch or deform if exposed to excessive direct sunlight or radiant heating.
Occasional minor scratches: Though durable, the floors can get minor surface scratches from pets or moving heavy furniture. The scratches are not too noticeable.
Limited style availability: With Lifeproof only sold through Home Depot, you are limited to whatever designs they have in stock. Less variety than some brands.
Not as thick as other luxury vinyl: At 2.5mm – 5.5mm thick, Lifeproof planks are middle-of-the-road but thinner than some premium LVP flooring.
MSI And Lifeproof Comparison
Now that we've looked at MSI and Lifeproof separately, let's directly compare the two brands across the key factors: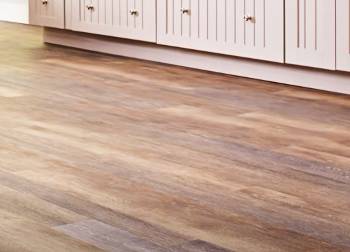 Durability and wear layer thickness – MSI offers thicker wear layers, from 6 mil up to 20 mil. This gives their floors an edge in durability over Lifeproof's maximum 6 mil wear layer.
Rigid core – Lifeproof uses the superior SPC core while MSI uses less dent-resistant limestone composite.
Realism of visuals – Very similar 4k imaging technology and texture embossing makes both brands convincingly realistic. MSI has a slight edge in number of patterns.
Waterproofing – Both floors are 100% waterproof and unaffected by spills or flooding. MSI not recommended for laundry rooms.
DIY installation – Straightforward click-lock system allows easy DIY for both brands. Lifeproof tends to have fewer reports of planks not clicking together well.
Warranties – MSI provides a longer residential warranty of limited lifetime vs Lifeproof's limited 30 years. Both have 5-10 year commercial warranties.
Price – Lifeproof is generally cheaper, averaging $2-3 per square foot. MSI averages $3-5 per square foot so is pricier but worth it for the thicker wear layer on premium lines.
Availability – Lifeproof is only sold through Home Depot which limits selection, while MSI can be purchased through various flooring retailers.
Overall, MSI vinyl flooring excels in maximum durability and number of patterns available. But Lifeproof offers impressive durability of its own at lower price points while still looking great. Both are excellent options that will give you years of enjoyment.
Frequently Asked Questions (FAQ)
Still have some questions about MSI and Lifeproof luxury vinyl plank flooring? Here are answers to some common FAQs:
Does MSI make Lifeproof flooring?
No, MSI and Lifeproof are separate brands. Lifeproof is a house brand owned and produced exclusively by Home Depot. MSI is an independent company that makes multiple flooring types.
Is MSI a good brand for vinyl plank flooring?
Yes, MSI is one of the most popular and well-reviewed vinyl plank flooring brands on the market. Their Everlife line offers exceptional durability and realism in styles that mimic wood and stone.
Is MSI a good flooring?
Overall, MSI is considered a very good choice for multiple flooring types including vinyl plank, laminate, hardwood, and more. Their products offer great performance at moderate prices from a manufacturer with decades of experience.
What is the best brand for luxury vinyl plank flooring?
Some top LVP flooring brands in terms of quality and reviews include MSI Everlife, COREtec, Shaw Floorte, and Karndean LooseLay. But there are many good brands, and the right one for you depends on your budget and preferred specs.
Which vinyl plank flooring is better, Lifeproof or MSI?
MSI vinyl flooring is the winner for durability thanks to its thicker wear layers, and offers greater style selection. But Lifeproof provides impressive scratch and water resistance for the price, so it comes down to your priorities. Overall both Lifeproof and MSI are excellent vinyl plank flooring brands.
The Bottom Line
When comparing MSI and Lifeproof, both deliver high quality, durable, waterproof vinyl plank flooring with realistic visuals. MSI leads in maximum durability while Lifeproof wins for affordability.
If you want to splurge for ultimate longevity in high traffic areas, go for MSI's 20 mil wear layer Everlife collection. But if keeping costs down is key, Lifeproof makes an excellent budget-friendly choice that still looks amazing.
Whichever brand you choose, be sure to carefully follow the manufacturer's installation instructions, including subfloor preparation. With proper care, your new vinyl plank flooring will stay beautiful and functional for many years of enjoyment.