Are you looking for a paint roller for your cabinets? Then you must know WHIZZFLOCK vs. foam for cabinets. You might be confused about which paint roller you should use, flock or foam.
Many people have this same question. I am going to discuss their features and differences. At the end of it, you will know which one to choose for your project.
Whizz is a paint roller manufacturer based in Florida that makes excellent flocks and foam rollers. I will give you a clear idea about these two products.
A Comparison Between WHIZZFLOCK and Foam Paint Roller
Let's have a quick comparison table consisting of the differences between these two paint rollers:  
| | | |
| --- | --- | --- |
| Features | Whizz Flock | Whizz Foam |
| Material | Flock | Condensed Foam |
| Features | Lint-free/ ultra-glossy finish | None |
| Coating | Enamels, Varnish, etc. | Shellacs, Lacquers. Etc. |
| Surfaces | Ultra-smooth | Smooth |
| Usage | Various Surfaces | Only cabinets and doors |
| Size & Shape | 4 inch/ Jumbo | 4 Inch/ Mini |
| Price | Around $7.98 | Around $6.28 |
Key Differences Between WHIZZFlock And Foam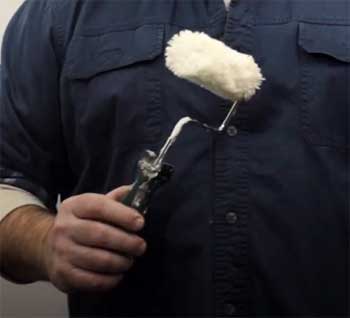 A comparison table is best for quick ideas. But it is not enough for making any decision.
If you want to decide on a paint roller, you must know the features of both flock and foam rollers.
Only after that can you make the right decision.
As I already mentioned, both flock and foam are good quality rollers. But they have differences in their features and usage.
Here I will talk about those features and compare the two.
The ultimate result will be purchasing the right paint roller for your cabinet painting project. Here are the key differences between the features of WHIZZ Flock and Foam:
Material is an essential factor in distinguishing between flock and foam paint rollers. Each roller is made from different materials.
As the name suggests, flock material is made from fabrics and has a layer of flock topping. On the contrary, foam paint roller is made from condensed foam.
They have distinct roller materials, but their core material is the same. Both paint rollers have soft plastic handles.
Differences in features can make one product stand out from others. It is also applicable for paint rollers. Different paint rollers come with many features that are distinct from one another.
You will know which one is perfect for your project by looking at the features.
Whizz flock paint roller will provide you with an ultra-glossy finish. This roller is lint-free and provides a spray-like finish on surfaces.
Because of its jumbo size, it can cover a chunk of the area at a time. Besides, it works perfectly in the corners because of its covered end. Unfortunately, the Whizz Foam paint roller does not have these features.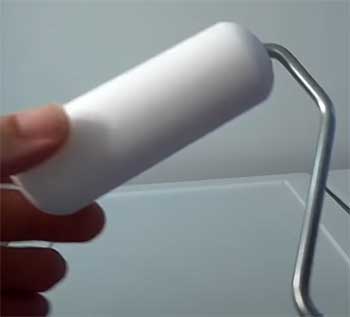 Whizz flock paint rollers work on various coating, including all types of paints, waterproofs, stains, urethanes, enamels, varnishes, etc.
On the other hand, Whiz foam paint rollers can work on all types of paints, stains, lacquers, waterproofers, shellacs, etc., coating.
So we can see that flock and foam paint rollers work with different coatings, although they have some common ones.
You can choose one based on which coating you will work.
Differences between paint rollers based on which surfaces they work well can help you decide. You already know what type of surface you are working on. You can decide as you know which paint roller is best for which surface.
Whizz flock paint roller provides optimum performance on ultra-smooth surfaces. Differently, Whizz foam provides the best performance on smooth surfaces.
Whizz flock and foam both paint rollers are specially designed for cabinets painting. It can be your kitchen cabinet or any other place in your home and office.
Apart from cabinets, these paint rollers can work on other objects. It made them a multi-purpose and multi-use tool.
Flock paint rollers can perfectly work on doors, shelves, wooden furniture, molding, metal, and many more. But foam paint rollers can work on only doors apart from cabinets.
There is nothing many differences in sizes for both the flock and foam paint rollers. They both have a 4 inches roller size. The main difference lies in their shape.
Whizz flock is a jumbo-sized paint roller with a core diameter of 1.25 inches. On the contrary, Whizz foam is a mini paint roller with 0.56 inches core diameter.
Finally, the price can heavily influence a product selection. People with a strict budget can sacrifice some features to buy a product within the limit. A single-piece Whizz flock paint roller with a handle is $7.98.
A single-piece Whizz foam paint roller with a soft plastic handle comes at $6.28. We can see the foam roller is cheaper than the flock one.
Which Paint Roller Is Suitable For Your Project?
I have presented and compared the features of Whizz flock and foam paint rollers in great detail. It is clear which paint roller will give you the best performance.
I'm sure you have already made up your mind about which one you will purchase. But if you are still caught up by something, let me clear it to you.
You should purchase a Whizz flock paint roller if you want to use it for painting a cabinet. This roller is a bit pricier, but it will give you better performance.
It will provide a glossy finish that is too lint-free. Besides, you will get a spray-like texture. Most importantly, you can use it for many other projects as well.
There are a lot of makers available in the market for paint rollers. But not all of them maintain quality and add special features. Whizz is better in that way.
It makes paint rollers using high-quality, durable materials. As a result, they are durable and provide excellent performance.
But there are some fundamental differences between flock and foam paint rollers. When choosing between them, choose one that serves your purpose better.
But for that, we have to know their differences. And I believe we just did, right?
Frequently Asked Question (FAQ)
What type of paint roller gives the smoothest finish?
Foam rollers give the smoothest possible finish. The roller is made of thick foam; it can provide a thick coating with a very high smoothing finish. But to provide the smoothest finish, the surface has to be smooth too.
Are foam rollers good for painting cabinets?
As foam rollers provide a very high smooth finish and as cabinets have a smooth surface, foam rollers will work excellently for painting cabinets. This roller will work even better if you use acrylic latex paints.
What NAP should I use for cabinets?
There are some particular NAPs that you should use for cabinets. You need a very thin NAP of 3/16 inches for a cabinet with the smoothest surface. But for a smooth surface, you need ¼ inches thin NAP.
How do you smooth paint finish on cabinets?
You should use a flock paint roller to smooth paint finish on your cabinet because flock rollers provide an ultra-smooth finish on smooth surfaces like a cabinet.
Final Words
The right paint roller will work fast and save you a lot of time and energy. That is why you cannot fail in choosing the right one. I hope my WHIZZFLOCK vs. foam for cabinets has shaped your opinion and that you have found the right one.
My final suggestion is not to buy a cheaper roller to save a couple of dollars. Go for the best one. It will make your life easy.