Ladders are a handy tool to access work areas or materials that is beyond control. They are versatile and convenient to use. But choosing the right one is essential to ensure optimal safety and smooth working.
Are you confused about choosing between Werner vs. Louisville ladders?
Werner ladders are made from high-grade aluminum materials. In contrast, Louisville Ladders feature super sturdy fiberglass materials. Werner is perfect for wiring and electrical works, but Werner appears the right option for working on high heights.
Compared to Werner, Louisville ladders are safer and more durable.
A Quick Comparison Table
Do you need a swift comparison guide to learn primary details on both brands? Here is a small table that tells you all the essential features of both ladders.  
| | | |
| --- | --- | --- |
| Specifications | Werner Ladders | Louisville Ladders |
| Materials | High-grade aluminum materials | Super sturdy fiberglass materials |
| Weight | Lightweight | Heavier |
| Ideal to use | Perfect for working on high heights | Ideal for wiring and electrical works |
| Safety Feature | Lack of safety when fully extended | Serrated D rungs for additional safety |
| Installation | Requires two people to install | Easy to install |
| Loading capacity | Up to 200 lbs | Up to 270 lbs |
| Durability | Decent durability | Slightly more durable than Louisville |
| Price | Inexpensive pricing options | A little bit pricey than Werner |
Comprehensive Differences Between Werner And Louisville Ladders
Taking an educative purchasing decision is incomplete without proper details. Here is a complete detailed discussion on both ladder brands to select the best one.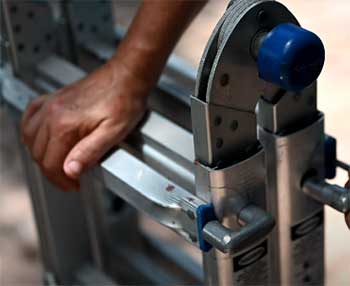 Most Werner ladders are made of high-grade aluminum materials.
They are commonly used ladders due to their simple transformability and carrying.
Contrastly, Louisville Ladders are generally crafted from super sturdy fiberglass materials.
They have a superior weather-resistant nature.
They are less likely to rust or lose strength even after exposing to excessive sun or rain. This non-conductive material has a rigid construction. So, it shows minimal impact damage.
Weight is a significant factor for ladders. The lighter the weight, the more versatile it will be to carry. Louisville is slightly heavier than Werner due to materials.
Hence, Werner will provide more flexibility to carry and transport it easily from one area to another. If the Louisville is too long, you may need a helping hand to carry it.
Since Werner ladders are made from lightweight materials, they are ideal for working on high heights. You can reach even several floors effortlessly. But don't use them for any electrical works since they conduct electricity. 
On the contrary, Louisville ladders are perfect for wiring and electrical works. Plus, you can use them for cleaning gutters, fence or roof repairs, hedge trimming, painting, etc.
Make sure to store them indoors to prevent quality deterioration and no compromise on safety.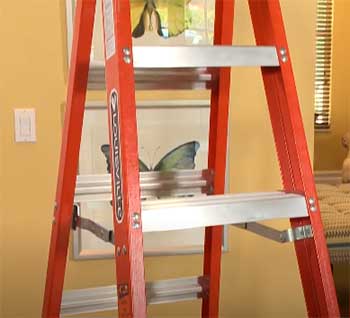 An unsafe ladder may result in a severe body or brain injuries.
Besides knowing the correct technique for climbing, balance, and stability of ladders is also important.
Werner ladders made from aluminum materials lack safety when you fully extend them.
Due to their lightweight construction and flexibility, people often use them for high heights.
Unfortunately, the higher the height, the weaker it becomes for safety. You should not extend them entirely if you have less control over your body.
However, these temporary stairs come with patented ALFLO to stop twisting while stepping on them. You can keep your feet in a steady position due to their Shu-Lok feature.
On the flip side, Louisville Ladders have a more rigid body structure. More importantly, they have serrated D rungs to provide maximum safety and comfort while climbing. Their interlocking side ensures optimum grip and peace of mind
Werner ladders generally come in excessive long in size. This makes them a little bit troublesome to install. They are time-consuming to install. You will need a helping hand to set them up perfectly.
Watch this video on Werner ladder.
On the other hand, Louisville ladders require you to follow a simple installation system. You just need to follow the instruction manual of the manufacturer.
However, installing more giant ladders will surely take more time than the small ones.
Ladders have a specific loading capacity. Extreme weight can make the construction of these stairs weaker gradually. Generally, you should not exceed the recommended weight.
A Werner ladder with the largest height can handle up to 200 lbs weight. Their lightweight construction restricts them from carrying heavier weight.
Contrastly, Louisville ladders can handle up to 270 lbs. Its heavyweight and sturdy construction make it an ideal choice for extra loading.
Moreover, these temporary stairs have ANSI 14.4 certification to meet the minimum safety standard requirement. Also, their product materials feature CSA grades. 
Compared to Werner Ladders, Louisville Ladders are more durable due to their particular materials and sturdy construction. They can easily surpass any aluminum-based Werner Ladders in terms of durability.
With proper maintenance, both ladders can even last for decades. You just need to do periodic washing and waxing. Make sure to use them according to the manufacturer's direction to ensure the optimal lifespan.
Louisville ladders are slightly more expensive than Werner because of the material choice. But some Werner ladders may have an extra cost than Louisville due to the extra height and features. 
Which Ladder Brand Is The Best?
Werner ladders are a great choice due to their lightweight construction, flexibility, easy carrying, and affordability. Working on higher heights is more easygoing with these temporary stairs.
But you should not exceed the maximum weight limit.
On the contrary, you can choose Louisville Ladders if you want to more durable, stable, and loading capacity. Apart from regular work, they are suitable for wiring and electrical works.
Frequently Asked Questions (FAQs)
Are Louisville ladders good?
Louisville ladders are an excellent choice for indoor and outdoor work. You can use these high-quality temporary stairs for painting, cutting trees, fixing various home items from the ceiling, etc.
Who Makes Louisville Ladders?
Louisville Ladder Inc. generally makes all Louisville ladders. This top ladder American manufacturer is owned by Mexican corporation Grupo Cuprum. Most of their manufacturing sites are located in North America.
Are Louisville Ladders Made In The USA?
Louisville ladders are made in both USA and Canada. Its headquarter is located in Louisville, Kentucky and North America is the main continent where the most manufacturing facilities are available. 
Are Werner Step Ladders Any Good?
Werner step ladders have superior functionality and quality. They are ideal for working on various working heights. Their swing back and platform step ladders are the most popular products.
Final Thought
That's the end discussion on Werner vs. Louisville ladders. So, which option seems more convenient to you? Both are a great choice. But they are suitable for specific purposes.
Hence, determine what types of DIY or professional work you will do and pick the best one.
Hopefully, the above guideline has given you some valuable information on what type of ladder to choose. Make sure to consider the weight loading capacity and the weight of the particular ladder.
Let us know which brand you prefer more between these two options.