Are you looking for pull-down attic stairs? They are compact to save space in your home and simple to use for all people. Bessler is a reliable brand to get decent-quality attic stairs.
Their construction and functionality set them apart from competitors.
Here we will go for in-depth Bessler attic stairs reviews to help you learn all the good and bad sides of these portable stairs. After reading this post, you will be able to make a ready-to-go decision as per your requirements.
Let's dive in!
Features of Bessler Attic Stairs
Bessler Attic Stairs have many uncommon features that make them stand out from other typical attic stairs. Below are some notable points of this disappearing attic ladder.
Certified 1 Hour Fire-Rating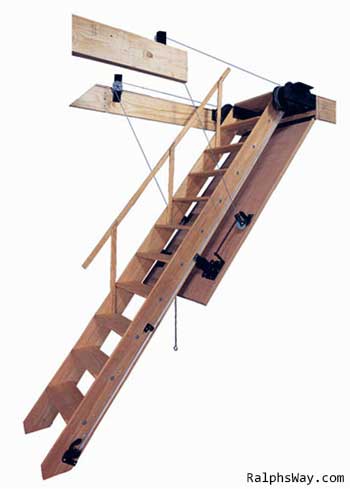 Our house can get on fire for any unexpected reasons. Thankfully, this high-quality portable ladder has a certified 1-hour fire rating.
So, its high-quality materials can withstand one-hour standardized fire or flame exposure.
This ensures added safety when any emergency arises.
Other than these, the product is successfully passed the ASTM E-119 Fire Test.
So, it is not hard to see why the attic stairs are a super safe retractable ladder.
These hidden stairs' maximum safe loading capacity to the attic is 350 pounds, enough for many heavy men or women.
Due to its higher load capacity, carrying heavy items won't be a problem. But watch your steps while coming down or moving up.
Even two average-size adults can get into it easily. But regularly practicing this may weaken the frame over time.
We know every inch of space matters for any small rooms or houses. A compact design appears the most space-efficient option for them.
Thankfully, Bessler Attic Stairs comes with rough opening dimensions:22-1/2 x 54-inches. It is perfect for any bulky adult.
The Bessler Attic Stairs come with a simple wooden design that is paintable. You can add your preferred paint color to make it compatible with the ceiling or wall color.
You don't need to find an option that only matches the ceiling or wall color.
Alternatively, you can keep the existing beautiful wood color. It looks vibrant and features a smooth finish. Any house design can easily match these simple colored attic stairs.  
We all prefer to have a loft ladder that is easy to assemble and install. Since all the Hardware Installation Kit is Included, you can get the job done on your own.
Plus, you have to follow a simple installation process to put all parts together and install them within a short time. It has an instruction manual to make your setup procedure effortless. 
We have kids and older adults at home. So complicated attic stairs are hard to use for them. Thankfully, this functional retractable ladder is easy to open and close. 
It won't pressurize your hands while pulling it down due to its lightweight construction. Hence, you will be out of worry while your kids are using it.
Apart from that, it glides over into position within seconds effortlessly. Some cheap pull-down attic stairs fail to create an airtight seal, which requires you to install an extra lock.
These high-quality loft stairs create an airtight seal after closing it properly. Thus, you don't need to set up an additional lock to stop it from falling around unnecessarily.
Is your ceiling height too high or too long? This unit comes with a customizable ceiling height from 7-foot 8-inches to 10-foot 3-inches ceiling.
As a result, various building structures won't cause any problem installing the pull-down attic ladders.
Worry about slippery issues while placing your feet on the stairs? This attic ladder has grooved steps to offer increased traction.
Each stair is slip-resistant to provide safe traction. You are generally not climbing the stairway. Instead, you walk simply upward!
Its wraparound hinge keeps your every step balanced, preventing the probability of falling. Plus, stronger framing can take enough weight support to ensure safety.
The heavy-duty steel frame of this loft ladder is made of high-quality material, which is 50% to 150% thicker compared to other attic stairs.
Additionally, the wood used for this stair is one of the strongest materials like many high-end products. It merely makes any sound climbing or getting down.
Here is its installation video for you (not HD!)
What Could've Been Better?
Though Bessler attic stairs have many amazing features, it has some drawbacks too. Here are some common cons of their attic stairs.
No doubt, Bessler loft ladders are extremely durable. But their price is exceptionally high compared to many other high-end attic stairs.
For example, the starting price of Bessler BE-119 Series One Hour Fire Rated Wood Attic Stairs is $2,567.00 as per stairwayshop.com.
Like other attic stairs, you won't have any mobility with this ladder type. You cannot move the ladder in another direction. It has a fixed angle.
Making The Small Space Is Congested
Though Bessler attic stairs are perfect for small-sized rooms, they can still make the room appear congested while it is opened.
Attic stairs are suitable to use inside a house; you cannot use them elsewhere other than these. So, if you are looking for a versatile option, think twice before choosing this type of ladder.
Frequently Asked Questions (FAQ)
How much weight can attic stairs support?
They have a weight restriction ranging from 200 pounds to 400 pounds.
Does attic ladder increase home value?
Yes, an attic ladder can increase your home value.
Final Thought
When it comes to accessing the upper areas of homes, townhomes, or garages, attic stairs are a perfect choice. Homeowners mainly prefer this type of ladder due it its space-efficient design, especially for small rooms.
Though Bessler Attic Stairs are some drawbacks, its advantages impressively cover the cons.
There are different types of height and opening size options you can select. Just be certain to get the right one depending upon your room's ceiling height.
Drop a comment on what conclusion you have come to after going through the Bessler attic stairs reviews.