If you're in the market for new windows, two big names you'll likely come across are Vector and Andersen. Both companies have been around for decades and are known for making high-quality windows.
But which one is better for your home?
In this comprehensive guide, we'll compare Vector and Andersen windows side-by-side, looking at their key features, pros and cons, prices, warranties, and more.
Whether you're building a new home or replacing windows in an existing one, this guide will help you decide if Vector or Andersen is the best choice for you.
A Brief Comparison Table
| | | |
| --- | --- | --- |
| Feature | Vector Windows | Andersen Windows |
| Materials | Vinyl, aluminum, wood, wood-clad | Fibrex, wood, wood-clad |
| Glass | Double pane standard; Low-E, argon gas | Low-E4 standard; triple pane optional |
| Weatherstripping | Dual fin seal | Dual silicone, pile, fin seals |
| Hardware Styles | Standard finishes | More decorative options |
| Grilles | Flat, sculptured | More decorative patterns |
| Warranties | Lifetime on vinyl; 10 years on glass | Limited lifetime on Fibrex & wood |
| Price Range | $350 – $1000+ | $600 – $2000+ |
| Key Pros | Affordability, energy efficiency | Superior materials, glass options |
| Key Cons | Fewer specialty options | Higher prices |
Vector Windows Overview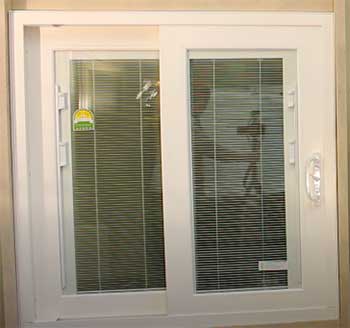 Vector windows are manufactured by Ply Gem, a leading building products company founded in 1962.
Ply Gem acquired the Vector brand in 2006. Vector windows come in vinyl, aluminum, wood, and wood-clad options.
They offer double hung, sliding, casement, awning, bay, bow, garden, and picture windows.
Some key features of Vector windows include:
Multi-chambered vinyl frame and sash for insulation
Weatherstripping for air sealing
Insulated glass units with argon gas fill
Numerous grille, hardware, and color options
Lifetime limited warranty on vinyl parts
Vector Vinyl Windows
Vector vinyl windows feature a multi-chambered frame and sash which provide thermal insulation. The vinyl material itself is a poor conductor of heat and cold. Vector vinyl windows can deliver impressive energy efficiency with a low U-factor.
The vinyl frame is fused corners for strength and welded sashes for a tight seal. Dual weatherstripping further reduces air infiltration. Low-E coated, argon filled insulated glass delivers excellent insulation.
Vinyl windows are low-maintenance since the vinyl resists rotting, swelling, warping and corrosion. Cleaning is easy with just soap and water. Vinyl won't chip, peel or require repainting like wood or aluminum.
Vector Aluminum Windows
Vector aluminum windows have an extruded aluminum frame and sash. While less insulating than vinyl, aluminum is very strong and durable. Aluminum can be finished with a baked enamel coating in numerous colors.
Vector aluminum windows often use a thermal break in the frame to reduce conduction. Low-E glass and argon gas fill provide the main insulation.
Aluminum windows require minimal maintenance beyond occasionally cleaning the frame. They won't rust or corrode.
Vector Wood & Wood-Clad Windows
Vector offers wood windows made from pine as well as wood-clad windows that combine an interior wood frame with a protective vinyl or aluminum exterior cladding.
Wood provides unparalleled aesthetic appeal and can be stained or painted in any color. But wood expands and contracts with climate changes. It requires more maintenance like periodic caulking and repainting.
Wood-clad windows give you the interior warmth of real wood with an exterior that is protected from the elements. This requires less maintenance while retaining attractive curb appeal.
Andersen Windows Overview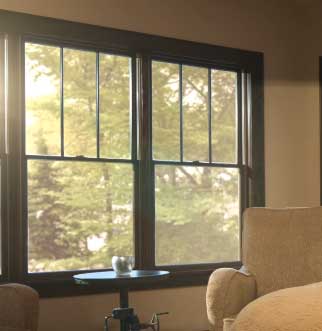 Andersen is one of the biggest and oldest window brands in America.
Founded in 1903, Andersen has over a century of window manufacturing expertise.
They offer vinyl, wood, and wood-clad windows for both new construction and replacement projects.
Some key features of Andersen windows include:
Fibrex composite material combines vinyl and wood fiber
Variety of Low-E4 glass options
Composite reinforcement for strength
Stormwatch protection for coastal areas
Numerous hardware finish and grille options
Limited lifetime warranties
Andersen Fibrex Windows
Many Andersen vinyl windows are made with their patented Fibrex material. Fibrex combines the low-maintenance and insulation of vinyl with the strength and aesthetic of wood fiber. The result is a durable, energy efficient window with the warm look of wood inside.
Fibrex expands and contracts less than pure vinyl. The composite material is also more resistant to dents, sagging and warping from heat. Andersen Fibrex windows can be painted from the exterior to match any color scheme.
Andersen Wood & Wood-Clad Windows
Andersen also offers all-wood windows as well as wood windows with a protective vinyl cladding on the exterior. Their wood windows feature pine construction and mortise-and-tenon joinery for strength.
Wood windows can be factory stained or painted in any color. Natural wood offers unparalleled aesthetic quality. But the exterior cladding on wood-clad units reduces maintenance requirements while providing protection from moisture, rotting and UV rays.
Key Differences Between Vector And Andersen Windows
Now that we've summarized the Vector and Andersen offerings, let's do a side-by-side comparison of some of the most important factors:
Materials
Vector offers vinyl, aluminum, wood, and wood-clad windows.
Andersen offers Fibrex composite, wood, and wood-clad windows.
For low maintenance and energy efficiency, vinyl and Fibrex are ideal. Wood brings beauty but requires more upkeep. It comes down to your priorities and project requirements.
Glazing
Vector has standard double pane insulated glass; triple pane is optional. Low-E and argon gas fill for efficiency.
Andersen uses Low-E4 glass standard which has high visible light transmittance. Triple pane is optional. Thermal control options.
Both utilize proven technology like Low-E coatings and argon fill for excellent insulation. Andersen offers more variations of Low-E glass to fine tune solar control.
Weatherstripping
Vector has dual weatherstripping with a fin seal for air tightness.
Andersen uses dual seals made from silicone, pile, and polypropylene fin gaskets.
The weatherstripping is comparable between the two brands. Multiple seals resist air infiltration and improve efficiency.
Hardware
Vector offers hinged, sliding, and double hung hardware in white, tan, bronze, black, brushed chrome, oil rubbed bronze, and satin nickel finishes.
Andersen has standard Finelight hardware in white and sandtone or optional wrought iron finishes.
Both brands give you a range of hardware styles and finishes to match your decor. Vector has a few more color choices while Andersen offers more stylized hardware options.
Grilles
Vector has flat and sculptured grille options in different patterns that go inside or outside the glass.
Andersen offers traditional divided lite grilles, full surround grilles, Finelight grilles, and removable roomside grilles.
Plenty of grille varieties are available from both brands to create your desired look, from modern to cottage style. Andersen grilles come in more decorative patterns.
Warranties
Vector offers lifetime limited warranties on most vinyl components and 10 years on glass. 20 years for wood components.
Andersen has limited lifetime warranties on Fibrex and wood components. 20-year coverage on glass.
The warranties are comparable and give reassurance that both are quality products. Certain limitations apply so review warranty details carefully.
Prices
Vector window prices range from about $350 on the low end to over $1000 for triple pane, wood-clad units.
Andersen window prices start around $600 and go up to $2000+ for large, triple pane, specialty windows.
Andersen windows do tend to come at a higher price point overall compared to Vector. But quality and features also increase with cost. Get an actual quote for your project.
Pros and Cons of Vector and Andersen Windows
Based on our overview of features and comparisons, here is a quick rundown of some of the pros and cons of Vector and Andersen windows:
Vector Pros
More affordable price point
Wide selection of styles and materials
Good warranties on vinyl and glass
Multi-chambered vinyl is very energy efficient
Vector Cons
Not as many specialty glass options as Andersen
Wood and wood-clad not as strong of a focus
Andersen Pros
Fibrex material offers vinyl's durability with wood's aesthetics
Excellent selection of Low-E glazing for efficiency and solar control
Attractive hardware selection and grille options
Made in the USA
Andersen Cons
Higher prices than comparable Vector windows
Not as wide a selection of basic vinyl styles
For the best balance of quality, features and affordability, Vector wins out overall. But Andersen makes a superior wood window and has unrivaled glass technologies. It comes down to your window needs and budget.
Frequently Asked Questions (FAQ)
To wrap things up, here are answers to some frequently asked questions about Vector and Andersen windows:
Is vector a good window?
Yes, Vector makes a very good quality window. Their vinyl windows in particular deliver impressive energy savings. Vector offers all the essential features at a more affordable price point compared to other brands.
What windows are comparable to Andersen?
Some brands comparable to Andersen include Pella, Marvin, Milgard, Simonton, and Jeld-Wen. They offer similar materials, efficiency, and craftsmanship to Andersen at varying price points.
Who are the best replacement window companies?
A few of the best replacement window brands include Pella, Andersen, Marvin, Milgard, Simonton, and Ply Gem (Vector's parent company). Looking at independent reviews and ratings helps identify top manufacturers.
Who is the best company to buy windows from?
There are many great window brands to choose from. The right one for you depends on your budget, project details, and design preferences. We recommend looking at Vector, Andersen, Pella, and Marvin if you want energy efficient, quality windows for replacement projects.
The Bottom Line
Vector and Andersen both make excellent windows that will serve any home well. While Vector offers great performance for the money, Andersen sets itself apart with craftsmanship and technological innovations.
Carefully review all the options to determine which brand best fits your window needs and preferences. With quality materials and proper installation, you can't go wrong with either choice.