Are you thinking about changing the look of your kitchen? How about starting with the heart and the centrepiece of the room?
The countertop!
Not only do you interact with it on a daily but it also creates an exquisite focal point. Quartz countertops endlessly find their way into people's hearts; what's not to love anyway?
Now, let's find out which quartz brand is the best. Vadara has two years in business, while Cambria has 18. The latter has 133 unique designs, whereas Vadara has 46.
We're just getting started, so stay right where you are!
A Brief Comparison Table
| | | |
| --- | --- | --- |
| Description | Vadara Quartz | Cambria |
| Designs And Styles | 46 | 133 |
| Slab Size | 63 X 120 inches | Standard size- 55.5 X 122 inches, Jumbo size- 65.5 X 132 inches |
| Maintenance | High | Low |
| Distribution and Availability | Home Depot, Lowe's, Architects, Builders, Interior designers, Kitchen and bathroom dealers | Builders, Architects, Interior designers, Kitchen and bathroom dealers |
| Cost | $44 per square foot | $100 to $150 per square foot |
| Number of Years in Business | 2 | 18 |
Key Differences Between Vadara Quartz And Cambria Countertops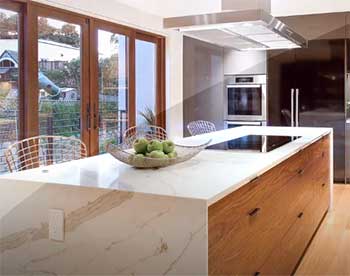 Vadara quartz has 46 collections that pay homage to nature-based and dynamic patterns instead of a subtle look.
The designs have different shades, and you can choose whichever is pleasing to the eye. Brown, grey, white, taupe, black, blue-grey, name it! 
In contrast, Cambria has been around much longer and has 133 styles. The brand
has the most innovative designs to keep your space stylish and elegant even as new fads emerge. From cutting-edge contemporary to classic, Cambria has it all!
With the dizzying array of styles, you're sure to find the perfect fit to complement your kitchen's décor.
Do you have a big kitchen and can't stand seams?
Well, this factor carries more weight on you. There are standard sizes and jumbo sizes, depending on the brand. Vadara has a standard size of 63 X 120 inches, dramatically reducing the joints used during installation.
Contrarily, Cambria has a standard size of 55.5 X 122 inches and a jumbo size of 65.5 X 132 inches. Larger sizes help eliminate seams. But in some projects, it can be cost-effective to use the jumbo size rather than using two slabs.
Yes, Vadara quartz is more affordable but be prepared for a detailed maintenance routine to keep the countertops looking shiny and spotless.
It would be best if you cleaned daily using a mild soap or, even better, created a solution of vinegar and water. And then, rinse using clean water and a soft paper towel.
In opposition, maintenance for Cambria is super easy. Clean the surface with a soft cloth and warm water. Whether or not to use soap is optional. Moreover, no sealing or polishing is necessary.
Distribution and Availability
Vadar is available from kitchen design dealers, architects, builders, interior designers and home improvement stores such as Lowe's and Home Depot.
You can get products from this brand quickly, as no specific distribution channels exist.
On the contrary, Cambria can only be purchased through the manufacturers. But that's because it's mainly focused on premium collections. That's another critical factor to note in advance.
Getting a countertop is a big step and an expensive investment. However, the prices vary across all brands. Just imagine spending a lot only to get an unfulfilling product.
Annoying, right? Vadara is one of the most wallet-friendly quartz kitchen tops, their prices set at $44 per square foot.
On the other side, Cambria is a luxury brand that costs between $100 and $150. With this version of quartz, more styles are in place, which is magnificent.
Number of Years in Business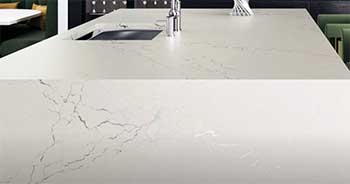 Vadara is the newest player in the quartz team, with only two years in the market.
But it has made it loud and clear that you can come last and still be on top.
Vadara is the alchemy of art and beauty as it captures the essence and stillness of nature's most exciting place by creating the most natural colour pallets.
On the other hand, Cambria is a private company owned by the Davis family with 18 years in business. Its main manufacturing point is Minnesota, but it has additional facilities in Canada and other parts of the USA.
Which Countertop Is Better?
This is where it gets even more fascinating. Each brand adds a special touch and flair; hence there is no objective better pick.
Quartz has been grabbing more attention due to its designs, quality, and longevity. And now that you are fully informed on two of the best, I don't see how your kitchen or bathroom can go wrong!
Vadara has a rock-bottom price and is available at various distribution points. Contradictorily, Cambria costs higher but has dozens of styles and designs, low maintenance, and larger slab sizes which suit big kitchen spaces.
Frequently Asked Questions (FAQ)
Is Vadara quartz good quality?
Vadara provides high-quality countertops that create an eye-catching look for the kitchen and long-lasting experiences. It consists of 93% quartz and exceptionally high polymer pigments that enhance strength and reduce sensitivity to heat and pressure.
What quartz is comparable to Cambria?
Cambria is made of beautiful, natural stone with unbelievable strength and is comparable to Silestone in the quality of their products. However, Cambria is less pricey and has lesser designs.
What is the best quartz countertop brand?
Caesarstone is on the front line in the quartz family tree, with more than 40 available colours and a wide variety of styles, from traditional to modern and over-the-top textures.
What is the best, Cambria or quartz?
Cambria consists of 93% quartz, while granite has 40 to 60%, which means that Cambria has more strength, better quality, and high resistance to scratches and dents.
Final Words
From the Vadara quartz and Cambria comparison, it is more than clear why there has been so much hype about the countertop collections made by the two brands. So, why even bother looking elsewhere?
If you are after a less-pricey countertop with tons of distribution channels, Vadar is the choice to land on.
Nevertheless, Cambria is perfect for anyone that wants the best in the market, has more designs to choose from, is low maintenance, and is best suited for large kitchens. Long live quartz!