These days, people even spend a reasonable amount of time, hustle, and money selecting the countertop finishing or patterns matching their other kitchen cabinetry.
While doing this, we can see a little confusion in selecting the Cambria Torquay and Swanbridge kitchen countertops. But their differences are reasonable.
Swanbridge offers more durability and doesn't require more care like Torquay needs. Also, Torquay gives a warmer white color, whereas Swanbridge gives cooler white color.
People recommend Swanbridge more than Torquay, but the selection might vary for either countertop due to personal differences.
A Quick Comparison Table
| | | |
| --- | --- | --- |
| Specifications | Cambria Torquay | Cambria Swanbridge |
| Finishing and Look | It gives you a posh and stylish appearance with some white shade, and it looks classic creamy with a good combination of subtle greet packs, a little yellowish | It's a muted light grayish color that comes with charcoal patterns and provides an aesthetic color appearance |
| Interior Design Selections Based upon | Its versatility and easy personalization | Due to the unparalleled beauty |
| Color differences | Warmer White | Cooler White |
| Durability | Lower | Higher |
| Cleaning | Easier | Easier |
| Material Construction | Quartz | Quartz |
| Customer's Recommendations | Lower | Higher |
In-Depth Differences Between Cambria Torquay and Swanbridge Countertops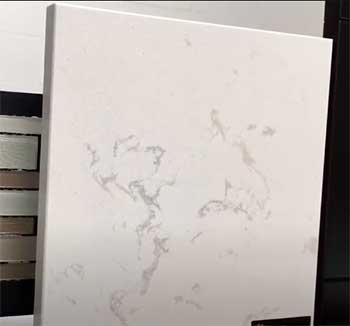 The fundamental difference between both countertops is how they are made to provide a specific finish and look.
When you look at the Cambria Torquay, it provides you with a more posh and stylish appearance.
These slabs look classic and creamy.
In addition, they come with subtle grey packs and a soft white shade of marble. It gives more design and style to your kitchen.
Compared to that, Swanbridge is also not behind. Because, according to many, its beauty has no comparison.
These slabs from Cambria give the more muted light grayish color look. Besides, charcoal patterns provide the aesthetic appearance of most kitchen countertops. You will enjoy a soothing eye-catching complexion with this countertop slab from Cambria.
Interior Design Selection Based Upon
Kitchen designers, especially interior home designers, recommend both slabs as the best options to get a minimalistic look in the kitchen.
But when it comes to these slabs' specialty, as to which features they are recommended, both have a difference.
Cambria Torquay is recommended for interior design because of its remarkable versatility and personalization.
At the same time, the Swanbridge is recommended for interior designs because of its unparallel beauty. It's more beautiful than Torquay.
These slabs also vary based on the color they provide when installed in a kitchen or any other specific place in the home. The Cambria Torquay is a warmer white that looks yellowish.
In contrast, Swanbridge is a more excellent white that looks a little bluish-white. Therefore, you can make a difference as to which one will suit best to your kitchen.
When it comes to cleaning these countertops, both give hassle-free cleaning. One can clean Swanbridge and Torquay without any problem.
But always remember not to use toxic chemicals that may damage their texture. They need proper care and precautions in performing their cleaning too.
Another similarity is that both are made with the same material, Quartz. It's a heavy-duty stone material that doesn't break easily.
They cut this material and re-shape it into countertops like these and other objects. Hence, Quartz construction ensures quality and durability over the longer run.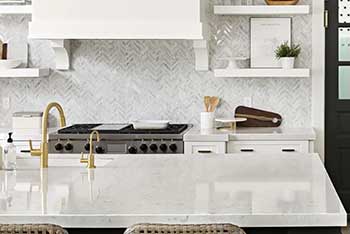 When it comes to durability and longevity, Swanbridge Countertop wins.
It's scratch resistance and maintenance-free material that provides more extended durability.
It can be used without fearing specific breakdown or any other loss.
Some people claim that Swanbridge is even stronger than Granite.
On the other hand, the Cambria Torquay is durable, yet it needs more care when installed in your kitchen.
Because if there is any rapid change in temperature or a sudden impact of heavy force, it will break. One must take precautionary measures while using this countertop design.
So, in case of durability, Swanbridge countertops have become an excellent choice.
Customer's Recommendations
To seek recommendations from customers, they would highly recommend Swanbridge countertop rather than Torquay.
I've seen many people shifting from Torquay to Swanbridge. There are pretty good reasons for such a change. But some are still happy with Torquay as they are being more careful.
Which Countertop Is Best To Consider?
Cambria makes high-quality countertops with a good variety of materials. But selecting between their Swanbridge and Torquay countertops is not that easy.
I would say if you want unasked and unexpected beauty with excellent durability, Swanbridge would be a better option for you.
But if you think you can take care of things properly and keep them for a long while, Torquay will also not be a bad option.
However, there could be a little difference in price as these slabs come in square foot measurement.
Frequently Asked Questions (FAQ)
What Color Is Cambria Torquay?
Cambria Torquay is a warm white color that looks more yellowish but still appealing to most homeowners.
What Color Is Cambria Swanbridge?
Cambria Stanbridge is a cooler white color with charcoal patterns and provides a unique level of beauty.
What Is Quartz Comparable To Cambria?
For Quartz, DuPont's Zodiaq has a matching specification and comparing features.
What Paint Color Goes With Cambria Torquay Quartz?
You can use paint colors including Dior Gray, Barren Plain, Pashmina, Splendor, etc.
Last Words
Swanbridge from Cambria gives a more appealing look and extended durability than Torquay will ever do. However, Torquay is not bad when gaining more versatility and personalization.
So, to compare Cambria Torquay and Swanbridge kitchen countertops, you must compare them on their unique colors and finishes.
Also, they both belong to a good brand and are made of Quartz, a rigid material. There are higher chances that either countertop will perform a reasonable time with you.
Therefore, you can decide between these two based on your desired needs and requirements.