If you're in the market for new kitchen cabinets, you've probably come across two big names: UltraCraft and KraftMaid. Both companies make high-quality cabinetry designed to withstand years of use.
But which is the better option for your kitchen remodel or new construction project?
In this comprehensive guide, we'll compare the pros, cons, costs, styles, construction, and other key factors of UltraCraft and KraftMaid cabinetry. Read on to see how they stack up against each other to help you make the right cabinet choice for your needs.
A Brief Comparison Table
| | | |
| --- | --- | --- |
| Category | UltraCraft | KraftMaid |
| Construction | Plywood boxes, solid wood doors, soft-close hardware on all lines | Plywood boxes, solid wood on premium lines only, soft-close hardware on some lines |
| Wood Selection | Oak, maple, cherry | Oak, maple, cherry, hickory, alder |
| Drawers | Dovetail, solid wood | Dovetail on premium lines, fiberboard on stock |
| Door Styles | 50+ styles | 80+ styles |
| Finishes | 25 standard paints/stains; custom finishes available | 25 standard paints; 40+ stains as upgrade |
| Pricing | $150 – $300+ per linear foot installed; custom only | Stock – $50-100 per linear foot; Semi-custom – $100-200; Custom – $200+ per linear foot |
| Warranty | Limited lifetime on boxes and drawers; 10 years on components | Limited lifetime on boxes and drawers; 5 years on components |
Overview of UltraCraft Cabinets
UltraCraft is a made-in-the-USA cabinetry brand that offers semi-custom to fully custom kitchen and bathroom cabinets. They market their products as "affordable luxury" – well-made cabinets with high-end features, but at a lower price point than many comparable custom cabinet brands.
Some quick facts about UltraCraft: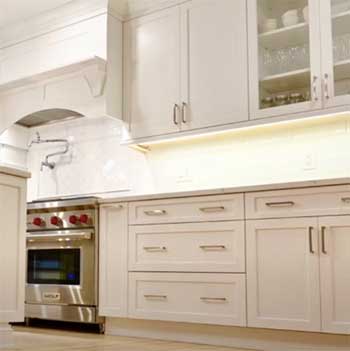 Located in South Pittsburgh, TN with manufacturing facilities in the United States
Offers over 50 door styles and a wide range of finishes
Semi-custom and fully custom cabinet options
Mid to high price points, competitive with other custom cabinet brands
Environmentally-friendly production using low-VOC finishes and wood from sustainable forestry
Sturdy plywood box construction with furniture-quality finishes
Cabinet boxes feature solid hardwood dovetail drawers and soft-close hinges
Limited lifetime warranty on cabinetry
Now let's look at how KraftMaid stacks up…
Overview of KraftMaid Cabinets
KraftMaid is one of the largest cabinet manufacturers in the U.S., offering a range of stock, semi-custom, and custom kitchen and bathroom cabinetry. They market themselves as providing quality, stylish cabinetry at reasonable prices.
Some quick facts on KraftMaid: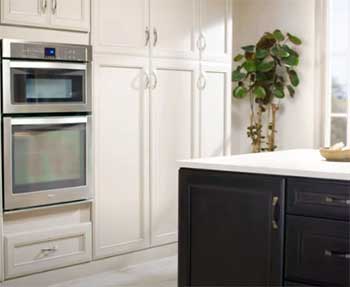 Headquartered in Middlefield, Ohio with manufacturing facilities across the United States
Offers roughly 80 door styles and a wide selection of finishes
Stock, semi-custom, and custom cabinetry available
Lower to mid price points, affordably priced for stock and semi-custom lines
Environmentally-friendly production using low-VOC finishes
Sturdy plywood box construction with furniture-quality finishes on higher end lines
Soft-close doors and drawers available on select lines
Limited lifetime warranty on cabinetry
Key Differences Between UltraCraft And KraftMaid Cabinets
Now that we've got a basic overview of UltraCraft and KraftMaid, let's compare them across some key factors:
Both UltraCraft and KraftMaid make cabinets using plywood construction, which is preferred over particle board for its durability and strength. Higher-end lines from both brands generally feature solid wood doors and dovetail drawer boxes – marks of quality construction.
Some differences:
Wood Selection: UltraCraft uses oak, maple, and cherry woods, while KraftMaid offers those plus hickory and alder. KraftMaid has a slight edge in wood selection diversity.
Drawers: KraftMaid stock cabinets have fiberboard bottoms, but their higher-end semi-custom and custom lines offer solid wood dovetail drawer boxes like UltraCraft's. For the best quality drawers, upgraded KraftMaid or standard UltraCraft are recommended.
Doors: UltraCraft puts an emphasis on using solid wood doors across all product lines. With KraftMaid, lower priced stock cabinets have veneer doors while higher end semi-custom and custom lines have solid wood.
Soft-Close: Soft-close hinges and drawers come standard on all UltraCraft cabinets for a smooth, quiet closing experience. Only some higher-end KraftMaid lines come standard with soft-close – for other lines it is an upgrade option.
Overall the edge in construction quality goes to UltraCraft for their standard use of solid wood doors and soft-close hardware across all price points. But KraftMaid's custom cabinetry is on par construction-wise with UltraCraft.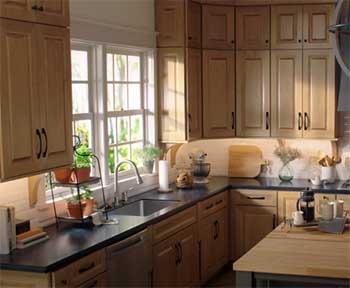 KraftMaid offers approximately 80 door styles across its product lines, ranging from traditional to contemporary.
UltraCraft has over 50 door styles encompassing transitional, modern and traditional looks.
Both brands cover the most popular door styles consumers are looking for.
For colors, UltraCraft has 25 finish options standard – mostly different painted finishes in colors like white, gray, blue, green and black, plus a few wood stain options.
KraftMaid offers a similar standard color palette of around 25 painted finish options, though they also have 40+ wood stains as an upgrade option for broader finish variability.
The wider range of finishes, especially wood stains, gives KraftMaid a slight edge in style and finish selection. But UltraCraft covers all the basics elegantly. And for a truly custom look, UltraCraft does offer completely customizable paints and stains through their True Custom program.
KraftMaid has a lineup ranging from affordable stock cabinets to high-end custom designs. Their stock and semi-custom lines are competitively priced, making KraftMaid a cost-effective option for many budgets.
UltraCraft positions itself squarely in the custom cabinet space. While not the most expensive premium brand out there, UltraCraft's pricing aligns more with custom cabinetry than off-the-shelf options, putting them at the mid to high end of cabinet prices. Their focus is on quality custom-made craftsmanship.
KraftMaid has an edge if you're looking for affordable stock cabinets. But for custom-made semi-custom and custom cabinets, UltraCraft and KraftMaid's premium lines are comparable in price. KraftMaid edges into luxury territory with their priciest custom lines, above UltraCraft's pricing.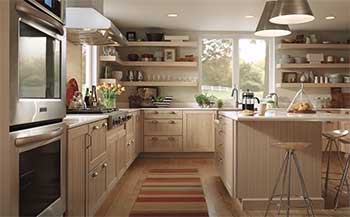 The warranties offered by KraftMaid and UltraCraft are similar for cabinetry: both offer a limited lifetime warranty on their cabinet boxes and drawers.
This covers defects in materials and workmanship.
For drawer guides and hinges, KraftMaid provides a 5-year warranty while UltraCraft provides a 10-year warranty, giving UltraCraft a slight edge in covered component warranties.
Overall the warranties are evenly matched and give similar coverage against manufacturer's defects and premature failure. The cabinet warranties themselves don't cover normal wear and tear or damage from improper installation, use, or environmental factors.
Both KraftMaid and UltraCraft get good marks from customers for their responsiveness if any warranty issues come up. Reviews indicate KraftMaid and UltraCraft both stand behind their products and work to resolve problems when they do rarely occur.
UltraCraft may have a slight edge as a smaller company where you can speak directly to their knowledgeable team about any cabinet questions or issues. But both companies provide solid customer service overall.
UltraCraft And KraftMaid: Which Is The Better Choice?
So in summary, how do UltraCraft and KraftMaid cabinets compare overall? Here are a few key takeaways:
Construction: UltraCraft offers an edge in standard features like solid wood doors and soft-close hardware across all price points. KraftMaid construction quality is excellent for semi-custom and custom lines, but lower for stock cabinets.
Styles: KraftMaid has a wider range of door styles and finishes, but UltraCraft covers all the most popular options elegantly. UltraCraft allows the most finish customization through their True Custom program.
Cost: KraftMaid has more very affordable stock cabinet options, while pricing is similar for both brands' semi-custom and custom cabinetry lines.
Warranties & Service: Both offer strong limited lifetime warranties on cabinetry and have responsive customer service. UltraCraft provides a longer component warranty.
Frequently Asked Questions (FAQ)
Still trying to choose between UltraCraft or KraftMaid for your kitchen or bathroom cabinets? Here are answers to some frequently asked questions about UltraCraft and KraftMaid to help you decide:
Is UltraCraft a good cabinet?
Yes, UltraCraft is known for making high quality, customizable luxury cabinets. They use quality materials like solid wood doors and soft-close hardware on all their cabinet lines. Their craftsmanship and attention to detail is excellent. If you want really custom, well-constructed cabinets, UltraCraft is a great option.
Are KraftMaid cabinets high end?
KraftMaid's stock cabinets are affordable, while their semi-custom and custom cabinetry competes with other high end brands in quality of materials and craftsmanship. So KraftMaid offers a range – you can get budget-friendly options or truly luxury high end cabinets through KraftMaid. Their premium lines stand up against other custom cabinet brands in terms of being high quality.
What are UltraCraft cabinets made of?
UltraCraft uses plywood boxes, solid wood doors, and dovetail drawer boxes on their cabinets. Plywood construction makes their cabinets very sturdy and solid wood components give them a fine furniture look and feel. Soft-close hinges and drawer glides come standard.
How much does an UltraCraft kitchen cost?
UltraCraft cabinets are priced as custom cabinetry, which ranges widely. But as an estimate, a medium-sized kitchen with UltraCraft can cost $15,000 – $40,000+ for cabinets installed. Their semi-custom lines tend to run $150 – $300+ per linear foot installed. Cost depends on cabinet style, layout, accessories, and local labor.
Final Thoughts
For high quality craftsmanship coupled with extensive customization options, UltraCraft excels. Their cabinet construction is sturdy across the board.
KraftMaid is ideal if you need well-made custom cabinets on a somewhat tighter budget. Their wider range of finishes allows for flexibility in your kitchen's look. And their stock cabinets make them accessible for smaller kitchen projects.
Ultimately, choosing between them comes down to your budget, design priorities, and customization needs. Either brand can provide beautiful, durable kitchen cabinets that will perform well for many years. It's about finding the best match for your particular kitchen vision.