Have you wondered why your tiles installation is not even throughout your house?
It might be because you are not a pro. There's no shame in there. I myself is not a pro, but I managed to put tiles evenly in my house with the help of a tiles leveling system.
That's right, tiles leveling systems are a grace for people like us who want to install tiles without hiring a professional. However, not all work equally well. I used the Tuscan Tile Leveling System, and I'll tell you why it's a good one.
So, let's get into the show.
Features of Tuscan Tile Leveling System
I have found many unique features in this tile leveling system, making it an excellent tool for people who are not pros at installing tiles.
So, here are some key features of the Tuscan Tile Leveling System.
Tuscan Tile Leveling System is an innovative tool that assists anyone, primarily people who are not so skilled at installing tiles. You can use this innovatively designed tool to install ceramic tiles, stone tiles, marble tiles, granite tiles, and large format slab tiles.
This tool creates a virtual lippage-free installation when used on floors and walls. That's why I found it pretty helpful while installing tiles in my house.
A Great Way To Level Tiles
After using the Tuscan tile leveling system, your tiles are evenly installed on the floors and walls. That's because this leveling system has a great way of working.
It interlocks the tiles and virtually creates a single flat slab surface during the setting material is curing.
Because of the interlocking design of the system, it will reduce and eliminate settling from shrinkage and reduce the possibility of warping. So, no worries about your tiles on the floors and walls.
Using this tile leveling tool was very convenient for me. I didn't have to re-lift the tiles to add more mud while shimming the tiles.
That's why I could wrap up the tiles installation process pretty fast.
At the same time, it offered me a lippage-free tiles installation I was expecting from it.
Most importantly, the caps are reusable. So, I can use them several times and in several tiles installation projects. So, you can see that this tiles leveling tool is an all-rounder. That's why you must give it a try.
Tuscan Tiles Leveling System has two versions. One is a two-piece cap and straps for people not very used to tiles installation, and the other is a one-piece Seam Clips for people with some tiles installation skills.
I used the one with a cap and a strap. Using the tools to install tiles on my floors and walls was pretty easy.
So, if you are not a very pro, using the two-piece cap and strap Tuscan tiles leveling system will be pretty handy for you.
Using a Tuscan tile leveling tool, you can quickly level tiles on your house's floors and walls. The process is pretty simple.
Firstly, you have to insert straps under the tiles during installation. Then you have to set and align the tiles. Now you have to tighten the caps and straps to eliminate lippage from tile to tile virtually.
Finally, remove the caps and straps from the tiles after the mortar sets. The tiles will be evenly installed on the walls and floors. The process is pretty easy, isn't it?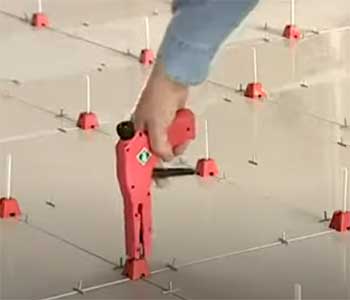 Tuscan Tile Leveling System comes in a very competitive price range.
For a Tuscan tile leveling kit with 200 pieces of Tuscan caps, 500 pieces of Tuscan Straps, and a standard gun, you'll have to spend around $345.
On the other hand, for 150 seam clips to 1,000 seam clips, you will have to spend around $51 to $268.
It wouldn't feel much if you compare the price with its performance.
What Could Have Been Better With Tuscan Tile Leveling System?
Although this tile leveling system works well, it still has some limitations. Here I will show some of the limitations without which the Tuscan tile leveling kit would be a much better tool.
Seam Clips Need A Little More Force
According to customer reviews, some seam clips need more force to snap off. It can be inconvenient and time-consuming. So, Tuscan should look into this issue and solve it.
Separate Tools For Tightening
Tuscan tile leveling system needs a special tool to tight and pull the straps and caps. There are two types of tools available, one is a standard with a lower price, and the other is a pro tool with a pretty high price tag.
But the cushioning of the tool is not very firm and sturdy.
Frequently Asked Question (FAQ)
Which is the best tile Levelling system?
You will find many tile leveling systems out in the stores. But they are not equally good. Tools like Raimondi Leveling System Starter Kit and Spin Doctor Tile Leveling System are at the top because of their performance.
Are tile leveling systems worth it?
You might not need a leveling kit if you are a pro installer. But if you are not that skilled in installing tiles, a tile leveling system kit will save you time and money. It will give you a flat surface throughout your house.
Are Tuscan seam clips reusable?
There are two types of Tuscan tile leveling systems, strap & caps and seam clips. While strap & cap is reusable, seam clips are not reusable. You can only use them once.
Do I need tile leveling system for backsplash?
You can use a tile leveling system on your walls and floors. But, since the backsplash has outlets and switches, it is not mandatory to use a tile leveling system.
Final Thoughts
What are your thoughts after reading my reviews on Tuscan tile leveling system? I'm sure you could understand that it is a pretty good choice as a tile leveling system.
Yes, there are some limitations to this system. But, I'm sure I could clarify that the advantages of using this system prevail over the disadvantages.
So, if you have a tile installation project at home, don't hesitate to give it a go.