Planning for an interior wall décor with mosaic tiles? 
You will find many options available but nothing like TST Mosaic Crystal Glass Tiles and  I'm exaggerating! And at the end of reading my review on TST mosaic tiles, you will see why.  
Crystal glass mosaic tiles can drastically change the look of your interior walls. TST produces high-quality, strong, and durable glass mosaic tiles for interior walls and other places. 
Here we will see some of the great features of this product to understand whether it's really worth your money. So, without further ado, let's take this show on the road.  
Features of TST Mosaic Tiles
You will find many unique features in TST Mosaic glass tiles. You should know them before deciding whether it's for or against them. 
So, let's see some key features of these mosaic tiles. 
No matter what material is used or how sturdy and durable the tiles are, you won't even have a second glace if they do not look good.
But it won't be the case for these mosaic tiles. 
There are a lot of colors available for TST mosaic crystal glass tiles. But the product in our hand comes with an assortment of 3 dazzling colors. 
You will get glossy rose gold, metallic blue, and chrome silver color tiles inside your tiles box. All these mosaic tiles represent rose queen style. 
After looks, the next important thing is how strong and good quality materials have been used to make the tiles. It needs no mention that tiles from strong materials will last longer. 
Our TST mosaic tiles are made of Crystal Glass and Stainless Steel. You can understand how strong and durable they will be by simply looking at the materials. So, do not worry about cracking or rusting. 
Too big a chip or too small a chip can destroy the looks of mosaic tiles. Exactly why the chips need to be well-balanced in size. 
In the case of TST glass mosaic tiles, you will get three balanced chip sizes that are not too much bigger and not too much small either. The package includes 15mm by 15mm, 15 mm by 48 mm, and 15 mm by 98 mm chip sizes. 
This assortment of sizes will make your tiles look even better. Moreover, all these chips are 8 mm thick, which is enough. 
Installing TST mosaic tiles will give you many superior benefits. The most important among them is their looks. With modern rose queen style and glossy finish, you will fall in love with your wall. 
Moreover, mesh backing, and water-resistant features make these mosaic tiles more durable and sturdy. On top of those, you will get excellent packaging protecting them during shipment. 
Jaw-Dropping Patterns & Designs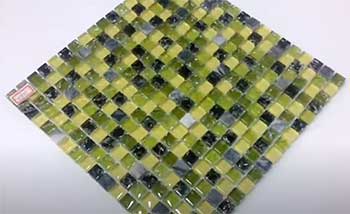 Another critical factor for a mosaic tile is its patterns and designs.
With rose queen designs, you will have to give TST mosaic glass tiles full marks. 
Its inner crackle design of smaller chips and backing wave designs of rectangle chips make them look extraordinarily beautiful. 
Besides, it has a classic interlock pattern. It's an old and very popular pattern for interior wall decoration. These outstanding designs and patterns will make your walls look classy and beautiful. 
The good thing about TST mosaic tiles is that you can use them in multiple places. It will enhance the beauty of any sites you will install it. 
TST mosaic tiles are designed for interior walls. Its glossy tiles can make any interior wall alluring. However, you can install these tiles on your bathroom walls, kitchen, shower, backsplash, fireplaces, and any other interior walls. 
Because of its rock-solid body with 8 mm thickness, TST mosaic tiles won't crack or get destroyed. 
You will get two available sizes for TST crystal glass mosaic tiles. You can choose between a 5 square feet tile size and a 10 square feet tile size. 
While some people like larger tiles, others like smaller ones. Again some places require smaller tiles. In every case, two-size tile options will come handy for many people. 
Installing TST mosaic tiles is pretty easy compared to other mosaic tiles. Because of its interlock feature and mesh backing, you can easily install these tiles on your wall. 
First, measure the area and prepare everything. Then spread mortar on the surface and set TST mosaic tiles on. 
Then use a rubber trawler and unsanded grout to grout. Finally, clean the finish and excess grout with a sponge after 12 hours. 
Your mosaic tiles are up and on display. However, you can use a wet saw to cut the mosaic tiles while installing if needed. 
A Great After-Sale Service 
The product is excellent, but the customer care you will get after purchasing TST mosaic is also pretty great. You can return your product without showing any reason because they accept no-reason returns. 
However, you will have to return the entire box, and the tiles should be unused with the original package. Besides, you will get a free replacement if any tiles get damaged while shipping. 
What Could Have Been Better With TST Mosaic Tiles?

With all those impressive features, you might feel it's impossible to have any downside of TST mosaic glass tiles. But it's not really true. Every product has some cons, and this one is not excluded. 
Let's see some cons I have found from customer reviews: 
All three colors of TST mosaic tiles are beautiful. But according to many customer reviews, the blue color of the 10 square feet size is a bit on the gray side. 
So, the mosaic glass tiles would look even more attractive if the blue color was brighter and clearer. 
TST mosaic crystal glass tiles are available in two sizes. A 5 square feet and a 10 square feet size. 
But some people might want to put them on a bigger wall. In that case, a bigger size would be more cost-effective and less time-consuming. 
So, introducing a bigger tile size will be particularly beneficial to many customers. 
Frequently Asked Question (FAQ) 
Is mosaic tile good for shower walls?
Mosaic Tiles are always an excellent choice for shower walls. Using them for lining the shower enclosure will make your entire bathroom look attractive. 
Where can mosaic tiles be used?
Mosaic tiles are used to décor indoor and outdoor walls. You can also use them in your kitchen, bathroom, shower, flooring, etc. 
What is mosaic tiles for?
Mosaic tiles are used for decorating exterior and interior walls. With different pieces glued together, mosaic tiles look very attractive on walls and any other place. 
How do you install mosaic tile in a shower?
First, you have to spread mortar on the walls and put mosaic tiles. Then you have to apply unsanded grouts using a trawler. Finally, clean the tiles with a sponge. 
Final Thoughts 
The most fantastic thing about mosaic tiles is that they are versatile and better looking than regular tiles. With so many patterns and designs, they genuinely look jaw-dropping beautiful.
After reading my TST mosaic tiles reviews, now you must agree it's worth every penny. So, it is time to go ahead and decorate your space with this beauty.