Cork flooring was first used in 1890, and many households still use this type of flooring. Apart from being comfortable and safe, it is eco-friendly.
Mold, mildew, and termites are not prone to harm this kind of flooring. However, choosing reliable cork flooring might be tricky.
Several options are there to confuse you. Lisbon is a famous brand that makes different types of house-building products. Here we will go for details of Lisbon cork flooring reviews to learn all the valuable features of this product.
Let's start without further ado!
Features of Lisbon Cork Flooring

When you have a good idea of the different features of a particular product, you can make a better decision. Let's learn a few important features of this cork flooring.
Many cheap-quality flooring can't withstand abrasions and cracking. Due to sturdy construction, Lisbon cork flooring can last for a long time.
In addition, once you properly install this underlayment, liquid and gas won't be able to pass through it. Also, you don't have to worry about indentation issues since the flooring will naturally bounce back to its original condition.           
Natural And Healthy Option
This cork flooring is mainly made from a natural material. It is directly collected from the bark of the cork tree without destroying it. This makes it an eco-friendly option.
Since it is made from natural materials, mold, mildew, or termites can't harm the flooring quality.
Keeping the cork flooring cleaner and fresher for an extended period is what you will appreciate about this product. Additionally, the microfibers inside the flooring won't affect indoor air quality negatively.
Plus, this eco-friendly flooring is fully biodegradable. Lisbon almost generates zero waste while manufacturing the cork flooring. Hence, it will barely cause any negative impact on the environment.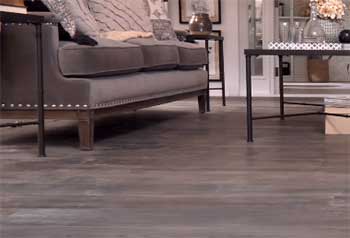 When choosing any household flooring, safety is one of the most important factors. Lisbon Cork flooring has high fire-resistant properties.
Only very high temperatures can cause ignition or melting issues for this underlayment. 
It is a better material than vinyl flooring in many cases. The flooring will produce minimal smoke and let out reduced toxic items than vinyl flooring
Cushioned Comfort Surface
Lisbon Cork flooring can give you a soft and cushioned feeling when placing your feet on the surface. After all, the floor "gives" when compressed.
Cork flooring is a good temperature insulator too. This type of flooring has a higher rate of insulating material than vinyl, hardwood, tile, etc. Therefore, it will give a naturally warm feeling even in heavy cold weather seasons.
Dirt, dander, and dust mites are often common in many households. These things can negatively affect your health if you are dealing with any asthma or allergies.
Luckily, cork flooring includes suberin that can control the movement of water, solutes, and gases and protect the surrounding environment. Hence, people can stay safer. 
Which flooring type do you prefer: tiles or planks? This highly versatile cork flooring is available in both options. You can even get them in various colors, designs, sizes, and styles.
Since plank flooring has a rectangle-like shape, you can use them to get a smooth underlayment appearance. In contrast, tiles have a square-like shape, making them ideal for creating a nontraditional effect.
We do different types of household work that makes various sounds. They are often intolerable. One of the practical examples would be washing machines.
But this Lisbon cork flooring can work as a noise reducer for your laundry/mudroom since it contains millions of tiny, air-filled chambers. You will barely notice the sound anymore. This ensures a more convenient machine operation.
The warranty period of a product determines its reliability. Thankfully, the Lisbon cork flooring has a 30-year warranty, so you can use it for 3 decades without any worries.
However, they can last 40 to 50 years if you take good care regularly. Since they are made from natural materials, you can dispose of them easily once they are not suitable to use.
What Could've Been Better?

Lisbon cork flooring has many positive aspects, but it is not free from flaws. Here are some common drawbacks you will notice in this type of flooring.
Do you have any cats and dogs in your residence? If yes, avoid pets from playing around on this soft flooring material.
Otherwise, cats and dogs may scratch the area through their nails. In some cases, they may leave permanent indents.
You have already familiar that waterproof and water-resistant are not the same. Hence, sealing the cork floor after a few years is important. Otherwise, it will cause spilling issues.
Make sure you don't use excessive water to clean the cork floor. Or, this may degrade the wood surface in addition to a number of stains. You can use a dehumidifier if your surrounding environment is highly humid.
Requires Good Installation Technique
Though cork floors are easy to install, knowing the basic installation technique is essential. For instance, when attaching the cork surface to the underlayment, you must apply a good amount of pressure for better adhesion.
Beginners often need professionals for an accurate installation. After all, the entire setup procedure requires following several steps sequentially.
Final Thought
What do you think about going through the Lisbon cork flooring reviews? Is it worth buying such flooring, or should you look for other options?
It generally depends on your household requirements. We have already discussed what good and bad things this cork floor offers.
Though it has a few drawbacks, its pros are too good to overlook its minor flaws. Apart from being highly durable, it is a safer and eco-friendly option.
You will save electricity bills as the cork floor will work as good insulation. Now, you have complete freedom to go for it or not.