While we can all identify the floor in our homes (I would hope), sub-flooring is unclear to some. To clear that up, it is a part of the building structure where the floor is laid on top.
The basics of the essential features will help you grab the best option.
The primary difference between the two is that Advantech uses engineered wood, while Top Notch has composite wood. The latter has ESR-1875 certification, whereas the former is APA certified.
Would you like to know more details? Read till the end!
A Brief Comparison Table
| | | |
| --- | --- | --- |
| Product Description | Top Notch 350 | Advantech |
| Material Used | Composite wood | Engineered wood |
| Certification | APA | ESR-1875 |
| Design | Standard | Premium |
| Technology | RainChannel | Advanced resin |
| Weight | Lighter | Heavier |
| Sound Level | Less quiet | Quieter |
| Installation | Easy | Complex |
| Price | Lower | Higher |
Essential Differences Between Top Notch 350 And Advantech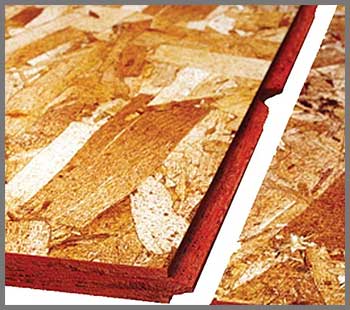 The single-layered Top Notch sub-flooring is constructed using rectangular composite wood strands combined with waterproof, thermal-set adhesives, which are put in layers and blended using extreme pressure.
Best of all, finding the perfect fit is a walk in the park since the floor is available in various sizes.
In contrast, Advantech is made using engineered wood, which contains resin.
The layers are then arranged using an organized process, providing excellent strength and durability.
The high-quality wood and resins ensure the fasteners are firmly held in position to keep the flooring as flat as possible.
A certification's fundamental purpose is to measure a sub-floors authenticity. Top Notch is APA-certified to ensure it remains compliant with the Engineered Wood Association.
On the flip side, Advantech is ESR-1875 certified. It's worth noting that it is the only sub-flooring brand with the ESR certification.
This product meets the high-performance standards as specified, ensuring consistent production of sturdy and stiff sub-flooring. What's more, Advantech also has LEED qualifications to ensure it complies with the healthy environment requirements.
Top Notch 350 has a standard design, which is super lightweight and has even sizes. It features a SolidStart rim board that creates a solid surface that enables proper and uniform attachment of deck ledgers and sheathing.
Better still, the excellent structure of this subfloor offers unbeatable protection from water, scratches, and other components.
Conversely, Advantech features a superior design. Available groove profile, precision tongue, and an entirely sanded layer ensure the strips are appropriately placed by preventing visible lines.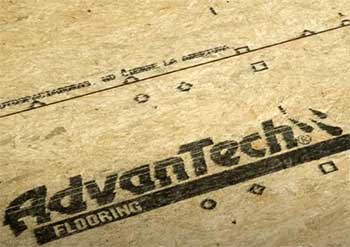 Top Notch 350 features RainChannel technology, an advanced technique ensuring rainwater is wholly drained away during construction.
This notch technique eliminates moisture absorption swelling of the edges.
My favorite part?
This sub-floor can sit in the rain for weeks and months and face any damage.
Oppositely, Advantech utilizes advanced resin technology that provides high moisture resistance and creates an excellent nail-holding power that keeps the floors indiscernibly quiet and flat.
This innovative technology delivers a superb edge-to-edge mechanism that eliminates squeaks.
A significant factor to consider in a sub-floor is weight; you'll understand why in a minute. Top Notch is a highly lightweight sub-floor, incredibly easy to handle.
Another thing, there is no likelihood of alteration of the physical properties of the flooring due to extra force.
In opposition, Advantech has a thicker layer of a single-based component; hence it is heavier in weight. But the good thing is that dense woods come with an increased lifespan.  
Have you ever encountered a floor that generates a vibration any time you step?
If you haven't, I certainly hope you skip that annoying experience. And Advantech happens to be the answer! With the fastener-holding capacity, you'll get to enjoy a vibration-free surface.
Contrarily, Top Notch has some slight vibrations. I repeat, slight, which means it's not entirely noticeable. But all in all, Advantech is a real gem if you need a dead silent subfloor.
Top Notch is remarkably light, thin, and flexible, contributing to the ease of installation. The process is easy, and you won't struggle to move the wood slices from one point to another.
Best of all, the self-spacing tongue and groove allow faster installation.
Advantech is bulkier and stiffer, meaning it's more challenging to align the pieces of wood. But on the bright side, you don't require nails, glue, or adhesives to get the job done.
In most cases, the cheapest subfloors are usually less durable and end up cracking after a short while, forcing you to invest in this part of the house again.
Why not put money on the best that will last for years?
You'll love the price tag on Top Notch as it only costs $28 per square foot. On the other hand, Advantech roughly goes $50 per square foot.
Which Sub-flooring Is Better?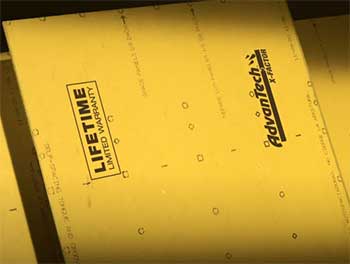 It's impossible to give a definite answer as to which subflooring is better.
Recall the phrase, one man's meat is another man's poison.
Choices vary among people depending on their preferences.
Top Notch is an excellent pick if you are after a light and affordable product but less durable.
Advantech is a suitable choice for those that would break the bank if that means getting the best.
Frequently Asked Questions (FAQ)
What is Top Notch 350?
Top Notch 350 is a famous brand that makes strong, flat, and durable subfloors. It has eye-catching features that create exceptional moisture resistance.
Is Advantech better than plywood?
Undoubtedly, yes! Advantech has unmatched longevity, quality, strength, consistency, and versatility.
What is the most robust subfloor material?
Plywood material is solid and can last you for extended periods if the installation is done as per the instructions.
What is the difference between Top Notch 350 and Legacy?
While Top Notch 350 mainly provides moisture resistance and durability at a reasonable price, Legacy offers increased strength, stiffness, and water resistance.
Final Remarks
After all is said, which subfloor has impressed you the most?
Both brands have pros and cons; thus, it's entirely up to you to figure out the one that suits your needs better.
Advantech is irresistible since it has better longevity, easier installation, is immensely quiet, and has a high-end design. But if all you need is a light subfloor that costs less, Top Notch 350 is a no-brainer.