Are you puzzled about choosing between LP Legacy Subfloor vs. Advantech? 
Both subflooring is excellent, but they have their own features to stand out from others. Knowing all the essential specifications can help you grab the finest option for your need. 
The primary difference between these two subfloors is that LP Legacy Subfloor comprises strand-based composite wood, whereas Advantech has engineered wood. LP Legacy is a standard version with an affordable pricing tag, while Advantech is a premium version.
 Let's check out more details about the subflooring. 
A Quick Comparison Table
Maintaining a busy schedule? You may not have adequate time to go through the entire post. In this case, check out this swift comparison table to get a brief idea. 
| | | |
| --- | --- | --- |
| Specifications | LP Legacy Subfloor | Advantech Subfloor |
| Materials | Strand-based composite wood | Enhanced engineered wood |
| Weight | Medium | Slightly heavier |
| Floor vibration | Slight vibrations | Fully quiet |
| Certification | APA-verified | ESR-1785 standards |
| Installation | Simple to install | A little challenging to install |
| Performance | Good | Better |
| Price | Moderate | Higher |
| Warranty | Lifetime Limited Warranty | Lifetime Limited Warranty |
In-depth Differences Between LP Legacy Subfloor And Advantech
If you are more interested in learning comprehensive details about both subflooring options, go through each specification individually.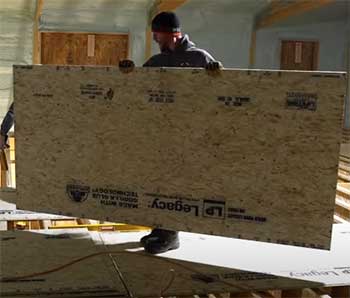 LP Legacy subfloor is made of Strand-based composite wood, which has stable physical and mechanical properties.
Due to high-dimensional flexibility, this subfloor is available in a wide selection of sizes. Finding the right size is easy-going. 
On the contrary, Advantech subflooring has enhanced engineered wood that ensures no shortage of extreme durability.
Withstanding higher levels of humidity is simple for this type of wood. Plus, they are not prone to expand.
Weight is a crucial point when selecting a subflooring option. Since the subfloor goes over the main floor, you must ensure the physical properties of the main floor don't get affected due to subfloor weight. 
Otherwise, extreme pressure on the subfloor will cause a heavy impact. 
Since LP Legacy Subfloor is made of combined wood (artificial materials and natural wood), they have lightweight. These woods are not highly thick and dense. 
Therefore, their total weight is not heavy. This won't cause extra force on the main floor.
On the contrary, Advantech Subfloor is made of improved engineered wood, which has no voids in the cellular structure. Its overall weight has increased since it is made from a single-based material. 
After all, it has a higher density and thick woods. 
Floor vibration is closely related to convenient usability. LP Legacy Subfloor has a lightweight and less dense construction. 
Hence, walking on such a floor will generate a slight vibration or sound. Nevertheless, not everyone can notice it. 
On the other hand, Advantech Subfloor has fastener-holding power that aids in keeping floors flat and quiet. Enjoying a vibration-free walking experience is what you will appreciate about this subfloor.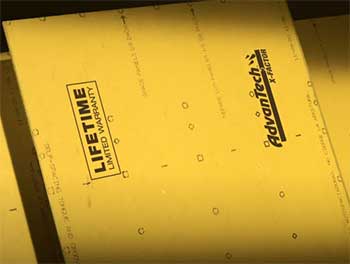 Different certifications should always measure the authenticity of a subfloor. The LP Legacy Subfloor is APA-verified.
It means the wood the manufacturer uses for this subfloor meets the standard of the Engineered Wood Association.
In contrast, Advantech Subfloor has ESR-1785 standards to ensure superior strength and stiffness.
Additionally, this subfloor has a Structural 1 rating to provide increased structural reliability. 
They have more extreme durability than any typical wood-based subfloors. 
Since LP Legacy Subfloor is lightweight, flexible, and thin, installing them on various surfaces is easy-going. You won't struggle to move these pieces of wood from one area to another.
Contrastly, Advantech Subfloor is a heavyweight and more-rigid floor type option. Though they have extreme durability, transforming these pieces of wood is a little bit challenging. You may need a helping hand for safe movements.  
How do you determine the performance of a subfloor? Though both subflooring options are great, Advantech Subfloor can show better performance in the long run. 
Its premium quality wood materials ensure long-lasting strength and stiffness. Plus, the manufacturers use premium-quality moisture-resistant resin technology on the wood panel. They have outstanding metal adhesion and corrosion resistance properties.
However, LP Legacy Subfloor is not that bad at all. Its wood panels are equipped with more strands, resin, and wax to protect the subfloor from unwanted moisture and edge swell. 
Also, the company utilizes Gorilla Glue Technology® to make the subfloor extremely stiff. 
Here come the most crucial factors that often determine which option to choose. Installing a decent-quality subfloor requires a good investment. A cheap quality subfloor will crack within a short time. 
Compared to the LP Legacy subfloor, Advantech Subfloor has a higher price tag. You need to spend a hundred dollars more to install Advantech Subfloor. However, this product's reliability, performance, and durability make it a worthy choice. 
Generally, a subfloor lasts around 20 to 30 years, depending on your environmental exposure and maintenance approach. But having a lifetime warranty makes the product more reliable and keeps you tension-free after installation. 
Thankfully, both subflooring options have a lifetime limited warranty. Hence, you don't need to worry about the product's durability during this period. 
Just make sure to follow the strict guidelines of the manufacturing company and take better care of them.  
Which Subflooring Is The Best? 
The way we define the best product will vary from person to person. Some people may prefer an inexpensive option with the essential features. 
On the flip side, a few will want to get an expensive option to ensure the optimal performance and reliability of the product.
 If you are looking for an inexpensive subflooring option without compromising the quality, the LP Legacy subfloor is an outstanding choice. Its decent quality and consistent performance will provide a greater overall value. 
But avoid expecting them to be as durable as premium subfloors.
On the other hand, when you give the maximum attention to the quality regardless of the price, Advantech Subfloor is the best pick. It can last as long as high-grade subfloors—all you need to spend a few hundred dollars more to install them.  
Frequently Asked Question (FAQ)
What is LP legacy plywood? 
LP legacy plywood is mainly a high-grade, strand-based composite wood panel ideal for busy and non-busy foot traffic areas. Though its materials are hard and have unmatched stiffness, it has APA verifications.
Can you paint LP legacy subfloor?
Yes, you can paint or plaster the LP legacy subfloor after drying and curing appropriately. Applying the paint before perfect curing will soon lead to cracking or peeling off issues. 
Is AdvanTech better than plywood?
Yes, AdvanTech is better than typical plywood because the wood materials include a "woven matrix of fibers." This ensures high stability and minimal squeaking.
Is AdvanTech subflooring waterproof?
AdvanTech subflooring doesn't have a permanent waterproofing system. But periodical extensive water exposure will merely cause any harm to it.
Wrapping Up
So, what option seems the best pick for your house after learning about LP Legacy Subfloor vs. Advantech? 
Both subflooring options have their own advantages and disadvantages —choosing any option requires you first to determine your flooring requirements and budget.
Regardless of the subfloor you choose, make sure it is compatible with your house structure and floor type. Installing the wrong subfloor doesn't add any value, even if it has an expensive pricing tag.