If confusion between Bosch 800 and Benchmark series oven has brought you here, you'll find your answers. The 800 series oven costs less than the Benchmark Series oven.
However, Benchmark provides more cooking modes than the 800 series oven from Bosch.
Another difference is that the 800 series oven has the home connect connectivity feature inside it, whereas the Benchmark doesn't include that. In addition, both have touch controls that would work seamlessly and comfortably in most cases.
Both can be an excellent choice for the single wall oven needs but decide whichever suits you best.
A Brief Comparison Table
| | | |
| --- | --- | --- |
| Comparing Factors | 800 Series Single HBL8443UC Oven | Benchmark® Single Wall HBLP451UC Oven |
| Cooking Modes | Bake, Broil, Convection Bake, Convection Broil, Convection Multi-Rack, Pizza, Proof, Warm | Bake, Broil, Convection Bake, Convection Broil, Convection Multi-Rack, Eco Pizza, Proof, The special baking setting, Warm |
| Home Connect Connectivity Option | Included | Not Included |
| Portability | More portable with 186 lbs. | Less portable with 193 lbs. |
| Included Accessories | 1 x oven racks /upper, 1 x temperature probe /upper | 3 x oven racks /upper, 1 x Broiler pan /upper, 1 x temperature probe /upper |
| Color | Matte Black | Stainless Steel |
| Type of Controls | Touch Control | Touch Controls |
| Maximum Heating Temperature | 550 F | 550 F |
| Pricing | It costs you around $3,249.00 | It costs you more at $3,299.00 |
Key Differences Between Bosch 800 And Benchmark Series Ovens
The above-explained table gives you an idea about the differences between these two ovens from Bosch. However, below, you'll find the complete details and discussion regarding each factor. Have a look, please.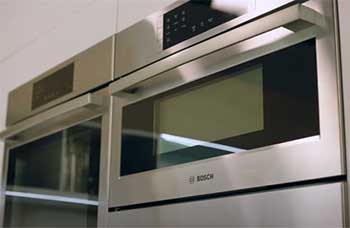 On the contrary, both ovens come with almost similar features.
But when you look at the cooking modes these efficient machines offer, both have very little difference.
The 800 series provides you with Bake, Broil, Proof, Warm, and other fantastic cooking modes.
At the same time, the benchmark oven does offer the same features.
Yet, it has an additional Special baking setting mode. It is something additional you'll find with this oven. For the rest, there is no considerable difference between both.
Home Connect Connectivity Option
The home Connect feature in an oven helps you connect your cooking or baking apparatus with a mobile app and operate the appliance right from there.
Some ovens include this feature while others don't. If you look at the 800 series oven, this one provides a Home Connect feature, whereas the Benchmark does not.
With this feature, you enjoy the unique perks of efficient cooking and monitoring of your oven. Connect it with the Wi-Fi, download the app, and start using your oven from your mobile.
I am afraid that if you'd consider the Benchmark Single Wall Oven, it doesn't provide you with such a latest technology equipped featuring.
With these ovens, deciding which one will be easier to carry, more portable, and lightweight is easier to carry. When you look at the 800 Series oven, it comes only with 186 lbs.
In contrast, the Benchmark comes with 193 lbs. of weight, a little less portable and heavyweight machine.
Hence, you can easily decide which oven will be easier to fit on the countertop and easier to change locations in a kitchen.
There is another difference between the accessories these ovens include in this price tag. While looking at the 800 Series Single Oven, you will get 1 oven rack on the upper side, an included temperature setting, and more.
On the other side, the Benchmark Oven includes 3 racks, broiler pans, temperature prob, and more. Comparatively, the Benchmark oven provides you with more accessories than an 800 Series oven will do.
That's also justified because of the higher price,
It also makes a difference between ovens, their appearance, and their color. Considering the 800 Series oven, you will have it in Matte Black.
Conversely, the Benchmark Oven comes in a stainless-steel color. In this case, you can consider choosing either oven for your kitchen depending on what color fits you best.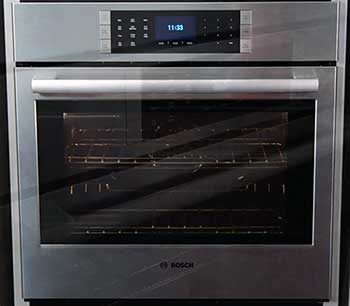 For this feature, they both have the exact specifications.
Both ovens have easier and more comfortable touch controls on the board and provide easy control.
You can operate these ovens the way you want.
Whether it relates to baking, reheating, cooking, or frosting, you have it all at the same place.
Just choose your options and enjoy such an easy feature to operate these masterpieces.
Maximum Heating Temperature
The maximum heating temperature you can attain with either oven comes to 550F. Such a temperature is included in standard ovens like these. It provides you with maximum heating while cooking or baking your favorite meals.
There is no difference between the 800 series and Benchmark series ovens from Bosch regarding their heating temperature ranges.
I'd say that these series ovens have more in common than different. Like, look at the construction of these ovens.
They both come built, which can be installed into the upper side of your kitchen. Or you can have them on the counter space of the kitchen.
But installing an oven at its appropriate place will be more suitable than having it on your kitchen counter.
There is also no difference between the capacities of these Ovens. The Benchmark oven does the same as the 800 series oven mentioned and, compared here, provides you with a 4.6 cubic feet capacity.
In this regard, one can have any of these ovens for a spacious capacity and more space to cook more food items. These ovens can have many dishes and provide non-stop cooking without any complaints.
Both ovens share the same power level of 5000 watts, enough to cook any solid or soft food item.
It doesn't matter if you want to reheat pizza or cook chicken; you will get the extra fried items in no time.
A power level of 5000 watts in an oven like this is huge and beneficial when you need to cook or reheat more dishes in less time.
That's why either one could be your best choice to place in the kitchen.
As I said earlier, these ovens have more similar features than different ones. That's why you can find the 800 series oven and the Benchmark series oven with the same display.
They both have the same screens displaying Text and helping you understand the temperature level and other cooking factors.
Thus, one can find identical displays in both ovens, which is no difference.
Recommendations From Customers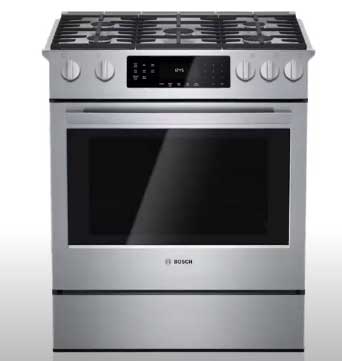 Since the 800 series oven from Bosch has Home Connectivity and other smart controls, people recommend it more.
The difference is significant because this feature allows you to operate your oven with your mobile device.
However, such a feature doesn't come with the Benchmark single-wall oven.
In that case, you can take the 800 series oven, a modern one, and the Benchmark, a traditional one.
Because the later oven provides a more traditional means of cooking than the 800 series oven.
Even though the prices of these ovens do not have a significant difference, the Benchmark costs you a little more at $3,299 bucks.
At the same time, the 800 series single wall oven comes at $3,249, which is relatively less than Benchmark.
The price is taken from the official Bosch website. However, these prices may vary depending on the store you are buying from, like Lowes, Home Depot, Best Buy, etc.
Which One Is Best To Choose Between Two Series Ovens?
Both these units are suitable to consider as Bosch makes the fine kitchen and home appliances that last more extended periods.
It doesn't matter whether you select the 800 series oven or the Benchmark oven; the quality, durability, and working will be effortless.
However, they have differences in price, the included accessories, technology features, and others.
So, if 800 inspires you because of its home connectivity features, it's a great option. At the same time, Benchmark doesn't leave you behind as well because it comes with more cooking modes and more accessories.
Frequently Asked Questions (FAQ)
What Is The Difference Between Bosch Benchmark And 800 Series Oven?
Other than specific products, the main differences between Benchmark and the 800 series oven from Bosch include Benchmark having a Flex induction Zone, but the 800 does not. 800 comes with another Autochef feature, whereas Benchmark doesn't provide that.
Which Bosch Series Is Best?
If you are talking about Dishwashers, the Bosch 500 series is the best to consider for the price tag and the features it provides.
Which Bosch Benchmark Dishwashers Are Made In Germany?
Featuring 800 series and more, most Benchmark Dishwashers are made in Germany.
Where Are Bosch Benchmark Wall Ovens Made?
These are made in the United States of America.
Final Verdict
There is nothing much to compare between the Bosch 800 and Benchmark series ovens. Yet you will find these ovens being compared on their unique characteristics.
These include technology occupations like smart connectivity, portability, size, number of racks, and other cooking or baking options.
If I were you, I would choose the 800 series oven because of its matte black stainless steel finish and portability. Also, the oven comes at a less price. But if you like the Benchmark, that's also not a bad choice.