We all love a shining deck that will hold the beauty for years. But that doesn't easily come since you need proper care and nourishment to maintain wood's health and look. It's never too late to get benefitted from using timber oil.
Not only will the timber oil condition your wooden deck and furniture, but it can give a new finish to them too. If you have been wondering which timber oil to choose between Thompson timber oil and Cabot Australian, the comparison below can help you decide.
So, without wasting any time, let's get to it.
A Quick Comparison Table
Before we get into the detailed comparison, let me take you through the differences at a glance. Also, if you are in a hurry, you can get some primary ideas from here too.
| | | |
| --- | --- | --- |
| Specification | Thompson Timber Oil | Cabot Australian Timber Oil |
| Quality | Good | Better |
| Longevity | Decent longevity | Excellent longevity |
| Price | Inexpensive | Expensive |
| Finish Options | Natural, Teak, Walnut, Pecan, and Redwood | Amber wood, Honey Teak, Mahogany Flame, Natural, and  Jarrah Brown |
| Protection | Mildew, UV damage, water damage | Water and UV damage |
| Application | Easy | Complex |
| Coverage | Good | Better |
Key Differences Between Cabot Australian And Thompson Timber Oil
Now that you know the differences, let's discuss them in detail. As you have noticed, the differences come from various aspects, and your priorities can differ.
This discussion below will help you get your priorities straight and pick a product.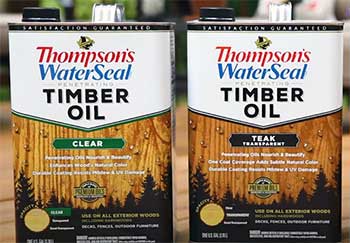 Both timber oil manufacturers here maintain the highest quality when manufacturing their products.
In addition, both timber oils are manufactured for outdoor use and evenly penetrate the wood.
However, if you look at small details, Cabot Australian timber oil gets the lead with excellent colors and unmatched sealing performance.
Cabot used three different types of oil for their timber oil. Each offers durability, penetration, water resistance, and color depth.
Longevity is surely a deciding factor regarding wood protection products like timber oil. Unfortunately, applying timber oil on your exterior wood isn't something you do every day, so you must ensure the one you decide to apply lasts you for years.
Cabot Australian seems to have the upper hand over Thompson timber oil in the longevity area. Though longevity is partially dependent on when you apply timber oil and the weather condition, Cabot Australian has a better reputation for lasting longer than Thompson timber oil.
The difference in cost is going to be a deciding factor for many. Though timber oil, in general, isn't very costly, the huge difference in the price of both timber oils asks for this comparison.
While Thompson timber oil costs around $77 for a gallon, Cabot Australian charges a fortune with $35 per quart.
Considering you don't apply timber oil daily, you can choose the pricier option. But as a professional, Cabot Australian's price doesn't make up for a sustainable choice.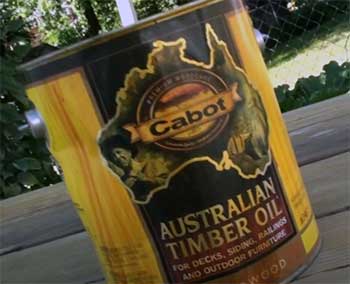 Though the main purpose of timber oil is to provide the necessary protection and sealant to your wood, the color formation also comes into play.
Timber oil offers five different finishes depending on the wood color and preference to give your wooden structures a new look.
There is no clear winner in this section as both offer the same number of choices, although the choices are different.
However, you can browse between the options and go for the timber oil that offers your desired color.
As I mentioned earlier, the main job of timber oil is to protect the wood. They penetrate the porous surface of exterior wood and seal the wood from the inside to protect it from UV and water damage.
However, Thompson timber oil provides a little extra with mildew damage, which is not available with Cabot Australian. So, Thompson takes the win in the protection department.
How you are going to apply these timber oils on wood is going to make a huge difference in their performance. So, you have to make sure you are applying the oils correctly.
In terms of application complexity, Thompson timber oil is easier to apply with simpler instructions.
On the other hand, Cabot Australian needs a lot of preparation before applying. Especially if you are a DIYer, this aspect will make a huge difference for you.
Coverage is important since it will justify the pricing and decide how much oil you'll need for a particular project. Cabot Australian again gets the lead in the coverage section with their 3400 series covering about 400 – 600 square feet per gallon.
On the other hand, Thompson timber oil covers around 150 – 350 square feet per gallon. The higher coverage here also makes up for the price tag of Cabot Australian.
Which One Will Be The Best Fit For Your House?
As you can see above, there is no clear winner in the comparison between Thompson timber oil and Cabot Australian. While Thompson timber oil got the upper hand in certain areas, Cabot Australian got the other.
However, Cabot Australian hit it out of the park with excellent longevity and coverage. The timber oil price is huge, but if you can afford Cabot Australian timber oil, it should be a better choice overall.
Now, watch how you can use it to stain your wood!
Frequently Asked Question (FAQs)
How long does Cabot Australian timber oil last?
There is no fixed timeline for how long Cabot Australian timber oil will last because many factors, like the weather, surface quality, and application, contribute to the answer. However, if the application is right, Cabot Australian timber oil finish should easily last you about four years.
What's the difference between Cabot Gold and Cabot Australian timber oil?
Though Cabot Gold and Cabot Australian timber oil seem to work similarly, there are quite a few differences. Cabot Gold is a wood finish, while Cabot Australian timber oil is a stain.
So, Cabot Gold is mostly supposed to seal the wood from moisture damage, while Cabot Australian Timber oil can protect and add color to your wood.  
Does Cabot Australian timber oil peel?
For Cabot Australian timber oil to work, you must ensure the oil is applied perfectly. Applying this oil on exterior wood typically doesn't result in peeling or flaking. However, if you end up overlapping the oil, it can cause peeling from the side of the wooden structure. 
What oils are in Cabot Australian timber oil?
Considering Cabot Australian Timber oil's well-performing, you might be wondering which oils formulate it. So, for the Australian timber oil, Cabot uses a unique blend of superb-grade linseed oil, long-oil alkyds, and pure South American tung oil. Each of these oils contributes to penetration, durability, and color depth.
Final Words
That's a wrap for today. At this point, I hope you have a clear winner in mind. If you don't, you can compare different aspects by giving some time. See, there is no good or bad choice here, and it's all about your priorities.
But no matter which oil you choose between Thompson timber oil and Cabot Australian, both will breathe new life into your wood.