When it comes to selecting fiberglass exterior doors for your home, two big names stand out: Therma-Tru and Pella. Both companies make high-quality fiberglass doors that offer strength, durability, and great insulation. But how do you choose between these two popular brands?
In this comprehensive guide, we'll compare Therma-Tru and Pella fiberglass doors to help you decide which is better for your home. We'll look at the pros and cons of each brand, compare prices and warranties, and give our recommendation on which provides the best value.
A Brief Comparison Table
| | | |
| --- | --- | --- |
| Feature | Therma-Tru | Pella |
| Cost | $$ More affordable at all price tiers | $$$ Premium pricing; most expensive option |
| Styles | Huge selection of traditional and modern styles | Contemporary and modern style focus |
| Realistic Wood Grain | ✓✓ Good faux wood grain finish | ✓✓✓ Very natural molded wood grain |
| Energy Efficiency | ✓✓ Meets ENERGY STAR for northern climates | ✓✓✓ Meets all ENERGY STAR zones |
| Security Features | ✓ Standard security | ✓✓ More advanced security options |
| Glass Options | ✓✓ Wide range of glass types and styles | ✓✓✓ Innovative glass with triple pane options |
| Warranties | ✓✓✓ Lifetime limited on materials and finishes | ✓ 10 years on materials, 5 years on finishes |
| Durability | ✓✓✓ Excellent dent resistance and cycle testing | ✓✓ Mixed reviews on long-term finish durability |
| DIY Installation | ✓✓ Lightweight design enables DIY install | ✓ Heavy doors require professional install |
Therma-Tru Doors Overview
Therma-Tru is one of the leading manufacturers of fiberglass entry doors in the United States. The company has over 60 years of experience with fiberglass door technology and offers a full range of products.
Pros of Therma-Tru Fiberglass Doors: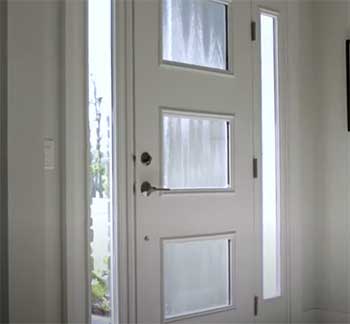 Huge selection of styles and finishes – Therma-Tru has an extensive catalog of door styles, from modern to traditional. You can select from smooth, wood grain, or distressed finishes.
Durable and dent-resistant – Made with a fiberglass skin over a polyurethane foam core, Therma-Tru doors won't dent like steel or crack like wood. The fiberglass skins provide strength and impact resistance.
Excellent insulation – Therma-Tru doors deliver excellent thermal performance due to their foam insulation cores. This helps keep your home comfortable and reduces energy costs.
Wide range of customization options – Therma-Tru allows you to customize door sizes, hardware, glass designs, and more to fit your exact needs.
Strong warranties – Therma-Tru offers lifetime limited warranties on both the door components and finishes. This shows the brand's confidence in their product quality.
Cons of Therma-Tru Doors:
Prone to fading – The finishes used on Therma-Tru doors may fade faster than expected when exposed to direct sunlight and the elements.
Can be heavy – Although strong, Therma-Tru doors are quite heavy and may require two people for installation. Hinge strength should be verified.
Higher cost – Therma-Tru doors generally cost more than basic steel and wood doors. However, their quality and durability justify the investment for most homeowners.
Pella Fiberglass Doors Overview
Pella is another highly regarded brand in the window and door industry. They are known for their innovation in high-performance designs.
Pros of Pella Fiberglass Doors: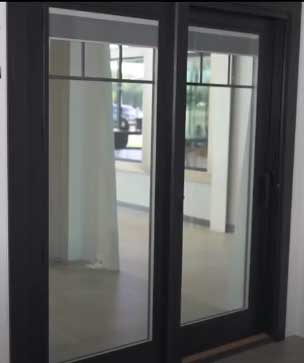 Innovative styles – Pella doors feature modern architectural styles you won't find with other brands. Their designs cater to current home trends.
Natural wood grain finishes – Pella uses a molded grain technology on their fiberglass skins to recreate the elegant look of natural wood doors. The wood grain patterns are very realistic.
Added security features – Pella doors often come with reinforced lock areas, premium hardware, and integral blinds between glass panes to increase security.
Lots of glass customization – Pella offers many custom glass designs, like decorative wrought iron looks, to allow light in while maintaining privacy.
Leading energy efficiency – Pella doors are highly insulated and meet ENERGY STAR requirements for energy efficiency in all climate zones. This can help reduce energy costs.
Cons of Pella Doors:
Very heavy – Pella doors are often heavier than the average fiberglass doors. Professional installation is strongly recommended.
Expensive – Pella doors come with a premium price tag, making them one of the most expensive fiberglass door options.
Shorter warranties – Pella's fiberglass door components are covered for 10 years. Their finishes are only warranted for 5 years.
Mixed durability reviews – Some homeowners report issues with Pella's finish holding up over time. The doors may require more frequent maintenance.
Now that we've compared the pros and cons of both brands, how do they stack up against one another? Here's a quick breakdown:
| | | |
| --- | --- | --- |
| Factors | Therma-Tru | Pella |
| Variety of Styles | ✓✓✓ | ✓✓ |
| Realistic Wood Grain Finish | ✓✓ | ✓✓✓ |
| Durability & Dent Resistance | ✓✓✓ | ✓✓ |
| Security Features | ✓ | ✓✓ |
| Energy Efficiency | ✓✓ | ✓✓✓ |
| Customization Options | ✓✓✓ | ✓✓ |
| Warranties | ✓✓✓ | ✓ |
| Price | $$ | $$$ |
From this comparison, you can see that Therma-Tru offers a better variety of styles, slightly better durability, and longer warranties at a more affordable price point. Pella doors feature very natural wood grain finishes, more built-in security, and the best energy efficiency ratings.
Key Differences Between Therma-Tru And Pella Fiberglass Doors
Ultimately, choosing between the two brands comes down to your priorities and budget. Keep reading for more details to help you decide.
Fiberglass Door Price Comparison
Of course, cost is a major factor for most homeowners shopping for new exterior doors. Let's take a look at how Therma-Tru and Pella fiberglass door prices stack up.
Therma-Tru Fiberglass Doors
Entry-level models – $400 to $800
Mid-range models – $800 to $1,500
High-end models – $1,500 to $2,500
Custom models – $2,500+
Pella Fiberglass Doors
Entry-level models – $1,000 to $2,000
Mid-range models – $2,000 to $3,000
High-end models – $3,000 to $4,000
Custom models – $4,000+
As you can see, Therma-Tru's fiberglass door prices are significantly more affordable than Pella at every tier. An entry-level Therma-Tru door costs about half as much as a comparable Pella door.
Therma-Tru's lower prices make them ideal for homeowners on a tight budget or those needing to replace multiple exterior doors. Pella's innovative designs and premium features come at a steep price.
However, Therma-Tru and Pella both have high-end custom doors exceeding $2,500. At this tier, the pricing is comparable. You'll be paying for customized sizing, intricate glass designs, and top-of-the-line materials from both brands.
Fiberglass Door Style Options
When selecting a new fiberglass door, you'll want to find a style that fits your home's architecture and aesthetics. Let's see how Therma-Tru and Pella compare in offering stylish designs:
Therma-Tru Door Styles
Craftsman
Traditional
Contemporary
Rustic
Mediterranean
Modern
Therma-Tru has an incredibly diverse door style selection. You'll find classic craftsman designs with integrated glass panels, stately traditional doors with crossbuck accents, and contemporary doors with clean lines and little ornamentation. Their catalog includes looks to match home styles from Victorian to modern.
Pella Door Styles
Modern
Contemporary
Transitional
Craftsman
Traditional
Pella focuses more on today's most popular home aesthetics like contemporary, modern, and transitional styles. They have less variety in historical or regional architectural styles. But you'll find cutting-edge modern door designs from Pella that you won't get from other manufacturers.
If finding a door that matches your existing home's style is most important, Therma-Tru likely has more options. But for a sleek modern look, Pella doors stand out.
Glass Options
The type of glass used in a fiberglass door impacts its visual appeal, durability, energy efficiency, and privacy. Here's how Therma-Tru and Pella compare:
Therma-Tru Glass Options
Single pane
Double pane
Double pane with blinds
Clear glass
Frosted glass
Low-E coated glass
Decorative and privacy glass
Impact-resistant glass
Pella Glass Options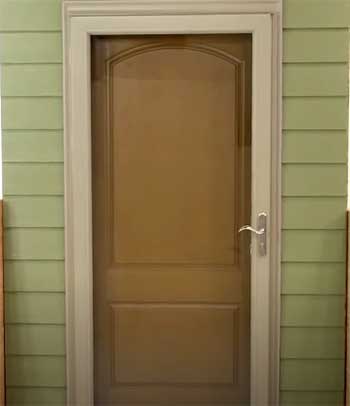 Double and triple pane
Low-E coated glass
Natural sunlight glass
Decorative and privacy glass
Integrated blinds
Impact-resistant glass
Insect screens
Both brands offer impressive glass features like Low-E coatings for efficiency, integrated blinds, and ornate decorative designs.
Pella goes a step further with triple pane glass for maximum insulation.
Therma-Tru has more single pane door options for budget-conscious homeowners. Ultimately both give you ample choices to get the right amount of light, visibility, and energy savings.
Color and Finish Options
Fiberglass doors can mimic natural wood as well as painted metal door finishes. Here are the color and finish offerings from Therma-Tru and Pella:
Therma-Tru Colors/Finishes
Painted: 30+ colors
Stained: 10+ wood stains
Faux wood grain: Mahogany, Oak, Rustic
Patina: Rusted, Antique Bronze
Smooth: Ready to paint
Pella Colors/Finishes
Painted: 40+ colors
Stained: 5 wood stains
Faux wood grain: Oak, Mahogany, Rustic
Smooth: Ready to paint
Metallic: Brushed Nickel, Oil Rubbed Bronze
Both brands give you plenty of factory finish options. Therma-Tru offers a few more unique patina finishes while Pella has trendy metallic finishes. For custom paint colors, both work well with standard latex exterior paint after proper prep and priming. Overall, most homeowners will find a factory color they love from either brand.
Fiberglass Door Insulation Comparison
A major benefit of fiberglass over steel doors is superior insulation. Well-insulated doors reduce energy transfer and keep interiors comfortable. Here are how the insulation specs compare:
Therma-Tru Doors
Foam insulation core of polyurethane or polystyrene
Minimum R-value of 4 to 6
U-factor rating of 0.2 to 0.17
Meets ENERGY STAR requirements in northern climates
Pella Doors
Foam insulation core of polyurethane or polystyrene
Minimum R-value of 5 to 10+
U-factor rating of 0.16 to 0.08
Meets ENERGY STAR requirements in all climate zones
Both brands use foam-filled cores for excellent insulation. Pella edges out Therma-Tru slightly with higher possible R-values and lower U-factors. Top-end Pella doors can meet stringent requirements in even the warmest southern climate zones. But both brands offer significant energy savings over old wood or steel doors.
Warranties
It's reassuring to buy a door with strong manufacturer warranties backing it up. Here's how Therma-Tru and Pella compare:
Therma-Tru Warranties
Lifetime limited warranty on door component materials and workmanship.
Lifetime limited warranty on glass and finishes as long as the original purchaser owns the home.
Pella Warranties
10 year limited warranty on door component materials and workmanship.
5 year limited warranty on factory-applied exterior finish.
10 year limited warranty on glass.
Therma-Tru clearly stands out with lifetime limited warranties covering both door components and finishes. The warranties transfer with home ownership, adding resale value.
In contrast, Pella only offers 5 to 10 years of coverage. This highlights the confidence Therma-Tru has in their long-term durability compared to Pella.
Fiberglass Door Durability
Along with impressive warranties, Therma-Tru also edges out Pella in most durability testing: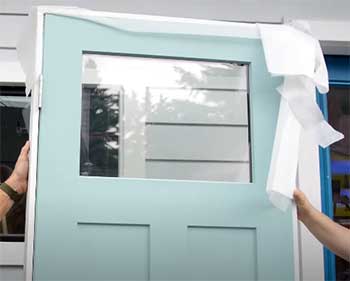 Dent resistance: Therma-Tru receives a 5 out of 5 dent resistance rating from the Window & Door Manufacturers Association (WDMA). Pella earns a 3 out of 5 rating, meaning it is more prone to dents.
Tensile bond strength: Therma-Tru meets stringent standards for bond strength between the fiberglass skins and door frame. Some Pella doors have issues with delamination over time.
Cycle testing: Therma-Tru doors withstand over 1 million open-close cycles in testing. Pella only tests to 100,000 cycles.
Impact resistance: Both meet minimal impact standards. Therma-Tru offers more high-wind impact resistant options for hurricane-prone areas.
While both make durable doors, Therma-Tru seems to go the extra mile in robustness testing. Their doors withstand wear and tear exceptionally well long-term.
Ease of Installation
Installing a fiberglass door requires proper alignment, shimming, sealing, and anchoring into the door frame. Here are some installation considerations:
Therma-Tru doors are quite heavy, often over 100lbs for a 3'x6'8" single door. You may need two people for installation. Allow wider jambs and wall support for the weight.
Pella doors are even heavier, ranging from 120 to 300+ lbs depending on size. Professional installers strongly recommended. Proper structural provisions are needed.
Both brands require taking accurate measurements and pre-fitting prior to installation day.
Installation kits with shims, seals, and flashing accessories can be ordered from both manufacturers. These kits take the guesswork out of getting all the essential materials.
YouTube installation videos are available for both Therma-Tru and Pella doors. But we suggest hiring an experienced professional for worry-free results.
While weighty and demanding proper technique, fiberglass doors are simpler to install than heavy wood doors requiring extensive fitting and mortising. Just be sure to get help maneuvering these hefty doors into place.
Maintenance Requirements
Fiberglass doors have very low maintenance requirements once installed:
Cleaning the door's glass and exterior can be done with standard household cleaners and a soft cloth or sponge. Avoid abrasive pads.
Inspect the exterior sealants and finishes yearly. Reapply exterior caulk or paint as needed to maintain the protective envelope.
Lubricate the lockset and hinges with spray lubricant or oil yearly to prevent squeaks.
Check the weatherstripping seal and door sweeps for damage. Replace if worn out.
Neither Therma-Tru nor Pella doors should need extensive repairs or refinishing for 10+ years when properly maintained. Fiberglass holds up incredibly well compared to wood. Avoid harsh chemicals and power washing.
Professional Installation Costs
Plan for $400 to $900 in labor costs if hiring a carpenter or contractor to install a fiberglass door. Typical professional installation rates range from $75 to $150 per hour. Basic door installation takes 2 to 4 hours, while complex jobs with modifying the entranceway take 6 or more hours.
Be sure to get an itemized estimate of hourly labor rates and expected work hours prior to hiring a pro. Many also charge a flat rate for door installation. For example, The Home Depot charges a fixed $399 fee for installing a new fiberglass door.
DIY Installation
Is it possible to install a fiberglass door yourself as a DIY project? Therma-Tru doors, being lighter weight and having lifetime warranties, are a better candidate for DIY than heavy Pella doors.
With ample research, watching online tutorials, and getting a helper, a moderately skilled DIYer can likely handle a Therma-Tru install. Just take it slowly and carefully. Precision measurements are vital.
However, for resale value and getting a perfect professional fit, hiring an experienced local contractor is advisable. Unless you're very handy and have installed doors previously, play it safe with pro help.
Frequently Asked Questions (FAQ)
Are Pella fiberglass doors good?
Pella fiberglass doors are very good in terms of energy efficiency, security features, and modern aesthetics. However, they come at a steep premium price point. Pella doors also have mixed reviews on long-term durability compared to other leading brands.
Does Therma-Tru make good doors?
Yes, Therma-Tru is known for making high-quality and durable fiberglass doors. Their doors offer excellent dent resistance, tensile strength, and cycle testing endurance. Therma-Tru also stands out with comprehensive lifetime limited warranties.
What are the top 3 brands that you know of in exterior doors?
Based on overall reputation, quality, and homeowner reviews, the top three exterior door brands are: Therma-Tru, Pella, Jeld-Wen.
Who makes the best fiberglass doors?
Therma-Tru and Pella are both excellent fiberglass door manufacturers. Overall, Therma-Tru makes the best fiberglass doors for most homeowners based on their competitive pricing, wider style selection, outstanding durability, and lifetime warranties.
Our Recommendation
Based on this comprehensive comparison of features, performance, warranties, and prices, our recommendation is Therma-Tru fiberglass doors.
Here's a quick recap of why we give Therma-Tru doors the edge:
More affordable at every price tier
Huge variety of door styles to match any home
Superior durability with extra-strong fiberglass skins
Lifetime limited warranties provide peace of mind
Easier to install for DIYers due to lower weight