When it comes to heavy-duty construction working or lawn care, a trailer is one of the essential pieces of equipment. It comes as a handy option for carrying lawn debris or outdoor equipment. I have personally used a few Texas Bragg trailers for some DIY projects. 
If you have been thinking of buying an unpowered vehicle, check out the Texas Bragg trailer reviews. Here I will talk about Texas Bragg trailers' good and bad sides. After reading this post, you will be more certain whether you should consider this brand or not. 
Let's dive in!
Features of Texas Bragg Trailers

A lot of brand Trailer brands are there. Why should you choose Texas Bragg? It must have some unique and valuable features, right? Here are the top features of these trailers.
Different Types Of Trailers
Texas Bragg is well known for its wide selection of trailers. For example, its single axle trailers are ideal for towing less heavy items at short distances. They are more versatile and convenient to park even in a tight spot.
Another popular one is landscape trailers. It is an excellent option to load up tools and supplies for a job site. 
You can use them for long-distance transport. Equipment trailers are a perfect choice for a safe transformation of equipment & supplies with an added level of security.
After choosing a particular type of trailer, you can customize them in various ways. The manufacturer can add many extra features apart from standard features. 
For a HET Equipment Trailer, you can add stake pockets, adjustable channel coupler, Pintle hitch, d rings, cylinder, surge brakes, etc.
Likewise, Motorcycle Carriers are also available with optional features such as raised coupler, top wind jack, safety chains, sealed wiring harness, steel runners, etc.
Impressive Loading Capacity
Texas Bragg sells different Trailers that have various weight loading capacities. For example, Heavy Equipment Tilt (HET) Trailer can carry weight ranging from 5,200 to 7,000 lbs based on the model. Its tilt deck allows simple and quick loading.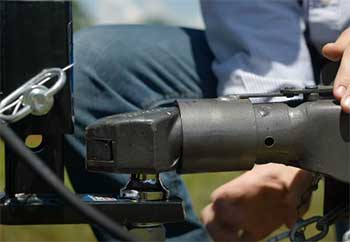 TEH heavy equipment trailers are generally well known for carrying a higher weight range. Its double axles add additional support.
The unpowered vehicle can manage 9,995 lbs to 14,000 lbs based on the model. You can utilize it as a small tractor.
Big Pipe (BP) is another bulky and heavy type trailer that can haul up to 14,000 lbs. Choose a model from the Big Pipe Low Boy category if you need additional safety. 
Only a single builder will assemble and weld each Texas Bragg trailer. This ensures consistent quality for the entire product.
 Hence, you won't see any quality differentiation among similar category products. Design details and specifications— everything will be the same. 
Additional Parts Ordering System
Different parts of trailers are not going to last a lifetime. After a particular time, you will need to replace them. Also, you may feel the necessity to install the latest component in your trailer.
Thankfully, Texas Bragg sells a wide range of parts through their partner, Lone Star Trailer Parts. You can get various types of spare parts from them, such as Axles, Hubs, Jacks, Tires and Wheels, Suspension, etc.
Not all trailers are reliable to use. That's why I always choose trailers that have certifications. Thankfully, the National Highway Traffic Safety Administration (NHTSA) certified Texas Bragg trailers. So, their non-powered vehicles are entirely safe. 
The manufacturer makes the product according to the safety standard to fulfill the format, content, and physical requirements. You don't have to worry about the product's reliability since you can drive these trailers on the high road. 
Excellent Customer Service
Texas Bragg has a good reputation for customer service. They provide exceptional care for each of their customers. Whether it is before, during, or after-sale service, they always thrive on providing the best quality service.
The manufacturer offers customizing options to understand your specific customizing requirements. You don't have to worry about getting the wrong products or services. Plus, they won't take a considerable time to custom build your trailer.
Now, watch this video showcasing its incredible power!
What Could've Been Better With Texas Bragg Trailer?
Though Texas Bragg trailers have some remarkable features,  I have figured out some limitations about their products. Here are a few most common cons you will hear about their products. 
Texas Bragg's boards for their trailers are not up to the mark. They are generally prone to rot within a few years. 
They will begin to chip apart if they heavily use the non-powered vehicle every day. Towing the trailers more than the recommended weight will also ruin the quality faster.
As per many customers' recommendations, PT wood would be the best choice. They have Moisture, Fungal, Insect, and Fire resistance properties. 
They contain chemical preservatives to maintain their integrity from rotten issues from unwanted conditions.
Texas Bragg braiders are made of high-quality aluminum frames. But the painted frame doesn't last as long as you will expect. 
Even after keeping it in an optimal maintenance condition, the frame is more likely to show chipping issues within a few years.
It could be better if the manufacturer added a powder coating for the entire frame. This will keep these units in tip-top condition. 
You won't have to worry about painting them every day. As a result, the overall performance and functionality would upgrade too. 
Frequently Asked Questions (FAQs)
Are Texas Bragg Trailers any good?
Texas Bragg Trailers are well known for their rigid construct and long-lasting durability. A single, highly skilled craftsman assembles and welds the whole product to ensure consistency in quality. 
Where are Texas Bragg trailers made?
Texas Bragg trailers are generally made in Mt. Pleasant, Texas. The company manufactures a wide range of trailers in this manufacturing site, such as cattle trailers, utility trailers, specialty trailers, single axle trailers, etc.
How much does a Texas Bragg trailer weigh?
It will vary from trailer to trailer, depending upon the overall size. However, the average weight of a Texas Bragg trailer can be approximately 1,650 lbs.
What Trailers are made in Texas?
A wide selection of trailers is made in Texas since it is the leading manufacturing unit of this company. However, a massive number of utility trailers are manufactured in Texas due to their high demand. 
Final Thought 
That's the end of the Texas Bragg trailer reviews. Though their board quality and frame's paint could be better, these trailers are still a better choice than many other brands on the brand. 
Their wide range of versatile product choices and customizing option makes them a top brand.
Besides, the manufacturing company uses highly skilled workers to make their non-powered vehicles more functional even in extreme conditions. Plus, their products have NHTSA certifications to ensure more reliability.