LuxeAdapt and LuxeBreeze are notable mattresses from Tempur-Pedic. While LuxeAdapt provides better pressure relief, LuxeBreeze is famous for its enhanced cooling features.
The lucrative mattresses from Tempur-Pedic are made of memory foam that adds layers of comfort to the bed. As a result, Tempur-Pedic mattresses are generally used by side sleepers.
To ease your selection process, we have articulated some critical differences between Tempur-Pedic LuxeAdapt and LuxeBreeze.
A Quick Comparison Table
| | | |
| --- | --- | --- |
| Specification | Tempur-Pedic LuxeAdapt | Tempur-Pedic LuxeBreeze |
| Tempur Technology | Tempur-APR | Ventilated-APR, Tempur-CM |
| Cooling Options | Cooling Sensation | PRO-Breeze |
| Hybrid Technology | Not Available | Premium Spring Coils |
| Materials | Soft or Firm Materials | Mild, Medium, Hybrid, or Firm Materials |
| Price | Around $4000 | Around $4300 |
Key Differences Between Tempur-Pedic LuxeAdapt And LUXEbreeze Mattress
Some key aspects differentiate the Tempur-Pedic LuxeAdapt and LuxeBreeze mattresses. Here is an elaborate discussion of the elements that separate the features of the two models.
The strength level of a mattress is connected to the pressure relief that side sleepers often encounter.
If you weigh between 130-230 pounds, then the medium-strength model will suit your body the most.
Sleeping on an exceedingly soft mattress can exert high strain on your spine.
On the other hand, a substantial bed will only let your shoulder and hips bend enough and cause excess pressure build-up.
When it comes to firmness, the Tempur-Pride Luxebreeze leads the race against the LuxeAdapt mattress. LuxeBreeze mattress provides better balance and heals the pressure point of the hips and shoulders.
If you prefer to sleep in warm conditions, you should purchase a mattress with high-temperature regulations. Many manufacturers have sketched unique designs to counter the temperature control feature of memory foam.
The LuxeBreeze model tops the chart in this segment as well. The mattress is designed to keep your body up to 8 degrees cooler.
In addition, it features an enhanced cooling system that can appeal to customers fond of warm conditions.
Tempur-Pedic LuxeBreeze ensures you don't have to worry about the temperature in the middle of the night and sleep tight.
Pressure relief is the foremost trait that compels an individual to select the perfect bed mattress. Conversely, a lousy mattress model can lead to severe aches in your hips and shoulder points.
The LuxeAdapt and LUXEBreeze models from Tempur-Pedic are effective against pressure relief. The mattresses are crafted to redistribute your body weight, removing pressure from your shoulders, spine, and hips.
You must determine the right strength to ensure the balance between pressure relief and support.
People who tend to move a lot while sleeping prefer mattresses that allow free movement and comfortable sleep. Memory foam plays a vital role in deciding the mobility factor of a bed.
The Tempur-Pedic LuxeAdpat mattress is designed with superior memory foam, allowing easy movement and sheer comfort. If you love to sleep freely by spreading your legs and arms, then the LuxeAdapt mattress is the one.
If you love to sleep beside the edges of your bed, then a mattress with solid edge support is crucial. Unfortunately, models that feature all-foam materials tend to lack edge support.
The LuxeBreeze from Tempur-Pedic provides superior edge support due to its hybrid models. The premium spring coils help the mattress sink around the edges so that you don't panic while sleeping at the border.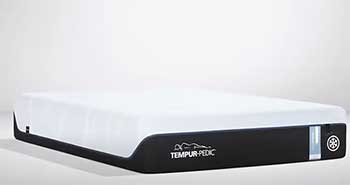 A bed's durability and performance depend on the mattress's quality.
The common attributes are soft foam, hybrid, or latex.
LuxeAdapt contains soft foams that enable side sleepers to relax and spread their arms.
In addition, the transition layers provide long-lasting comfort and exceptional pressure relief.
The LuxeBreeze models, on the other hand, are made of various materials. The hybrid materials and ventilated memory foam help isolate motion and relieve gentle pressure.
Therefore, the Tempur-Pedic Luxebreeze triumphs in the case of quality materials in a mattress.
A mattress needs to be flexible to shape according to your body. The contouring trait allows the shoulders and hips to sink in so your spinal area can get pressure relief.
The hybrid model of LuxeBreeze tends to contour and restricts pressure buildup so that you sleep comfortably by spreading your arms and legs.
Tempur-Pedic models are relatively more expensive than other brands. However, compared to the company's service, you can surely place your bets on Tempur-Pedic's mattresses.
Luxebreeze mattresses are the most expensive models in Tempur-Peidc's product line. Each mattress costs around $4300, whereas the LuxeAdapt mattress cost around $4000.
If you can budget some money to purchase a quality mattress, then go for the Luxebreeze mattress for overall comfort.
Which Mattress Is A Better Choice?
After all the comparisons, it is clear that the Tempur-Pedic LuxeBreeze leads the race.
The mattress provides a wide range of features for your comfort. In addition, the enhanced cooling technology and hybrid models separate the LuxeBreeze mattress from others.
The price of the LuxeBreeze mattress is the only drawback. However, if you compare the advantages, you can surely trust this model and place your bets.
So, if you are interested in a long-lasting and cozy mattress, the Tempur-Pedic LuxeBreeze is the right choice.
Frequently Asked Questions (FAQs)
Is LuxeAdapt better than LuxeAdapt?
Regarding the best memory foam, LuxeAdapt triumphs over LuxeAdapt. However, the LuxeAdapt is quite expensive than the other models.
Is Tempur-Pedic luxe breeze good for side sleepers?
Tempur-Pedic Luxe Breeze provides exceptional pressure relief and enhanced cooling to individuals who weigh less than 130 pounds.
Is the Tempur-Pedic breeze cool?
The Tempur-Pedic breeze is made of enhanced cooling materials that help to cool down warm conditions at night.
4. What is the most popular Tempur-Pedic mattress?
Tempur-Pedic LuxeAdapt is the most popular mattress because of its excellent pressure relief facility and support layers that provide relaxing sleep.
Conclusion
To summarise, the Tempur-Pedic LuxeBreeze is the better option for quality mattresses. The mattress provides unreal pressure relief, easy mobility, and exceptional cooling facilities.
However, you can select the Tempur-Pedic LuxeAdapt if you want to save some bucks and enjoy enough comfort.