As most cartoons already showed you when you were a kid, a good heating system is very important in winter. No one wants to freeze to death inside their own house.
The thing is, old chimneys aren't very efficient anymore. Your fireplace needs an update like everything else.
This is why people are leaning towards modern fireplaces. Supreme Novo 18 is one of the best names around for fireplaces. The reviews are all raving, but is the Novo 18 worth the hype?
Let's see.
Key Features of Supreme Novo 18
Everything you'd want in a modern fireplace, Novo 18 has it. It is almost like they read your mind and made a fireplace to fit that bill. That'd explain the hype too.
If we had to pick some highlights of the Supreme Novo 18, we'd go for the warming technicalities first. Then comes the build options and then the easy cleanup.
Let's take a deeper look at what makes this fireplace so amazing.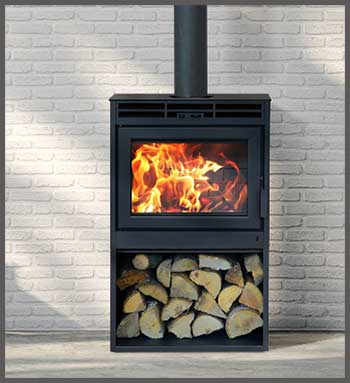 This might look like technological jargon at first but bear with it, it really isn't.
The supreme Novo 18 is one of the most powerful fireplaces for its size. It does a pretty good job of keeping you warm for a long time.
Compared to its bigger cousins, Supreme Novo 18 works with slightly smaller logs.
You'll have to get 18" logs for the lower compartment so they fit.
With 79% efficiency, this fireplace will easily keep your regular homes warm. It can for 4-7 hours depending on how fast you want it to go.
You can adjust the burning speed too, but that's not the best part. The best part is the heat stays even after the fire goes out. You'll find warm coals even in the morning.
And you can easily start another fire from them if you want.
Another highlight of this fireplace is the first fire. You won't have to do anything extra to get it going like most other fireplaces. The first fire is easy, very light-and-go of them.
Other than the performance, the strongest forte of the Novo 18 would be its design options. The fireplace is already aesthetically pleasing and it comes it multiple build options on top of that.
The Novo 18 fireplace has a practical and visually pleasing design. The fireplace is surrounded by glass so you can watch the fire burn. If you're looking for a little nostalgic touch, this will do it.
The log compartment is under the fireplace and is built from the same material as the rest of the fireplace. The whole thing is made of multiple slabs and they come in different textures.
You can get soapstone texture, fluted texture, or your good old brick pattern.
You can also choose a color for the fireplace even though they aren't exactly different. This fireplace comes in black and charcoal. These are probably the most versatile colors for accents s that's another win.
Cleanup is something people barely pay attention to when they get a fireplace. And then a few cleanups later they realize they should've paid more attention to it.
Fireplace cleanup can get messy, but not for the Supreme Novo 18.
Supreme Novo 18 has one of the easiest cleanup processes you'll come across. The fireplace already doesn't produce much residue because of how evenly it burns the logs.
You just have to be careful not to knock the ashes off everywhere, the rest is easy.
What Could Have Been Better With Supreme Novo 18?
For a fireplace of this caliber, you'd probably expect a horrible downside coming. Not for Supreme Novo 18, it seems.
This is a surprisingly well-rounded fireplace but there is a little room for improvement. Let's take a better look.
This is probably expected from all modern fireplaces. The Supreme Novo 18 may be just following everyone else here but that's the issue.
The chimney buildup is pretty quick for this fireplace compared to others.
Tar buildup in the chimney is especially common when the fire is burning slowly. You'll have to make sure your logs are all burning fast and equally.
A slow burn clogs up the chimney with buildup. Unfortunately for the Novo 18, that seems to happen pretty often.
This is a very small issue compared to what it sounds but well, it is still an issue. The smoke is pretty low, but it still stays there.
This can be caused by the glass or sometimes specific types of wood too. The logs don't burn completely smokeless, at least not always.
You won't have a cloud of smoke, yes, but you'll see a rope of it constantly.
The smoke issue minimizes if you're burning the wood fast, but it never really goes away. Unless you're okay with a little smoke, it might feel a little icky for you.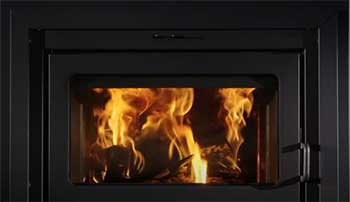 Fogging Issue probably comes with all glass fireplaces but oh well, this definitely is an issue here.
The glass needs a specific cleaning method otherwise it starts fogging up.
The Novo 18 fireplace is slightly tricky to clean especially the glass part.
You'll have to clean it with a gentle cleanser, wash it and wipe the glass with a wet cloth.
Then go back in with another wet cloth to clean up the residue of the cleanser.
That's where the tricky part is. If you have any residue left or try to wipe the glass with a dry cloth, it will make the glass fog up. If watching the fire burn is important for you, then this will be an extra step you'll have to go through.
If you care about the aesthetics of your home, this might be a pretty big problem for you. Supreme Novo 18 does have custom options but they're very limited.
The fireplace comes with three kinds of slabs. You can get marble soapstone slabs, classic brick patterned slabs and flute patterned slabs. You can't get any textures other than these and you can't custom the color either.
So if you're very keen on matching your home decorations, the limited custom option can be a problem.
This is probably the biggest letdown of the Novo 18 fireplace. The fireplace is amazing but unfortunately, you can only use it for an average-sized home.
This compact fireplace is a very good option if you're trying to warm up one floor or around 1500 sq. ft of area. You'll be cozy and all.
But if you're looking for better coverage, you'll be disappointed. Novo 18 can't go beyond 1500 sq. ft, you're out of luck.
This extends to floor systems too. If you have a small house but you're trying to keep two floors warm, this fireplace will fall short. Just something you should be aware of.
Final Verdict
And there's our part on Supreme Novo 18 reviews. This sleek, compact fireplace is a perfect choice if you're looking for something modern with an old wood-burning touch.
Novo 18 can comfortably keep your average-sized home warm and toasty. If you're looking for a well-rounded fireplace, feel free to give this one a shot.