Supervent Chimneys come with 304 stainless steel for their inner wall and 430 stainless steel for the outer wall. In contrast, Duravent Chimneys have 430 stainless steel for their internal and exterior walls.
Are you looking for the difference between Supervent and Duravent Chimney?
You can't overlook their size, mounting style, ducting type, air suction capacity, and other comfortable features. Here, we will walk you through an in-depth comparison to choose the best one.
A Quick Comparison Table
| | | |
| --- | --- | --- |
| Specifications | Supervent Chimney | Duravent Chimney |
| Inner wall | 304 stainless steel | 430 stainless steel |
| Outer wall | 430 stainless steel | 430 stainless steel |
| Wall Type | Only double wall | Double or triple wall |
| Diameter | 5″–8″ Diameter | 5″–8″, and 10″-24″ diameter |
| Insulation Type | Solid Pack Mineral Wool Insulation | A Thermal Tech blanket insulation |
| Certifications | UL 103 listed | UL 103 and ULC S604 listed |
| Warranty | Smart Choice Warranty on all components | A Limited lifetime warranty |
| Price | Lower | Higher |
Key Differences Between Supervent And Duravent Chimney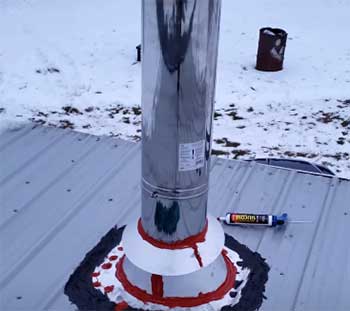 Supervent Chimneys have 304 stainless steel grade materials for their inner walls.
It has excellent durability. The material is not prone to be affected by oxidation and corrosion.
On the contrary, Duravent Chimneys come with 430 stainless steel.
The alloy contains nickel and chromium to be highly strong. Their quality will not deteriorate easily over time.
Chimneys from both Supervent and Duravent come with 430 stainless steel. This non-hardenable material has a lower ductility rate.
Apart from that, this type of steel grade has decent mechanical properties and thermal conductivity. Dust and other dirt will cause minimal contamination to them.
Supervent Chimneys are only available in the double wall option. There is around 1/4″ airspace available for this type of wall. They improve stove efficiency and reduce creosote buildup,
Duravent is available in both double and triple walls. This type of wall is an excellent option for exhausting hot flue gases effortlessly. It also decreases clearances to combustible items.
Supervent Chimneys come in 5″–8″ Diameter. They come in handy for smaller stoves and kitchens. But make sure it is slightly larger than the stove size.
Apart from standard size, Duravent Chimneys are available in 10″-24″ diameter. This makes them a perfect choice for larger kitchens. They can absorb a huge amount of smoke quickly.
Usually, a Solid Pack Mineral Wool Insulation is included for Supervent Chimneys. They have around 22-37% higher R-value, and you can recycle their 70% materials.
On the other hand, Duravent Chimneys have thermal tech blanket insulation. They can withstand highly higher temperatures. Dust and particles will not accumulate inside them.
Supervent Chimneys have UL 103 certifications. They meet the local building codes and are fully safe to use for Building Heating Appliances.
Apart from UL 103, Duravent Chimneys have ULC S604 certifications. It does not need any field fabrication. Plus, you can use them for both residential and factory purposes.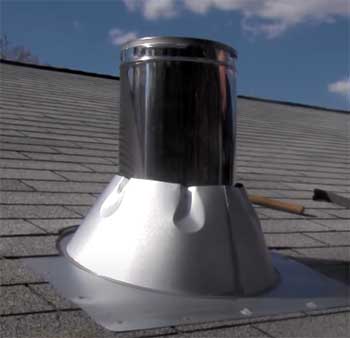 Supervent Chimneys have a Smart Choice Warranty on all components.
Their warranty covers material and workmanship.
It has some conditions which are mentioned on its page.
On the contrary, Duravent Chimneys come with a limited lifetime warranty.
This makes their products more reliable.
But make sure to install it with a professional fuel installer.
Compared to Supervent Chimneys, Duravent Chimneys are a little pricey. But it is worth the price you spend. They can endure as high as at 2100°F temperature for a limited period.
You can effortlessly use them for as high as 1000°F flue gas temperatures. Their triple wall construction is highly rigid to perform consistently at higher temperatures.
Which Chimney Brand Is The Best For You?
Before choosing a particular chimney, you want to determine your using purpose and your kitchen or stove size. Also, focusing on some essential features is crucial too.
If you prefer an affordable option and have a smaller stove, Supervent Chimneys appear a better option. They have solid pack insulation and a mirror finish.
On the contrary, Duravent Chimneys are ideal as a premium option. They have extreme durability and are versatile for stoves, furnaces, and fireplaces.
Frequently Asked Questions (FAQ)
Is Supervent made by Selkirk?
Selkirk manufactures all products of Supervent.
Is Supervent compatible with Selkirk?
All-Fuel chimneys are compatible with other Selkirk products since the same manufacturer makes them.
Who makes Supervent?
Selkirk makes all the products of Supervent, which was established 80 years ago. They have industrial-grade quality and are time-tested.
What is best pipe for wood stove?
Rock-Vent is one of the best pipes for wood stoves since they have laser welded construction and features a fume-free system for safer construction.
Final Words
So, what have you decided after going through the discussion on Supervent vs. Duravent Chimney? Supervent Chimneys can ensure a secured connection using a twist locking system. It is one of the best choices for residential purposes and DIY projects.
On the other hand, if you want to install a professional-grade chimney, Duravent is a better choice. It comes with lightweight but highly effective insulation to reduce heat transfer significantly. Your kitchen stove will get optimal protection.