Compact tractors come in handy when working in tight areas and where you don't want to work by hand. I have been using the John Deere 4044M tractor for several years. You can use this tractor for gardening, mowing, heavy lifting, landscaping, haulage, livestock, etc.
From several years of continuous usage, I have figured out the good side and bad sides of this product. If you are searching for reliable John Deere 4044M reviews, you can check out this post to get a complete idea about this compact tractor.
Features of John Deere 4044M Tractor

This John Deere comes with many incredible features, such as a high-powered engine, better transmission system, efficient hydraulic system, etc. Let's check out their valuable factors.
The first thing that will impress you is its well-thought design. The unit is engineered functionally and attractively. Its side panel hood and fixed grille have an advanced design to deliver a protective seal for the cooling compartment.
Besides, you can remove the cowl smoothly due to its quick accessibility. The tractor features a sloped hood design and Hybrid exhaust to ensure increased visibility.
In addition, it comes with stylish headlights to add a distinctive appearance to the entire tractor.
Operating and maintaining this small tractor is relatively simple. All controls are logically placed and easy to use. Even teens and young adults can easily handle it after learning a few lessons.
Even an inexperienced person will need minimal training to operate the vehicle. Checking the grease and fluid level of the machine doesn't need to be an expert.
John Deere, 4044M tractor comes with a powerful diesel engine. This increased-torque machine offers ample power even under extreme load. It generates a lower level of noise and decreases exhaust emissions. The diesel engine can have more torque even at a low RPM.
Moreover, the unit has an electronic control unit that allows you to control and monitor the engine more efficiently. It also reduces unwanted fuel waste. Its engine oil cooler keeps the engine at a controlled temperature to ensure long-lasting service life.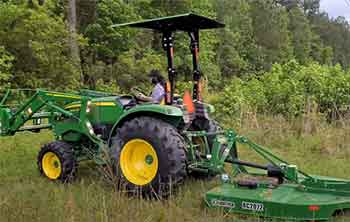 This high-quality compact tractor comes with a direct fuel injection system.
It can directly inject fuel from the upper section of the pistons. Hence, its combustion becomes incredibly efficient.
It also improves the accuracy of the air/fuel ratio while producing more power with less fuel.
Furthermore, this fuel injection supplies the correct fuel level inside the cylinder. Due to its injecting time and spraying pattern, you can use the tractor more precisely.
It also reduces exhaust emissions. This reduces the maintenance task and increases the engine life.
PowrReverser Transmission
This John Deere 4044M unit comes with a PowrReverser transmission system. You don't need to take the help of the clutch to change its direction. Shifting between forward and reverse without the clutch will not be a problem.
The unit has dual wet-disk clutches to ensure increased clutch durability. Also, it comes with a Neutral start switch to stop the tractor from accidental starting if they forget to keep the transmission in a neutral position.
You can control it using your foot and hand.
Innovative Design of Operator Station
The operator station of this compact tractor comes with a realistic and convenient design. For example, several control buttons have different colors and shapes.
This allows you to identify, especially in low-light conditions, quickly.
You can also comfortably sit on its mechanical suspension seat for a long time. Turning on and off the tractor is simple since each fender has a big grab handle.
Using the weight adjustment function, you can adjust the operator weight from 52 kg to 125 kg.
This highly functional tractor has several safety features too. For example, its operator presence system will turn off the engine automatically when you leave the seat. You will not experience any bypass starting due to its Key switch interlock.
Besides, its flashing and signal lights have the ASAE S279.10 standard. This ensures optimal visibility. Plus, the tractor will automatically turn on the slow-moving vehicle (SMV) function when you drive the vehicle on the high road. 
Simple System for Attaching Implements
Tractor owners often face difficulty in attaching tractor implements. Thankfully, the unit has a match Quick-Hitch to smoothly add implements to its front, mid and rear zone. It ensures simple and reliable hookups after attaching them correctly.
However, you want to follow the correct set of bushings for upper and lower bushings separately. Their inside and outside diameters will be different for both bushings.
You can go through the instructional manual to get a complete idea about the setup steps.
This John Deere 4044M tractor comes with a single-point latch and free-standing leash to open and close the hood handily. Checking different parts of the engine requires just lifting the hood. You don't need any tools.
Removing its cowl and side panels is trouble-free. Moreover, you can change the hydraulic fluid, engine fluid, coolant level, and water separator more easily due to simple accessibility.
What Could've Been Better with John Deere 4044M?
Apart from the positive aspects, I have figured out some weak points of John Deere 4044M. Here are the most commonly complained things.
Though the unit comes with three gear ranges, their functionality is not up to the mark. For instance, its low gear often works too low, and the high gear often works too higher than your expectation. This may lead to overdoing issues.
Not Perfect For Inclement Weather
Have you decided to use this compact tractor in severe, catastrophic weather conditions? Operating this type of vehicle during inclement weather will be extremely hazardous due to its limited size, weight, and maneuverability. But you can easily use it for any milder climates.
John Deere, 4044M tractor has a higher lifting capacity than many average compact tractors. However, compared to other new models of John Deere, its loader can handle less weight. The latest units can take more than 3,671 pounds, whereas it can hold 2500 pounds.
If you are interested, here is a demo of it for you.
Frequently Asked Questions (FAQ)
What is the difference between 4044M and 4044R?
4044M comes with a PowrReverser transmission but doesn't have the cab option. In contrast, 4044R has eHydro Transmission (eHST) and optional ComfortGardTM cab.
How much can a John Deere 4044M lift?
The loader of a John Deere 4044M can lift around 2,396 pounds or 1084 kg at full height.
Who makes John Deere 4044M?
John Deere is the main Manufacturer of John Deere 4044M. They don't rely on any third-party companies to manufacture their products.
How wide is JD 4044M?
John Deere 4044M comes with 1.24-1.25 inches or 3.15 to 3.43 cm diameter for its external area and 0.76-0.77 inches or 1.93-1.06 cm diameter for the internal space.
Bottom Lines
So, what have you decided after going through this review on John Deere 4044M?
Though many advanced models are already available in the market, 4044M is still a good choice. It is a reliable option and if you prefer an affordable option and want to use a compact tractor for milder weather.
John Deere 4044M may have some issues. But when you compare its valuable features and functionality, ignoring these few points will not cost you anything. Make sure to check out all its features to learn whether it can fulfill your job requirement.