The precision of your woodworking square is the key to an easy and flawless woodworking project. But due to so many good options available, buying one becomes tricky. 
Today, I will compare Starrett square vs. Woodpecker, two well-known carpentry square manufacturers, and find out the differences.
Both these brands are equally popular. But knowing the differences will make it easier to make an informed decision. So, without further ado, let's begin.
A Quick Comparison Table
| | | |
| --- | --- | --- |
| Specification | Starrett square | Woodpecker |
| Precision |       ±. 0001″ | ± . 0001″ |
| Available Sizes | 2, 4, 6, 12, and 18 inches | 12, 24, and 32 inches |
| Material | Tempered steel, forged steel, and cast iron | Aluminum |
| Versatility | Versatile | Less versatile than Starrett |
| Marking | Photo engraved | Laser engraved |
| Manufacturing | Made in America | Made in America |
| Cost | Expensive | Cheaper than Starrett |
In-depth Differences Between Starrett Square And Woodpecker
Now that you have some general idea about the differences from the comparison table let's move forward. In the segment below, I have talked about different aspects of a carpentry square and discussed the differences of each manufacturer in detail.
What's the main purpose of a carpentry tool?
So the main objective here is that in your woodworking project, every measurement goes precisely. If the square is out of the even the slightest, it can mess up your entire project right there. 
To prevent that catastrophe, both Starrett and Woodpecker come with excellent accuracy.
Both manufacturers claim that their squares have an accuracy of ±. 0001″, and hundreds of positive reviews from both brands are backed up by the number. S
o, you really can't differentiate these squares in terms of accuracy. However, you can also quickly check by measuring a wood block with a straight edge.
Every project is different in size, and so does the size of the square. If you purchase a square that cannot cover the size requirement of your large woodworking project, your money will go to complete waste. 
So, before that happens, make sure you buy the right size according to the project.
To give the consumers freedom of size, both Starrett and Woodpecker offer multiple square sizes. Starrett is available in so many sizes like 2, 4, 6, 12, and 18 inches. 
On the other hand, Woodpecker is limited to only three sizes, 12, 24, and 32 inches. So, if you are looking for squares from smaller projects, you should probably opt for Starrett.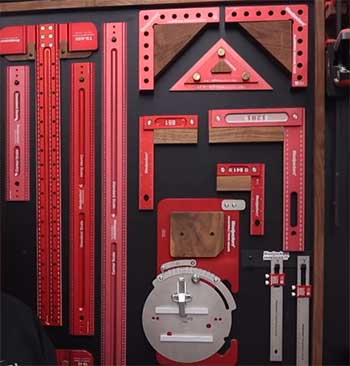 The durability of a woodworking square comes hand in hand with the material used to build it.
That's why, if you want a square that'll withstand the abuse of your woodworking projects and serve you for a long time, considering the material is a must.
So, in terms of material, Starrett used tempered steel, forged steel, and cast iron as the material for their squares.
On the other hand, Woodpecker squares are made of high-quality aluminum. 
Though Aluminum is durable enough, the steel build of Starrett squares should provide you with an extra layer of durability.
As I mentioned before, squares are meant to give you an accurate measurement. But in case you don't know, carpentry squares also come with many added features.
To add versatility to your toolbox, you might want to check that out.
Now, Starrett not only offers different types of squares but there are different tools to make your job easier. On the other hand, Woodpecker squares don't have those variations, and they only have the base variant to offer.
To ensure your measurement is right, proper marking on the square is important. So, if the marking is not high quality, it can wear out pretty easily, and your square will be pretty much obsolete.
So, in that regard, both brands have engraved marking on them. While Starrett offers photo-engraved markings, Woodpecker square has laser-engraved markings on it. In terms of longevity, both should last for years.
Even with the best materials and engineering behind, brands often fail to deliver due to proper quality control. But here, both Starrett and Woodpecker have paid extra attention to detail as their manufacturing plant is in the USA. 
Though that makes the price a bit high, his way both brands can offer their best through strict quality control.
The product's price is always a deciding factor in any purchase decision. Here, both Starrett and Woodpecker are premium tool brands, and the price is noticeably higher than others. 
In comparison between this two, Starrett seems a bit more expensive than Woodpecker squares. And if you need even cheaper than that, you can consider these cheaper Woodpecker tools' substitutes.
However, I would request you not to judge by this aspect alone as both brands offer great performance for the price tag.
What Will Be The Suitable Choice For Your York?
So, here we are at the final question, which will be the suitable choice for your work? 
As you can see, both brands are great on their own terms. From different aspects, one brand seems to surpass another, which is good for us as consumers.
In the end, the decision is up to you as different people have different expectations and priorities from their carpentry square. So, the best thing to do here will be to get the product that suits your need most. 
No matter which one you choose, you'll absolutely love the experience of using it.
Frequently Asked Questions (FAQs)
Are Starrett squares worth the money?
As I mentioned before, precision is the key to the perfect woodworking project. So, despite being one of the most expensive carpentry squares out there, Starrett is worth every penny due to its accuracy. Whether it's 45-degree or 90-degree angles, you'll get the most accurate measurement possible.
Are woodpecker tools worth it?
Woodpecker tools have been at the top of the game since its foundation when it comes to quality and performance. Since the price is a bit high, it's okay to ask whether you should invest in Woodpecker tools. But once you get to test the quality, versatility, and ease of use of the tools, the investment will be worth it.
What is the most accurate square?
There are quite a few squares on the market on the market that pride themselves on being the most accurate square. In that list, there are products from Starrett and Woodpecker too. If I have to pick one, Starrett's Combination Square is the most accurate square on the market, with excellent performance and backed up by excellent customer reviews.
How accurate are woodpecker squares?
Woodpecker is a pretty popular brand on the market in terms of accuracy. So, it's inevitable that the accuracy number will be something astonishing. As per customer reviews, Woodpecker squares have an accuracy of ±0.001."
Final Thought
That's a wrap for today. I hope my article comparison between Starrett square vs. Woodpecker was informative enough to help you decide. Both brands have a variety of carpentry squares, and you can choose one according to your choice.
In the end, I would say whichever square you choose; you won't notice any compromise in terms of precision. You'll be able to get the most accurate measurement without any issue. 
Apart from that, whichever option comes within your price range and serves your purpose, you should purchase that carpentry square.