When you want your woodworking to look flawless, you will always need to get high-quality chisels. Among the various choices, Stanley Sweetheart versus Wood River chisels is a popular debate in choosing a chisel.
Now, if you are having a hard time choosing between these two, I have just the thing for you. Here, I will compare the two chisel sets, so you can get an idea of which one you should buy for your particular needs.
Without wasting any more time, let's get going with it.
A Quick Comparison Between The Two Chisel Options
Well, not everyone has enough time to go through a detailed comparison to choose a chisel set. That's why I have prepared this quick comparison table, so you can quickly examine the differences.
| | | |
| --- | --- | --- |
| Specifications | Stanley Sweetheart | Wood River |
| Set | 4-piece/ 8-piece | 6-piece |
| Handle | Hornbeam wood | Wood |
| Blade | High carbon steel | Chrome vanadium steel |
| Weight | 3.39lbs | 3.33lbs |
| Pricing | Affordable | Reasonable |
Key Differences Between The Two Chisel Choices
The table isn't giving you enough information. It's okay. No need to worry about that at all. Because now, I am going to dive deep into the comparison.
By the end of this discussion, you will know which one is the perfect choice for you.
Number Of Chisels On A Set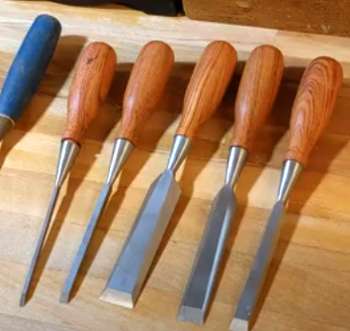 The main difference between the two chisel sets is the number of chisels they have in them.
In the Stanley sweetheart chisels set, you will get two different choices for sets. You can go for a 4-piece set, or you can get an 8-piece set.
With a 4-piece set, you get four different sizes of chisels, and with the 8-piece set, you get eight different sizes.
On the other hand, with Wood River chisels, you can get a 6-piece set with six different sizes. You can pretty much get all the standard sizes in this set.
So, when it comes to choosing between the two based on chisels, you can go with either. It's just about which one has the sizes that you need for your projects.
You can also find a slight difference in the material they use for the chisel handles. I am saying slightly because both of them come with a wooden handle. But the type of wood is different.
The Stanley Sweetheart chisels will have a hornbeam wood handle. This type of wood gives the chisel handle excellent durability. As for Wood River chisels, you don't get any specialized wooden material.
I will surely pick Stanley Sweetheart chisels if you are thinking about durability. Their handles are much more durable than competing Wood River chisels.
One of the key things about chisels is the blade. Both of them come in steel material. However, they both use two different kinds of steel.
You get a high carbon steel blade in the Stanley sweetheart chisel. In contrast, the Wood River chisel comes with chromium-vanadium steel. Both the blades are quite good in terms of quality and effectiveness.
The blade on the Stanley sweetheart chisels is typically quite long and thin. As for the Wood River chisels, the blades aren't as large, but they are quite thin too. You can't truly choose one or the other, and it's just about personal preference.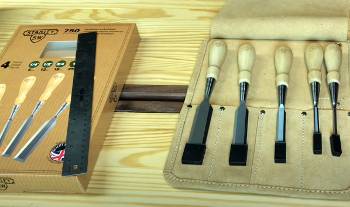 When it comes to the pricing, there is truly not much difference between the two choices.
It's about which option you are choosing. However, the value you get from both options is a bit different.
For instance, if you choose the Stanley sweetheart, you end up with better value.
The reason for that is the quality of the chisels. You get excellent quality on the Stanley sweetheart, and it's well worth the money for the price.
Even though the Wood River chisels are priced pretty much the same, they don't have a similar quality. So, you may not get as good value as you would in the Stanley sweetheart.
Typically, these are the factors where you will find differences between the two chisel choices. Once you get through these choices, you should know which one works out the best for you.
Which One Is A Better Pick For Your Work?
Honestly, both are quite good, and the competition is stiff. However, if you were to ask me, I would keep the Stanley sweetheart ahead of Wood River chisels for better quality and durability.
If you are thinking of saving a few bucks, then I think you might want to check out Wood River chisels. Either way, you won't be disappointed since they both have effectiveness.
To choose, you must prioritize the value and the quality.
Frequently Asked Question (FAQ)
Are Wood River chisels good?
If you are considering the price, then the Wood River chisels are great. But when it comes to the quality and durability, they are decent but not the best. So, overall, the chisels are pretty good.
Where are Stanley's sweetheart chisels made?
Stanley Sweetheart chisels are made in Sheffield, England.
What are the best chisels on the market?
Well, several different chisels out there are quite good in terms of quality and performance. Among them, Stanley Sweetheart, Wood River, Narex, REXBETI, and IRWIN are well known for the kind of value they provide as chisels.
What angle are Stanley's sweetheart chisels?
Stanley Sweetheart chisels come with 30-degree angles that make them quite effective.
Conclusion
To wrap up, throughout the whole Stanley Sweetheart and Wood River chisels discussion, you see Stanley Sweetheart is just better.
Whenever you think about the quality and durability of chisels, you will find Stanley Sweetheart as the better pick.
But if you are considering saving money and looking for a budget option, I think Wood River is better for you. At the end of everything, it just comes down to what you prefer in your chisels.
They both have their benefits and features that you can check out.