Getting better safety on your staircase can be very easy with stair nosing. It protects your stairs and makes them more visible for less risk. There are several stair nose alternatives that you can try out for the stairs at your home.
Here, I will discuss the alternative options to check out for your stair nose. You can choose the best one according to your needs and specific requirements. Let's not waste your time and get going right away.
Stair Nose Substitutes To Try Out
You can very quickly get ready-made stair noses from different companies out there. They come with laminate flooring and give you a proper stair nose application.
Now, it doesn't matter how good they are. Sometimes, you may feel the need to try something else. That is when you will look for alternative options that meet your needs.
So, let's check out things you can use as an alternative to a stair nose for your home.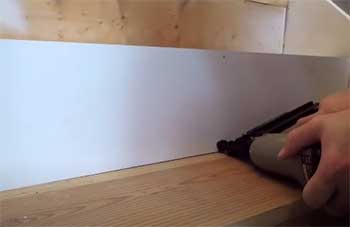 Stair treads are excellent alternate options that you can try out for your stair safety.
They essentially provide you with the same safety features as you would get from a stair nose.
With stair treads, you can get an excellent grip on the stairs. It works best when the stairs are made of metal, which tends to be a bit more slippery.
The only difference between stair treads and nosing is that treads don't provide you with that extra visibility. They don't have the extended nose that stair nosing has.
Also, they aren't that good if you are concerned about the looks of your stairs. Because you will be attaching treads on your stairs that are pretty evident to the eyes.
Let's get one thing out of the way; this is not a cheap or budget-friendly alternative.
Instead, laminate stair nosing can be very much expensive in comparison. However, they tend to provide you with the highest quality.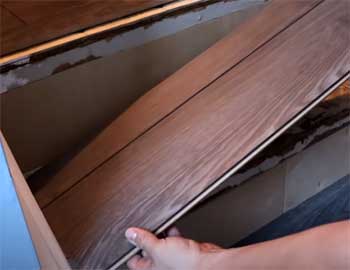 Whether it's the durability factor, the safety, or even the looks, laminate stair nosing is the best way to protect your stairs.
Also, they have good visibility, making them excellent for older people. You can rely on this alternative without any doubt.
Considering everything, I would say, even though it's pretty expensive, it's definitely worth the money.
Hardwood like the Jasper engineered hardwood is a popular alternative to stair noses if you want to make your stairs more durable. They can protect your stairs from all the heavy usage, and you can rely on them to last for quite a long time.
The installation for hardwood is also relatively easy, and you can do it yourself. So, there is no need to worry about any installation cost either.
Instead of buying a ready-made stair nose, you can make a stair nose for your staircases yourself. There are several ways to do it, and you can choose almost any material for this purpose.
Finding the perfect material is up to your needs and demands. You have to consider your taste in that regard.
Usually, people go with wood as it's the primary choice for staircases. Some people also pick vinyl as their stair-nosing material. The build process is quite simple, and you can do it quickly with the proper tools.
First, you will need to figure out the measurements of your staircases. Once you get that down, you can move on to cutting the material accordingly.
You must keep the shape and size of your stairs in mind while doing it. Also, you must consider the type of stair nose you want to pick.
After going through all the necessary steps, you will need to get the best way to attach the nosing to your stairs. It is the most challenging part because different materials tend to have different requirements for adhesive.
Even though this will take a lot of work and effort, it can be worth the money as you won't have to spend much to do the whole thing, especially when you are going with vinyl material for your stair nosing.
It would be best if you just watch how it's done!
Concrete treads are another better alternative to the Stair Nose because these treads in stairways lead to those parking lots or more outside areas.
This option may not provide an aesthetic and appealing look, yet they are rock solid regarding their durability and less affected due to weather.
Besides, concrete treads' lasting period is beyond years, requiring minimal maintenance.
However, again, you may not get that appealing of fancy look when considering this option as an alternative to Stair Nose.
One can use Wood Treads instead of the Stair Nose as they are economical and used to get the most aesthetic look.
Wood flooring is a better option as it provides a warm and homely feel. One can rely on wood to increase the decoration of a facility or living place.
There are many benefits of using Wood Treads, such as it is more affordable than steel or aluminum and providing extra grip and safety by keeping the same level of appearance.
Ultimately, wood is a greater option for children or older adults in your home.
Steel is rigidly solid as compared to wood. That's why it can be another great alternative to Stair Nose that can be applied at the same place.
Even if steel may cost you a little more, one can rely on it for extreme durability and an elegant look.
When you use a steel stair tread having a diamond pattern embossed into it, the surface gets tremendous gripping with an extra level of stability.
It means this gives you the look and support to carry even the heaviest objects up to the stairs of your home or office.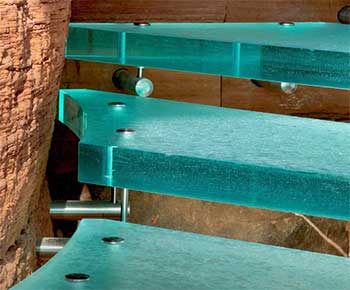 You might not have heard about it yet, but Glass Stair Tread Nosing has become increasingly popular recently.
It is more commonly used in home decor to provide a contemporary/office style aesthetics to most people.
Nothing uncommon or under judgment may make you wonder whether Glass can help create a sense of solid space.
That's true because Glass is often used in Industrial Settings where a heavy item drop could potentially crack the stair.
One of the most important benefits of using Glass is it creates a great sense of space and openness to an environment.
You can use the Glass Stair Tread for smaller places like offices or apartments. Glass is also extremely durable and will never deteriorate over the longer run.
That means you can get value for money while using this option as an alternative to Stair Nose.
Other options can be good alternatives but don't get the job done correctly. For example, you can use glow-in-the-dark tape around the stairs for increased visibility, especially at night.
However, they are only good for visibility and don't provide anything other than that.
You can also try using foam and attaching them to the nose of your stairs. It is a straightforward solution for stair nosing, but it's not the most effective.
Because foam isn't durable or strong enough to rely on, you will undoubtedly encounter issues with a foam stair nosing.
Aside from these additional alternatives, you always have the option to get stair nosing alongside your stairs at the time of building them. Even though that's quite difficult to get done and doesn't work out well, it guarantees the best durability and longevity on the stair nose.
Is Stair Nose Worth It?
There is no question about the worth of stair noses for your staircases. They come with many benefits that make your stairs much safer for you to use. You can get good protection on the stairs as well as better visibility.
Getting a ready-made stair nose is the easiest solution to get all the benefits. While the cost can be an issue for some, it's undoubtedly worth every penny you pay. So, I would say, if you are not worried about money too much, then you should go for a stair nose for your stairs.
Frequently Asked Questions (FAQ)
Can you do stairs without nosing?
No, you can't do stairs without nosing. At some point, you will feel the need for stair-nosing. The edges become too smooth or risky for you to climb up or down the stairs.
You can easily slip or fall from your stairs without stair-nosing. They provide excellent safety and better protection for your stairs.
How do you make a homemade stair nose?
Well, there are several ways for you to make a homemade stair nose. You can use ready-made corner trims from any hardware store and shape them based on your stairs.
You can also try using vinyl and cutting them according to the measurements of your stairs. This way, you can easily make a stair nose at your home by yourself.
Can you make stair nosing?
Yes, with the proper tools and materials, you can make stair-nosing at your home. However, they might not be as good as the ones you can buy premade.
How do you install laminate flooring on stairs without nosing?
If you want to install laminate flooring on stairs without stair nosing, you will need to ascertain that the laminate boards you use are of perfect width. They need to cover both the horizontal and vertical ends of your staircases.
Conclusion
If I had to wrap up this discussion, I would say the stair nose alternative is something you can think about when you want to save money. But no matter what you do, ensure you get something for your staircase.
Otherwise, you will end up putting yourself at risk. Also, your stairs won't be as durable as you would want them. The lack of protection on the stairs can get concerning without any stair nose.