Are you looking for a combination of stain and Polyurethane finish? I might have the right one for you. Minwax Polyshades offers wood stain and polyurethane finish in one simple step.
It's been quite some time since I've been using this product, so I know all the ins and outs. Before writing this piece, I also consulted with some contractors. That's why you will get all the authentic results here.
Without further ado, let's get into our review.
Features of Minwax Polyshades Stain & Polyurethane
Many unique features make Minwax Polyshades better than others. You can understand whether it's a good product for you when you know it better.
So, here are some key features of Minwax Polyshades Stain & Polyurethane:
An Excellent Stain & Finish
Minwax Polyshades is an excellent combination of stain and polyurethane that can be applied in a straightforward step.
You will have vibrant color and robust protection for a long time on wooden surfaces.
Because of the formula, you can change color and stain very quickly without changing the old ones.
Most importantly, you can quickly finish your woodworking with this combined product. As I'm using it myself, I can tell you that it brings great value and makes projects more manageable.
Plus, you will get pretty good results from this unique wood stain and polyurethane finish.
As a unique product, you'll enjoy many extraordinary benefits from Minwax Polyshades. You'll also fall in love with this product after knowing the benefits. Let's see what it offers.
One of the most important benefits you will get from this product is that it saves a lot of time. As it combines stain and finish, you won't have to spend time using two different products for staining and protecting your wall.
Besides, you will get excellent color with rich pigments and durable protection with just one coat. It also increases the wood grain and makes it look better.
On top of it, it allows staining over old paint. So, you can apply your favorite color without stripping the old one.
Knowing whether a product is good or not is by looking at the material it is made from. Products like stains and finishes are highly dependent on their ingredients.
Likewise, Minwax Polyshades is made of superior ingredients that make it stand out from others.
It is an oil-based wood stain and polyurethane product. That's why you will get better results than any water-based products.
We already know it combines oil-based stain for finishing and polyurethane for protection. So, you're getting a two-in-one solution with Minwax Polyshades.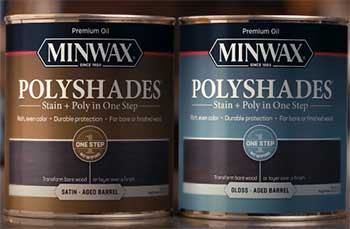 While using Minwax Polyshades, I found its performance very high in quality. You can entirely rely on this product as I do now.
Only one coat can provide beautiful rich color on a wooden surface. Two coatings will offer jaw-dropping color and finish.
You will have to wait between 6 and 8 hours till it becomes dry. Plus, you can recoat again after 6 hours.
Although one coat will give good colors, two coatings are recommended for a top-class result. Besides, it can cover 120 square foot to 150 square foot areas per quart.
But this semi-transparent stain and protection are only applicable in interior use.
Applying Minwax Polyshades is relatively easy. Being a combined product, it already saves a lot of time while applying. Its oil-based formula makes it further easy to work it.
You can apply it using a natural bristle brush. Simply dip the brush into the can and apply a thin, even coat on the surface.
As it dries fast, you can apply the second coat quickly after the first one dries after 4 hours. I could tell all these because I have experienced them while using them on my project. That's why I recommend using it if saving time is your priority.
You will get a lot of color options from Minwax Polyshades. There are more than 14 colors available, and all these colors are available in gloss and satin sheen. Let's see all the available colors for Minwax Polyurethane.   
Honey Pine, Classic Oak, Olde Maple, Antique Walnut, Vintage Blue, Slate, American Chestnut, Pecan, Honey, Mission Oak, Espresso, Bombay Mahogany, Aged Barrel, and Classic Black. You can choose one that goes with your style and home interior.
Minwax Polyshades stain and finish is available in two sizes. A ½ pint and 1-Quart can is available and to me, the prices are very reasonable.
You might think the price is higher, but you are getting a stain and protection simultaneously. While I think the price could be a little less, you can justify it by looking at the price.
What Could Have Been Better?
Minwax Polyshades is a pretty good product with many superior features. But there are still some drawbacks that I should address. These are very minor issues, but you should know them for a complete picture.
So, here are some cons of this product
Clean-up could have been easier for Minwax Polyshades. You will need Mineral Spirits to clean up this stain, but some formula offers easy water cleaning.
So, you will have to spend more money cleaning up this stain and finish. The manufacturer can conduct more research and find out an easier cleaning option.
You will get only two size options for Polyshades, a ½ pint, and a 1-Quart. A lot of contractors have said they would appreciate bigger options for large projects.
So, Minwax should think about introducing more sizes. They can reach more customers and win a lot of hearts by offering more sizes.
Minwax offers no matt sheen for Polyshades. As a result, all colors are available in two sheens: satin and glossy. I, along with other people, would like to have matt finish for all the available colors.
Frequently Asked Question (FAQ)
Is polyurethane and stain good in one?
Minwax Polyshields are Polyurethane and stain in one solution and offer finish and protection at the same time on wooden surfaces. It is an excellent product that offers superior performance.
Is stain with polyurethane any good?
Stain and polyurethane are excellent components for a wood surface. They offer beautiful colors and make them last longer. So they are pretty good in terms of quality and performance.
Is there a wood stain with polyurethane?
You will get stain and polyurethane combined in one formula. It also has a wood grain that increases the grain on a wooden surface.
Can you mix stain and polyurethane?
Stain provides color and finishes on a wooden surface, and polyurethane provides protection and makes them last longer. But you can combine them together and mix them into one formula. 
Final Thoughts
After reading the stain and polyurethane in one review, it's clear that Minwax Polyshades is an excellent product that combines stain and polyurethane together. So, it will bring great value to your project.
Even though it has some drawbacks, you can look at the good sides as they win over the bad ones. So, according to my experience, it won't let you down.