Planning to host your next bbq?
Well then, if you're a newbie, where should you start? Let's introduce you to the Flame Boss 500 and Smobot temperature controllers. Their main distinction lies in their controls and usability.
Maintaining the temperature on your bbq grill for bigger gatherings is vital yet challenging. Hence, you could invest in either of these best-sellers. However, first, you must know how and why they differ to make an ultimate decision.
So, keep skimming!
A Quick Comparison Table
| | | |
| --- | --- | --- |
| Specifications | Flame Boss 500 | SMOBOT |
| Controls | High-precision temperature controls | Natural temperature controls |
| Probes | Three | Two |
| Connectivity | Any device with browsers | IOS & Android |
| Monitoring | Via Alexa, Google Home, tablets, phones & computers | Cloud monitoring |
| Software | No additional downloads needed | mySmobot   |
| Price | High-end | Affordable |
| Usability | Easy to use & monitor | Easy to use |
| Screen | LCD with 4 lines | LCD with backlight |
| Styles | Ceramic/Kamado & Fits Steel Smokers | Basic, Big Green Egg & Kamado Joe |
Key Differences Between Flame Boss 500 And SMOBOT Smoker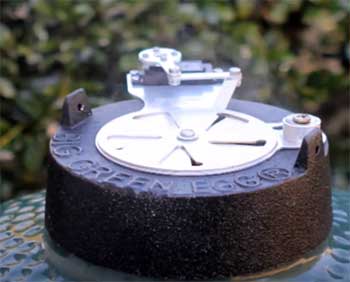 The SMOBOT grills come with natural temperature controls provided by the automatic damper.
This allows the grill to monitor the food properly in multiple areas while also handling and monitoring multiple food items simultaneously.
Moreover, this control settings upgrade allows users to experience cooked food with utmost accuracy without the risks of over and undercooking.
On the other hand, the Flame Boss 500 also comes with high-precision temperature controls with three meat probes and doesn't require Y-cables which is a huge plus.
Now, a hands-off approach is all we've ever wanted with these grills, isn't it?
The technological aspects, thus, can make or break this whole deal. The SMOBOT grills combine thermocouple technology, enabling the device to measure and grill the food items evenly.
Moreover, it enables cloud monitoring for users to check, review, monitor, and change the food item's setup and conditions as needed. But that's not all. This temperature controller also allows alerts and features systems on IOS and Android; thus, you don't constantly have to monitor the food or check for updates.
Now, let's see how the Flame Boss 500 compares to the former. Flame Boss comes with software and a patented blower with variable speed that allows precise temperature control and even cooking.
Moreover, the best part is that the equipment is compatible with both Google Home and Amazon Alexa, so if you love to operate household technologies via voice control, this is peak innovation!
But it doesn't stop here. The Boss 500 also allows users to view and assess graphs on its screen, computer, tablet, and phones to monitor and change the temperature controls when needed.
It also comes with alarms that allow you to cook the meat according to personal desire. Lastly, users love that the device doesn't require additional software downloads as it can connect to any device which operates on browsers.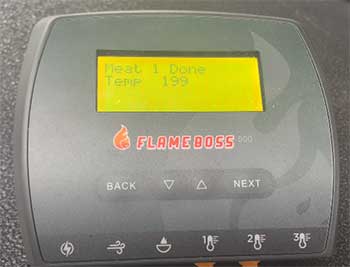 It's a no-brainer that price plays a huge role in making the final decision.
Fortunately, Smobot is much more affordable than Flame Boss 500.
The best-selling Smobot model's price starts at around $300 and can climb up to approximately $360, whereas Flame Boss 500 prices are $379 and approximately $400.
Both brands specialize in various colors and styles.
And with differing styles, designs, and color schemes, the price also differs. But the good news is that users who don't mind spending the extra buck on Flame Boss 500 get their full money's worth with Flame Boss 500's high functionality and value.
So, whether you opt for the affordable or the high-end option is a win-win.
Another vital point that most users can't overlook is the grill's usability, especially because outdoor grilling is a tricky yet fun activity. The good news is that both brands are relatively easy to use and install.
Some users even claim that the Smobot is 'too easy to use,' making it the perfect match for amateurs. You can simply set it and forget it.
On the contrary, the Flame Boss 500 is no different either, as it has straightforward configuration systems and large LCDs that notify the users of every action and state their food is experiencing.
Which Is Better For You?
So, what does it all come down to?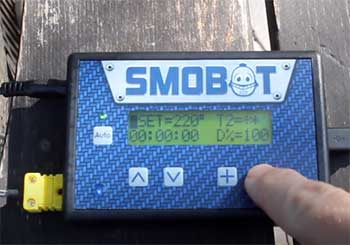 Let's round it up. The first two factors you mustn't overlook are the price point and specifications of the model you're eyeing.
Matching your preferences and budget limitations to the grill's features and the price is vital for any investment, let alone such a hefty one.
Therefore, after putting everything into perspective, we have to say that the Flame Boss 500 has some really impressive features and higher usability next to the SMOBOT.
Now, if you're willing to invest more in top-tier technology and an absolute hands and hassle-free grill, the Flame Boss 500 will not disappoint, even though it's a bit high-end.
On the other hand, if your main attraction is the price point and you don't mind a few tweaks and effort around the grill, grab the Smobot controller.
Frequently Asked Questions (FAQ)
Are the Egg Genius and Flame Boss 400 the same?
Egg Genius comes with three expandable meat probes, whereas the Flame Boss has only one. Egg Genius has a green exterior, and Flame Boss is black.
Does Flame Boss work with Big Green Egg?
Big green works like a hassle-free oven; thus, setting it up with the Flame Boss can take off a lot of the effort from the users due to their combined technical services.
Is SMOBOT waterproof?
SMOBOT can be used during the rain. However, it's suggested to protect the device with plastic bags if possible.
How long does it take to cook meat in smokers?
The duration depends on a few things, such as the smoker's temperature, thickness, and type of meat. On average, it takes around 6-8 hours.
Conclusion
To summarize this SMOBOT and Flame Boss 500 comparison, we can assure you that the Flame Boss 500 has consistent performance. Even with its expensive price point, users love its seamless usability, heightening its value over the price.
But, as a consumer, you must look into both sides. Thus, if your goal is to remain within the budget with satisfactory technological features, pick the Smobot controller. Lastly, ensure that your budget and requirements match before making the splurge.
Good luck!