For professional arborists and backyard pruners alike, having the right pruning saw can make all the difference when it comes to effectively and efficiently trimming trees and shrubs.
Two of the most popular folding saws on the market are the Silky Katanaboy 500 and 650 – but with their similar names and specs, it can be tough to determine which is the better option for your specific pruning needs.
In this comprehensive comparison guide, we'll break down the key features and performance of both the 500 and 650 models so you can confidently decide which of these premier Silky saws is right for you.
A Brief Comparison Table
| | | |
| --- | --- | --- |
| Feature | Silky Katanaboy 500 | Silky Katanaboy 650 |
| Blade Length | 14.5 inches | 19.5 inches |
| Weight | 1.4 lbs | 1.81 lbs |
| Cutting Capacity | Up to 6 inches | Up to 10 inches |
| Handle Design | Rubberized grip | Rubberized grip |
| Portability | More compact when folded | Slightly longer when folded |
| Durability | Less prone to blade damage | Robust build quality |
| Ease of Use | More agile and lightweight | More power for thick branches |
| Cost | $85 – $115 USD | $120 – $150 USD |
Key Takeaways:
The 650's longer 19.5 inch blade can cut thicker branches up to 10 inches, while the 500 maxes out around 6 inches.
The 500's smaller size and lighter weight makes it more maneuverable in tight spaces.
Both feature comfortable rubberized handles, but the 500 puts less strain on your hands during long pruning sessions.
The 650 costs $25 – $35 more than the 500 due to its larger blade and cutting capacity.
For casual users, the 500 provides excellent value at a more budget-friendly price point.
The 650 is purpose-built for professionals who need to power through large pruning tasks.
Either Katanaboy model represents a high-quality folding saw that should provide years of peak performance.
Overview of the Katanaboy Folding Pruning Saws

The Katanaboy line is Silky's flagship series of folding saws specially designed for pruning applications. Available in blade lengths from 210mm to 390mm, the Katanaboy combines Silky's ultra-sharp sugiharatokaku blades with a rugged folding saw design perfect for professional use or casual garden trimming.
The 500 and 650 models represent the midsize options in the Katanaboy line:
Silky Katanaboy 500 – 14.5 inch (370mm) blade length; 1.4 lbs weight
Silky Katanaboy 650 – 19.5 inch (495mm) blade length; 1.81 lbs weight
Both saws feature tubular steel handles with comfortable rubberized grips. The blades use Silky's proprietary hard chrome plating for rust resistance and extra rigidity. When folded, the saws tuck into a molded plastic scabbard for safe storage and transport.
Key Differences Between Silky Katanaboy 500 And 650 Pruning Saws
Now let's take a closer look at how these two premier folding saws stack up against each other:
Blades – Cutting Power & Performance
The most noticeable difference between the 500 and 650 is in the size of their blades. The 650's beefier 20 inch blade provides significantly more cutting capacity than the 500's shorter 15 inch blade.
This extra reach and cutting depth makes the 650 ideal for pruning thick branches and cutting through larger diameters. The 650 can slice through green wood up to about 10 inches thick in a single pass.
That said, the 500's smaller blade has advantages too. It offers better control and maneuverability in tighter spaces like hedges or fruit trees. The 500 also weighs over half a pound less than the heavier 650. Less blade weight reduces hand fatigue during extended pruning sessions.
Both Katanaboy models feature Silky's ultra-sharp Japanese steel blades that are precision-ground to an incredible 6.4 degree tooth angle. This means they cut with minimal effort and vibration compared to standard saw teeth. The rigid chrome-plated blade won't bend or distort when buried deep in thick branches.
For most pruning tasks under 6 inches in diameter, the 500 and 650 blades offer comparable cutting efficiency. Their tooth geometry and smooth pull-cut stroke glide through green wood smoothly and quickly.
The 650's longer blade does come at the cost of slightly more friction during the cut. But its additional reach and capacity outweigh any downsides for cutting larger branches.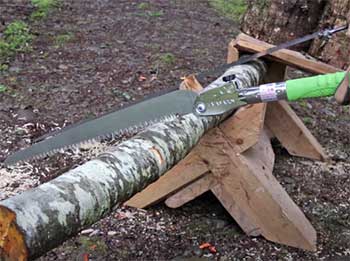 Both the 500 and 650 Katanaboy feature a no-nonsense rubberized handle designed for comfort and control.
The grip molds nicely to hand contours and provides a secure hold, even with sap or moisture on your hands.
The tubular steel handle frame provides rigidity to minimize flexing during strenuous cuts.
At about 1 1/4 inches in diameter, the grip fits most medium to large sized hands well.
Users with smaller hands may find the grip slightly oversized.
Balance-wise, the 500's shorter blade makes it feel lighter in the hand compared to the 650's heavier blade and extended reach. For users who prefer lighter saws, the 500 has a noticeable advantage in swing weight.
When it comes to ergonomics, both saws hit the sweet spot for comfort and function. The rubberized grip minimizes hand fatigue whether you're pruning for 30 minutes or 3 hours.
As folding saws, both the 500 and 650 pack away nicely for storage and transport. They feature a molded plastic scabbard to protect the blade and your gear bag when tucked away.
In the folded position, the 500 is slightly more compact at just over 15 inches long. The 650 measures about 19 inches with the blade folded in. For backpackers or arborists needing to haul gear to remote sites, the 500's reduced size could make a difference.
The plastic scabbard securely retains both saws, but lacks a belt clip or loops for attaching to a harness. Aftermarket scabbards are available if you need to strap a Katanaboy saw to your belt or gear.
In terms of ruggedness and longevity, both Katanaboy models are top-tier choices. The chrome-plated blade, tubular steel handle, and reinforced pivot joint are built to withstand years of rugged use.
The 500 may have a slight durability advantage over the 650 thanks to its shorter blade. The smaller surface area reduces potential for damage if you accidentally nick or scrape the blade on a branch or rocks.
For normal pruning tasks, either saw should provide 5+ years of reliable use. Their weather-resistant construction stands up well to rain, snow, and sap flow. Just keep the blade clean and dry after each use to prevent any rusting.
The most vulnerable part of both saws is the plastic scabbard. It can crack or warp with excessive heat exposure. But the scabbard is easily replaced if needed.
One area where the 500 shines compared to the larger 650 is in maneuverability and ease of use. Its smaller size and lighter blade weight allow you to more nimbly saw at odd angles or in confined spaces.
The pull-cut stroke of both models is buttery smooth with little effort needed thanks to the premium blade grind. But the 500 feels somewhat more wieldy for beginners or those with limited arm strength.
Folding and unfolding the blade takes just seconds, even with gloved or slippery hands. The tubular lock nut provides a vice-like grip to hold the extended blade firmly in place. No need to worry about the blade loosening mid-cut.
For raw cutting power through thick wood, the 650 takes the cake. But if agility and handling matter most, the 500's lighter and shorter design is tough to beat.
As flagship Silky pruning saws, neither the Katanaboy 500 or 650 are budget tools. But their premium Japanese steel blades and robust build quality make them well worth the investment for regular pruning work.
Here's how the two models stack up based on latest retail pricing: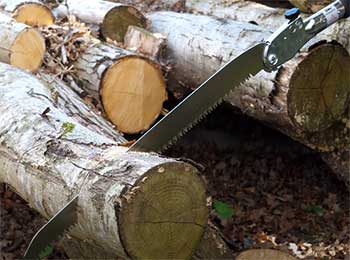 Silky Katanaboy 500 – $85 to $115 USD
Silky Katanaboy 650 – $120 to $150 USD
The 500 offers savings of around $25 to $35 compared to the heavier duty 650. Keep in mind the 650's larger blade does warrant the higher price tag.
For occasional users on a tight budget, it may be hard to justify the price premium of either saw.
But for professional arborists or avid gardeners, the years of reliability and efficiency offered by the Katanaboy saws make them an excellent long-term value.
Purpose-Built for Pruning Performance
When you compare the Katanaboy 500 and 650 head-to-head, the 650 comes out on top for its increased cutting capacity and stroke length. For pruning thick branches or tackling extensive cutting tasks, the 650 is purpose-built to power through long sessions.
That said, I don't consider the 500 an inferior saw by any means. Its more compact size and lighter blade weight make it ideal for users who prioritize agility or suffer from hand fatigue with heavier saws.
The 500 also represents a nice cost savings of $25 to $35 over the 650 model. For homeowners or gardeners who only prune a few times a year, the 500 packs plenty of cutting power at the right price point.
Final Thoughts
Overall, it's hard to go wrong with either of these Silky pruning saws. Let your specific cutting needs and budget determine which size is right for you. Rest assured you're getting one of the highest quality folding saws money can buy.
Whichever you choose, a Katanaboy folding saw will give you the cutting performance and reliability that generations of professional arborists have relied on. With proper care and sharpening, it's likely to be the last pruning saw you'll need for years to come.