Kitchen cabinets are one of the most important elements of any kitchen remodel or new construction project. Not only do they provide essential storage and organization, but they also set the aesthetic tone for the entire kitchen.
When it comes to premium cabinet brands, two names stand out: Shenandoah Cabinetry and American Woodmark. But which offers the best value, quality, and overall experience for your kitchen?
In this comprehensive guide, we'll compare the pros, cons, costs, construction, customization options and more between Shenandoah and American Woodmark. We'll also answer some frequently asked questions to help you determine which cabinet brand is the better choice for your specific needs and budget.
Let's dive in!
A Brief Comparison Table
| | | |
| --- | --- | --- |
| Feature | Shenandoah Cabinets | American Woodmark Cabinets |
| Construction Quality | Superior – dovetail drawers, screwed cabinet boxes, full 1" faceframes | Very Good – cam lock cabinets, partial dovetail drawers, 3⁄4" faceframes |
| Customization Options | Extensive – 40+ door styles, fully customizable doors, widest range of accessories | Very Good – 20+ door options, Door Imagination system for customization, good accessory selection |
| Price Point | $$$$ – Higher premium pricing, excellent value | $$ to $$$ – Mid-tier premium pricing, moderate value |
| Lead Times | 6-14 weeks – Slower, high quality production | 4-12 weeks – Faster, high production capacity |
| Warranty | Lifetime replacement of defective cabinets | Lifetime limited warranty, prorated after 5 years |
| Style Strengths | Ornate traditional, ultra contemporary, exotic customization | Simplified traditional, rustic, cottage, mainstream contemporary |
| Customer Service | Extremely responsive and helpful dealers | Good but some reports of slow/insufficient responses |
Overview of Shenandoah Cabinets
Founded in 1976, Shenandoah Cabinetry is known for producing high-quality customized cabinets for kitchens, bathrooms, laundries, home offices, and more.
They offer a wide range of door styles, wood species, finish options, organizational accessories, and hardware to meet any design vision.
Some key facts about Shenandoah: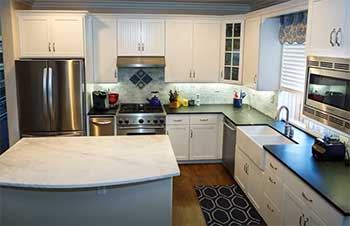 Location: Headquarters and manufacturing facility located in Virginia. Products sold through authorized dealers and distributors across the U.S.
Wood species: Oak, maple, cherry, hickory, birch, and thermofoil options available. Many exotic wood veneers optional.
Door styles: More than 40 door designs ranging from traditional to contemporary. Full customization on door style possible.
Finishes: Over 20 stain colors and glaze options. Custom matching for unlimited colors also available.
Quality: Lifetime warranty on cabinets. Doweled, glued, and screwed cabinet box construction.
Price range: $$$$. Upper end of premium cabinetry.
Now let's look at the key facts for American Woodmark cabinets:
Overview of American Woodmark Cabinets
American Woodmark is one of the largest cabinet manufacturers in the U.S. Founded in 1980, the company offers cabinets for the entire home through three primary brands:
Timberlake: Their premium, semi-custom line with a large range of options.
Shenandoah: This brand was acquired from Shenandoah Cabinetry in 2005 but kept operating independently.
American Classics: Their value-priced stock cabinetry line.
For comparing directly with Shenandoah Cabinetry, we'll focus on the Timberlake line. Here are some of its main features:
Location: Headquarters in Virginia. Products available nationwide.
Wood species: Maple, cherry, oak, hickory, and thermofoil. Exotic veneers optional.
Door styles: 20+ door designs from slab to raised panel and with decorative inserts. Custom doors through their Door Imagination system.
Finishes: 30+ stain colors and specialty finishes like glazes and distressing available.
Quality: Lifetime limited warranty on Timberlake cabinets. Cam and dowel construction.
Price: $$ to $$$. Middle to upper price range.
Now that we've provided an overview of each brand, let's compare them in greater detail across some key factors:
Comparison of Quality and Construction
A major consideration when choosing cabinets is their quality of materials and construction. This impacts not only durability but also structure, fit and finish.
Both Shenandoah and American Woodmark use quality plywood and hardwood materials. However, there are some differences: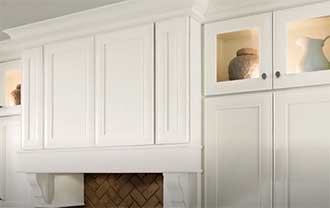 Cabinet boxes: Shenandoah uses screwed, doweled and glued construction on their cabinet boxes, which makes them incredibly sturdy. American Woodmark relies on cam lock fasteners along with glue, which allows for more adjustment but may not be quite as robust long-term.
Drawers: Shenandoah uses solid hardwood dovetail drawer boxes, which are extremely strong and durable. American Woodmark offers optional dovetail drawers on certain lines, but primarily uses jointed and glued drawer boxes with a plywood bottom. Dovetail is stronger.
Frames: Shenandoah features full 1″ face frames on cabinets for maximum strength. American Woodmark has slightly thinner 3⁄4" face frames.
Warranties: Both offer lifetime warranties. Shenandoah's is a full replacement while American Woodmark's has more limitations.
Overall Shenandoah cabinets are built slightly more robustly and have an edge in quality, though American Woodmark uses strong construction techniques as well. Shenandoah's dovetail drawers, full face frames, and comprehensive warranty give them an advantage here.
Comparison of Customization Options
A major benefit of choosing premium cabinet brands is the ability to customize for your unique kitchen design. How do Shenandoah and American Woodmark compare on customization flexibility?
With both brands, you can select from a wide range of standard door styles and finishes or create fully custom doors. American Woodmark offers over 20 standard door profiles you can modify with panels, carvings, inserts and finishes. Their Door Imagination system even allows uploading your own designs.
Shenandoah has over 40 standard door options spanning various design eras and categories like traditional, cottage, modern and contemporary. Their Made-to-Measure service lets you customize doors with unique sizes, woods, profiles, and details.
For truly specialized doors like arched, curved or extra large sizes, Shenandoah likely has more direct experience to handle the challenges. Their framing options also allow more possibilities like wider stiles and rails or real wood veneer inserts.
Overall, both brands offer extensive customization. Those wanting mainstream options like Shaker, Arts & Crafts styles or personalized raised panels will get ample selection from either. But for truly specialized doors, Shenandoah may have more direct experience and possibilities.
Comparison of Available Product Range
In addition to cabinet boxes and doors, you'll need a variety of other products for a complete kitchen or bath design. This includes:
Moldings and trim
Drawer organizers
Storage pull-outs
Wine racks
Appliance garages
Bathroom storage and more
Both Shenandoah and American Woodmark have a wide assortment of accessories and organizational products available. However, Shenandoah's product catalog is even more extensive with over 3,000 SKUs to American Woodmark's approximately 700.
A few examples where Shenandoah has greater range and specialty options:
More molding profiles like accent rails and ledges
Additional trim choices like fluted columns and corbels
Unique storage options like roll-outs for mixing bowls or trays
More choices of glass door designs
Specialty pull-outs for corner cabinets and blind corners
With their broader product selection, Shenandoah can provide more nuanced accessories and storage solutions. Their expansive catalog allows designing truly custom kitchens and baths tailored to your needs.
Comparison of Price and Value
Pricing is another key factor that can vary between Shenandoah and American Woodmark. As a general guideline:
Shenandoah: At the higher end of premium cabinet pricing, starting around $75 per linear foot up to $200+ per linear foot. Provides exceptional quality and customization for the price.
American Woodmark (Timberlake): Middle tier of premium cabinet pricing, averaging $50 – $100 per linear foot. Provides very good quality and moderate customization for the price. Their stock American Classics line is an even more affordable option.
With Shenandoah's greater construction quality, expansive customization, and broader accessories, you're getting excellent value for the price point. Of course, pricing can vary significantly depending on your specific kitchen design, location and dealer.
We recommend getting quotes from authorized dealers of both brands. This allows you to compare accurately for your particular project. Expect Shenandoah to come in 15-30% higher than American Woodmark when comparing identical or very similar designs.
Comparison of Lead Times
How long will you have to wait for your new cabinets to arrive? Lead times can vary from 4-12 weeks for American Woodmark and 6-14 weeks for Shenandoah once orders are placed. Which is faster?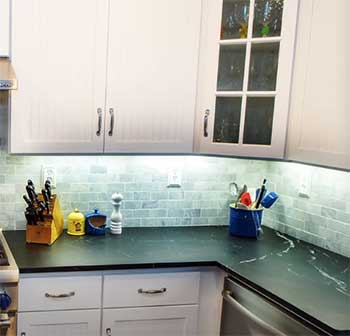 It depends on the time of year and demand fluctuations.
But in general, American Woodmark's larger size and scale enables them to fulfill orders more rapidly, especially during peak seasons.
Their stock American Classics line could ship within a couple weeks.
But for more complex custom work, Shenandoah's experienced craftspeople may be better equipped to handle the intricacies without excessive delays.
Their lead times also consider shipping from Virginia across the country.
Overall, expect a 1-2 week faster turnaround from American Woodmark for standard orders. But allow several extra weeks for intricate custom work with either brand. Reach out to dealers to get estimated timelines for your specific project.
Comparison of Warranties
It's important to understand what kind of warranty each cabinetry brand provides. You're making a major investment, so make sure you're well covered.
Here's an overview of warranties from each company:
Shenandoah:
Lifetime warranty covering defects in materials and workmanship.
Will replace cabinets proven defective.
Covers original purchaser.
Not limited to number of claims.
American Woodmark (Timberlake):
Lifetime limited warranty.
Will repair or replace defective cabinets at company discretion.
Limited to original purchaser.
Covers first 5 years fully, then prorated credit.
Limit of 2 warranty claims.
Shenandoah clearly provides stronger assurance with their lifetime replacement warranty versus American Woodmark's limited warranty. It offers more comprehensive coverage without claim limits or prorated costs after 5 years.
Comparison of Customer Service and Reviews
How responsive each company is with customer service and support can affect the experience during and after your purchase. It's ideal to feel fully assisted throughout the process.
Both Shenandoah Cabinetry and American Woodmark have received overwhelmingly positive reviews for quality and service. A few distinctions:
Direct Support: Shenandoah dealers provide the main customer service, while American Woodmark has some direct representatives. Shenandoah dealers may provide a more tailored, local experience.
Responsiveness: Response times tend to be faster and more thorough with Shenandoah dealers compared to some reports of slow responses from American Woodmark support.
Feedback Resolution: Shenandoah appears to go above and beyond resolving any issues, while some American Woodmark reviews mention lackluster response to problems.
Overall, both companies provide excellent products but Shenandoah dealers seem to deliver a more attentive, highly responsive customer experience. This allows for any concerns to get rapidly resolved.
Style and Design Comparison
In terms of aesthetics, both Shenandoah and American Woodmark offer a wide range of door styles spanning from traditional to contemporary. Here are some key differences:
Traditional styles: Shenandoah excels at historically accurate, ornate styles like Victorian and Old World. American Woodmark has simpler traditional options.
Transitional looks: American Woodmark has more variety for popular transitional styles like Shaker and Arts & Crafts. Great for light traditional or suburban contemporary.
Modern styles: For sleek, minimalist contemporary, Shenandoah has a broader selection including ultra-modern flat/slab doors.
Rustic styles: American Woodmark has more variety for popular rustic, farmhouse and cottage styles.
Door details: Shenandoah specializes in unique carved accents, artistic distressing, inlays, and mixed materials. Great for ultra-custom looks.
Overall both cater well to all styles. Those wanting a classic, ornate traditional or sleek contemporary aesthetic may gravitate toward Shenandoah's strengths. But for simple traditional, rustic, or cottage, American Woodmark has plenty of great options too.
Frequently Asked Questions (FAQ)
Now that we've compared these two premium cabinet brands in depth, let's review some common questions that arise for homeowner's trying to choose between them:
Are American Woodmark and Shenandoah the same?
American Woodmark acquired Shenandoah Cabinetry in 2005 but allowed it to remain an independently run, semi-custom cabinet manufacturer. So while they are under the same corporate umbrella, Shenandoah Cabinetry operates distinctly from American Woodmark in terms of products, manufacturing, and distribution. Think of them as sister brands.
Are Shenandoah cabinets real wood?
Yes, Shenandoah uses real plywood and hardwood materials, NOT particle board. Their cabinet boxes feature solid plywood sides, backs, tops and bottoms and hardwood face frames. Their doors and drawer fronts utilize real wood veneers over plywood or medium density fiberboard cores.
What are the most durable kitchen cabinets?
The highest quality cabinets use doweled, screwed, and glued joinery, dovetail drawer boxes, and solid plywood materials without particle board. Top brands like Shenandoah Cabinetry meet these construction standards for maximum durability in kitchens. Choosing hardwood species like maple and avoiding painted finishes also improves long-term wear.
What are the best cabinets for a kitchen?
The "best" cabinets are different for every homeowner depending on budget, style preferences, and needs. Top semi-custom brands like Shenandoah, American Woodmark, KraftMaid, and Wellborn Cabinetry provide high-quality construction combined with style customization. For a luxury look, Ply Gem, Omega, and Merillat are terrific. And you can never go wrong with an full-custom cabinetmaker for a personalized dream kitchen.
Conclusion
When evaluating Shenandoah vs. American Woodmark cabinets, you have two excellent semi-custom options that will dramatically elevate your kitchen or bathroom. Key takeaways are:
Shenandoah offers superior construction and comprehensive warranty for a discerning homeowner. Their dovetail drawers, thicker face frames, robust joinery, expansive accessory range, and incredible attention to detail make them a true premium brand.
American Woodmark provides wonderful value for beautiful cabinets with a high degree of personalization. Their wide range of styles, Door Imagination customization, and quicker lead times make them an attractive choice for many homeowners.
While Shenandoah Cabinetry shines for quality construction and ornate custom details, American Woodmark meets the needs of most with beautiful semi-custom designs for less.
Weigh your priorities, clarify any distinctions with authorized dealers, and choose the premium cabinetry brand that fulfills your dream kitchen vision within budget!