When it comes to Vacuums, Shark is a very well-known brand there. Since it's well known, you always struggle with choosing between the different models from the same brand.
One of those difficult decisions is Shark UV725 vs. UV850. The main difference is that UV850 has a dual roller feature, but UV725 only has one roller.
The tricky thing is there is also a price difference between the two. So, you end up wondering whether one is better than the other.
Also, if the expensive one is worth the extra money or not, I have this in-depth comparison to find all the answers you are looking for. Let's dig deep and see which one is better for you.
A Quick Comparison Of The Shark Vacuums
| | | |
| --- | --- | --- |
| Specifications | Shark UV725 | UV850 |
| Cleaning Rollers | Single roller | Dual rollers |
| Weight | 18lbs | 20lbs |
| Size | 45.6 x 12 x 9.5 inches | 33.6 x 12.8 x 9.3 inches |
| Value for money | Affordable | A bit pricey |
Key Differences Between Shark UV850 And UV725 Vacuums
I don't think I have to tell you about the importance of having cleaning rollers on your vacuums.
A higher number of rollers will always give you better cleaning results, with several other options to work around.
There is a significant difference in the rollers of these two Shark vacuums.
Shark UV850 is a vacuum from the performance series of Shark vacuum cleaners.
Its dual cleaning roller feature makes the performance series unique; they call it DuoClean PowerFins.
There is a powerful roller that works the same as regular rollers, and then there is an additional soft roller. The smooth rollers help you clean smaller particles and provide a much-polished look to your floor.
Going into the UV725, you don't get to see anything out of the ordinary. It has a single roller that works pretty much the same as any other standard vacuum cleaner.
Yes, it's powerful, but it doesn't have the unique soft roller feature to attend to particular needs.
Now, the decision comes down to whether you need that soft roller function or not. Suppose you do then go with Shark UV850. Otherwise, the Shark UV725 works just fine for you.
Next up is the weight of the vacuum. As you will be carrying the vacuum and moving it around, for the most part, it's essential to consider the weight. There is a slight difference in the weight of the two vacuums.
The UV850 is a bit heavier than the UV725 with its 20lbs weight. A couple of pounds of added weight on the UV850 vacuum can have an impact on the decision. You will have trouble moving and carrying the vacuum around with the added weight.
As for the UV725, it weighs 18lbs. So, it's 2lbs lighter than the UV850. While the difference doesn't seem like that much on paper, it does impact reality. Especially if you are someone who has trouble carrying their vacuum around the place, you will have a difficult time with the UV850.
The choice here is obvious. If you care about even the slightest weight advantage, you go with UV725. Other than that, both options are pretty similar in performance.
Why does size matter in a vacuum cleaner?
Well, it mostly matters for storage purposes. Besides that, you don't get that much value from a different size of vacuum. The sizing for the two vacuums is only different in their heights.
The UV850 has a height of around 33 inches. In contrast, the UV725 will have a height of 46 inches. So, the UV725 is a larger option out of the two. This factor makes a difference if you have limited space for storage.
For instance, if you want to save space or don't have 46 inches of vertical space in your storage, you go with UV850 without thinking twice. But if you can keep the vacuum in your storage, you can surely take a look at the UV725.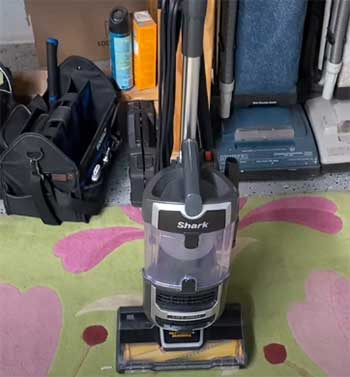 Here's a factor almost everyone out there is familiar with in buying decisions.
Value for money is very significant when choosing between the two vacuum cleaners.
In my opinion, this factor alone can dictate the decision if you don't care too much about the intricacies of a product.
For starters, the UV850 price is slightly higher than the UV725. I mean, it's a pretty noticeable difference considering you are getting a vacuum cleaner.
Now, the real question is whether the extra cost is worth it.
In my opinion, I would say paying that extra money just for an added roller may not be worth it for everyone. Because of performance and other general features, both vacuum cleaners are the same.
Which Vacuum Is A Better Pick For You?
To keep things very short, I would say Shark UV725 is a better pick when you are after affordability. It has a lower price in comparison, and the features are pretty much the same anyways.
However, if you want a slight advantage in the cleaning, then UV850 is a bit better with the soft roller feature. You get to clean the smaller particles to achieve better cleaning results.
The decision comes down to your personal preferences.
Frequently Asked Question (FAQ)
What is the difference between the Shark vacuum models?
Among plenty of Shark vacuum models, their differences are the features, built, and purpose. Some are budget options with cheaper materials. And some of them are modern variants with advanced features and sleeker designs.
Which model of Shark is the best?
While there are plenty of high-quality choices, Shark Vertex DuoClean PowerFins Cordless Stick Vacuum is one of the best.
Which Shark vacuum is more powerful?
The upright shark vacuums come with the most potent motors making them more powerful than other choices.
What's the difference between nz801uk and NZ801UKT?
Both models are pretty identical, except for the pet turbo tool. The NZ801UKT has a pet turbo tool making it a True Pet version.
Conclusion
To conclude the whole Shark UV725 vs. UV850 argument, the decision is all about what you prefer to have. For someone who wants the best possible cleaning advantage, UV850 is an excellent option to pick with the DuoClean feature, and it indeed gives you an edge.
But overall, there isn't too much difference between the two choices. So, if you plan to save money, I recommend getting the UV725. It's just a matter of your personal needs.