Good CNC machines are pretty tough to find, which is why known names like Shapeoko and Shark get an advantage. Both these machines are similar but not really the same.
Cutting area, spindle, and ease of use are some of the major differences between these two.
There are dozens of CNC machine options, but Shapeoko and Shark stay the most popular ones. How do you choose one from these two and what makes them different?
Here's a comparison between them to answer these questions.
A Quick Comparison Summary
| | | |
| --- | --- | --- |
| Feature | Shapeoko | Shark |
| Cutting area | Bigger, more spacious | Smaller, slightly cramped |
| Spindle | Comes with the pack, slower | Separate spindle, usually faster |
| Ease of use | Less beginner-friendly | More beginner-friendly |
This is the gist of the whole thing. Let's get to the detailed comparison now.
Key Differences Between Shapeoko And Shark CNC
Shapeoko and Shark- both brands have amazing products in their lineup, this much goes without saying. Plus they're known for good output and there has to be some truth to that too. This is why picking one among them is difficult.
But difficult doesn't mean you can't differentiate between them. The major differentiating factors between Shapeoko and Shark CNC are cutting areas, spindles, and ease of use.
Here's how these make the two machines different.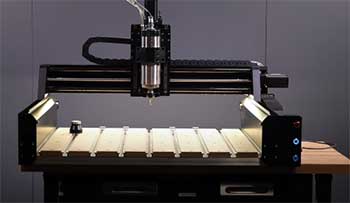 The cutting area is the operating space you'll get from your machine.
The machines might look bigger because of the frame but the cutting area can be small.
Shapeoko and Shark both have pretty spacious cutting areas but Shapeoko has more spacious options.
Shapeoko CNC machines usually have a bigger cutting area compared to other CNC machines paired with their sturdy frame.
There are different sizes of CNC machines you can get from Shapeoko, the Shapeoko 4 model for example. The cutting area can go up to 33"x33" depending on the size of the machine.
Shark CNC is smaller than Shapeoko when it comes to workable space. Their frames usually take up a pretty big chunk of space but the frame itself is usually smaller.
The HD150 model, for example, goes up to 28"x28". Sure you can get bigger, but those usually don't have a square frame.
Spindles are probably the most important part of a CNC machine. And that's understandable considering it will be doing the actual work. Shapeoko has its own spindle kit and Shark doesn't. That's the biggest plus for Shapeoko here.
Shapeoko has its own spindle kit, yes, but it doesn't exactly cover everyone's needs. The spindle is a little slower compared to other spindles. This is great if you're doing detail-oriented work but that's about it.
The good thing is, the default spindle won't be your only option. You can use any compatible spindle if the speed isn't something you can work with.
Shark CNC on the other hand doesn't come with spindle kits, but that just gives you more flexibility. You can pick any compatible spindle and go to town with that.
SHapeoko CNC machines come semi-assembled, as a kit. You'll need some knowledge about CNC machines (whether from tutorials or work experience) to get it work-ready. This is why Shapeoko is considered more of an intermediate device.
Shark doesn't have much of this problem. Their CNC machines come almost assembled, in most cases, you'll just have to assemble small upper and lower parts.
You won't need much experience or prior knowledge to work with this, which makes it a good choice for beginners.
Which One Should You Choose?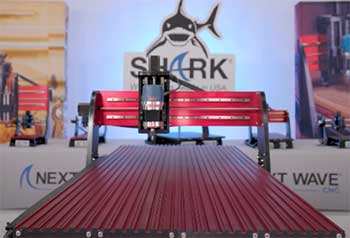 There really isn't any simple or straight answer to this.
Both CNC machines are high-quality and efficient.
Plus they bring different attributes to the table which makes their cases even stronger.
If you have to choose one, you'll have to do some tricky trade-offs and consider multiple factors.
The most important thing here is to know exactly what you want from your machine. If you precisely know what you want, the trade-off and weighing benefits part becomes easier.
If you're looking for something that's more of an all-rounder and can handle more high-skill-level tasks, go with Shapeoko. You'll need some prior knowledge to set it up and get it going.
Plus you'll have to pay a little extra to unlock all the software features.
Shapeoko comes with its own spindle kit but it is also pretty versatile. You can use any compatible spindle with it. The only problem with Shapeoko is its price point and the slower default spindle.
If you're looking for something for entry-level tasks and don't want to break the bank on your first go, Shark CNC machines are good options.
You can use any spindle you want which will give you better control of speed. The best part of Shark CNC machines is the beginner-friendly setup.
You can operate Shark CNC machines without much experience. But the problem with them is the smaller workspace. The default software also has fewer features than Shepeoko.
Overall, Shapeoko is the better choice here. Sure, it will cost a little more but you'll get your money's worth. But if you want something entry-level or easy to work with, feel free to go with Shark CNC Machines.
Frequently Asked Questions (FAQs)
Here are a bunch of questions people ask about Shapeoko, Shark, and CNC machines in general.
Is Shapeoko a good CNC?
Yes, Shapeoko is one of the best CNC machines in the market. Shapeoko CNC machines are well-built and come with pretty good software so the hype is understandable.
Who makes shark CNC?
Shark CNC is manufactured by New Wave CNC. Tim Owens is the founder of New Wave and the company has been in operation since 1995.
How accurate is the Shapeoko pro?
Shapeoko Pro can go as accurate as 0.005″.
Can Shapeoko do 3D?
Shapeoko can't do 3D with its default software. You can do 2D and 2.5D with it, but you'll need different software for doing 3D work.
Final Verdict
Shapeoko or Shark is an old debate, but that doesn't make taking sides any easier. Both brands have an amazing product lineup and a good reputation going on for them.
If you have to pick one, Shapeoko is the better choice. But if you specifically want something cheaper or entry-level, feel free to go with Shark.