Do you plan on getting an outdoor storage unit for your home?
Well, you will come across plenty of choices, and getting one becomes difficult. One of your hardest choices is with Rubbermaid or Suncast storage sheds. Both of them are pretty good at what they do.
So, how do you choose between one of them?
It's very simple, go through a comparison for both the choices. To make things easier for you, I bring you this comparison of the two storage sheds. By the end of this discussion, you will know which one is the perfect pick for your needs.
A Quick Comparison Between Two Storage Sheds
| | | |
| --- | --- | --- |
| Specification | Rubbermaid | Suncast |
| Installation | 2 to 3 hours | 3 to 4 hours |
| Ventilation | No proper ventilation | Has good ventilation |
| Durability | Pretty durable | Withstands rough conditions |
| Pricing | Affordable | Moderate |
| Warranty | Excellent | Decent |
Key Differences Between Rubbermaid And Suncast
When it comes to storage sheds, you will always have to think about the installation or the assembly of the whole thing. How long it takes, how difficult the process is, and whether you can do it yourself or not matter a lot.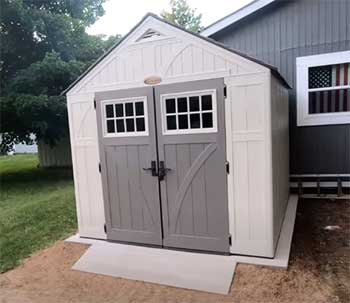 Starting with the Rubbermaid storage shed, you will have a very easy time installing it.
There are no complicated processes or methods that you have to go through.
For most of the versions of Rubbermaid storage sheds, it takes about 2 or 3 hours at best to install it.
And the best part is that you can complete the installation yourself.
Now the picture gets a bit different with the Suncast storage sheds. These sheds are much harder to install and set up in your place.
There are some complicated steps involved in assembling and setting up these sheds. So, you will have a difficult time setting these up by yourself.
So, when it comes to ease of installation, I would always go with Rubbermaid over Suncast. They are much quicker to install, and you can do it yourself without too much trouble.  
Ventilation In The Storage
Many people miss out on the ventilation factor for their outdoor storage unit. I mean, if you are not inside the storage, then why consider ventilation?
But in reality, you have to consider it because some items you store may require proper ventilation. Without that, you might ruin whatever you may have stored in the shed.
Here the clear winner has to be Suncast storage sheds. They come with proper ventilation windows with a lot of room for airflow.
Whereas with the Rubbermaid storage sheds, you will always have to make improvements to ensure proper ventilation.
Considering all these factors, if you are thinking of storing anything requiring proper ventilation, then Suncast is a better choice. But if you never think of storing such items, you can still go with Rubbermaid and be satisfied with the whole thing.
Now, let's talk about something that a lot of people think of when they need a storage unit, durability. The tricky part here is that both choices are pretty similar in terms of durability.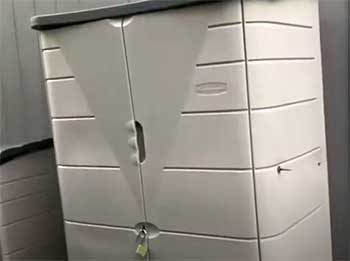 Based on this factor, you can't decide on one of them right away.
Still, there is a slight difference you get to see with the durability of these storage sheds.
With Rubbermaid, you get a pretty sturdy construction that can withstand some rough conditions without any trouble.
Storms will never be a trouble for you when you have this shed.
As for the Suncast storage shed, it's also impressively sturdy in construction. You can easily rely on the durability of the storage shed. You get a storage shed that can easily withstand any 60 to 70-mph storms without getting any damage at all.
You can already see how difficult it is to choose between them if you are thinking about durability. Still, if I had to keep one in front, I would say Suncast stays ahead in the competition.
Here's the one factor that will clear everything out for you when choosing a storage shed option. There is a clear difference in the pricing of both these storage sheds.
With the Rubbermaid storage unit, you can get better pricing, and they are much more affordable. When you compare the prices of Suncast storage units with similar features as the Rubbermaid, you will find them expensive.
So, if you plan to save money, then Rubbermaid is your perfect pick. They are more affordable, and they provide you with excellent value for money.
When it's about the storage shed warranty, Rubbermaid always stays ahead in the game. In fact, they are well known for providing long years of warranty on their storage sheds.
On the other hand, Suncast doesn't even declare its warranty period for most of its storage units. Still, I think you can also get a pretty decent warranty out of them. But if you plan to choose a shed based on warranty, it has to be Rubbermaid.
Which Storage Shed Is The Best Pick For Your Home?
I don't think there is one best pick out of the two choices. You have to think about a specific factor and see which one stands out more on that factor.
For example, Rubbermaid is the best option if you are considering affordability. But if you think durability and withstanding rough conditions, then Suncast storage sheds are outstanding.
Although, the overall best pick has to be Rubbermaid because it's super easy to install and affordable. Also, durability is something you can't ignore either.
Frequently Asked Question (FAQ)
Is Rubbermaid shed good?
Yes, Rubbermaid sheds are pretty great. Whether thinking about durability, ease of installation, or affordability, they provide everything.
Are Suncast and Lifetime the same?
No, they are both different brands of sheds that provide you with several options. There are lots of differences between these shed brands.
Is the Suncast storage shed waterproof?
Yes, for the most part, you will find the Suncast storage sheds with waterproofing features. They aren't waterproof only when a screening is on top of them.
Which is better, plastic or resin shed?
Plastic sheds are much better options than resin sheds. They are much more capable of withholding rough conditions. There is no issue with resin sheds, but they are newer, so they are not very reliable as shed material.
Conclusion
To wrap up the Rubbermaid vs. Suncast storage shed debate, all I can say is that it will always come down to your personal preference. But if you are thinking about overall quality and benefits, then Rubbermaid will be a better pick.
You can also choose them for durability, affordability, and ease of installation.