Choosing a tent to protect your car or any valuables is always a tough decision. When choosing Shelter Logic and Rhino Shelter tents, the shape of the roof will help you differentiate the two.
Most Rhino shelter tents come with a curved rooftop, while Shelter logic is designed in a wide triangular shape for more volume.
Other differences between the two shelters are discussed in the Rhino Shelter Vs. Shelter Logic guide below:
A Quick Comparison Table
| | | |
| --- | --- | --- |
|  Specifications | Rhino Shelter | Shelter Logic |
| Windows | Two side windows with a single vent | Two side windows, both with vents |
| Wind protection | Withstand winds of up to 80 mph | Withstand winds of up to 60 mph |
| Carabiner Cords | It has a carabiner with hooks at both ends | One carabiner at the top |
| Weatherproofing | Fantastic protection from adverse weather | Features ensure the shelter remains good in weather protection. |
| Weight | 40 kg and 34 kg | 35 kg and 38 kg |
| Warranty | Lifetime warranty | 1-year warranty |
Key Differences Between Rhino Shelter And ShelterLogic
Rhino shelter tents have two side windows and a single power vent for each tent.
Shelter Logic tents also have two side windows, but each has a double power vent and a ramp door.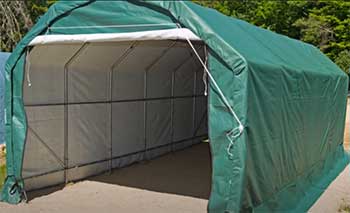 Rhino shelter tested and designed for winds up to 80 mph, while Shelter logic only tested for winds up to 60 mph.
Aside from the mph test Rhino, shelter tent size and weight offer more stability than any other tent in the market today.
 Shelter Logic offers excellent wind protection for vehicles and inhabitants during a tornado or hurricane.
However, both can withstand wind gusts up to 50 mph, according to manufacturers.
Rhino tent has only one mesh window and creates poor airflow, but it is effective in hot weather and mild climates.
Shelter Logic tents are designed for fair weather use, with full-mesh walls on the doors and windows providing maximum ventilation when the doors are opened.
The company's shelters are made with reinforced double-wall polyethylene.  This material is resistant to corrosion, mold, mildew, and weathering.
Shelter Logic shelters come with easy locking systems that allow you to shelter closed with just one touch.
Both companies allow you to choose the material you like depending on your use. If you are using a portable tent in the wild, you will need a strong material.
Rhino Tent has a carabiner cord with a loop at both ends. Shelter Logic tents have only one carabiner on the top.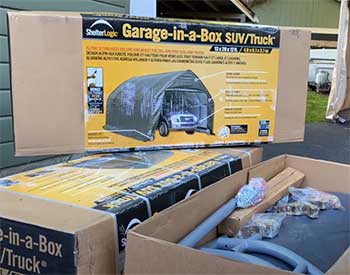 Rhino Tents have a waterproof tarp which is included with the purchase of each tent.  
This tarp is sewn into the main tent body, so you can use it as a ground cloth or roll it up and store it.  
The main tent has sewn-in corner flaps that help to keep water from dripping under the bottom of the tent.  
The main tent body is made of heavy-duty polyethylene.
Shelter Logic RV Tents are made from 420 denier nylon and nylon mesh, 2.5 mm thick, with a ceramic-coated aluminum zipper and configurable tarp.  
The Quick Release Carabiner or Snap Hook provides a simple solution to accessing your tent body at the top of the door.
Rhino tents have an optional side door for accessing the tent from either side and a front door for entering and exiting the tent. This tent is slightly more flexible than Rhino's but has no side access on Rhino's largest model.
Shelter Logic has an optional front door for entering and exiting the tent. The entry is accessed from the side or outside to access the shelter. This unit has a unique, smaller door size on all models.
Rhino tents have an anti-ultraviolet PU coating on all zippers, seams, and corners, providing additional protection against weather, moisture, and corrosion.
The large size of Shelter logic tents allows adequate airflow, prevents the garage from moisture build-up, and it is easy to regulate temperatures.
Rhino tents have small storage compartments but limited storage space. Shelter Logic's upper and lower areas can be expanded to provide storage space for personal items.
Rhino has a low weight yet is equipped with large plastic anchors that allow assembly with the tent top up or down to prevent damage to the tent on windy days.
Shelter Logic has lightweight hardware but is designed to be assembled with the tent top-up.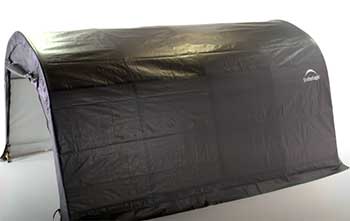 The large plastic hubs on the Rhino tent allow for ample airflow and more comfort than any other unit in its class.
The inner walls of the Rhino tents consist of attractive tan fabric, similar to canvas.
The unit also has a black floor, which can be changed to any color.
The Shelter Logic tent is identical to an A-frame design and comes with a tan floor and walls, but these can be adjusted to match your vehicle's color scheme or other needs.
The Rhino roof is designed with a high degree of slope to shed rain and snow, while Shelter Logic uses a more stable flat roof that is ideal for storing items.
Rhino has 40 kg and 34 kg for the queen and half sizes, respectively. Shelter Logic has a total weight of 35 kg for a solo model tent and 38 kg for a queen model.
Rhino tents have a Lifetime Warranty.  Shelter Logic tents have only a 1-year warranty.
Which Is Better, Rhino Shelter Or ShelterLogic?
Shop around for a portable car shelter that is waterproof. One of the essential features to consider when choosing a portable car shelter is how waterproof it is.
Look for a model that an independent testing lab has tested to ensure it will withstand severe weather conditions and vandalism. Other options include building a portable car shelter with a custom design and buying one made by a reputable manufacturer.
A custom model can be modified to fit any vehicle.
Luckily, the two models are waterproof, have good wind protection, are portable, and retail at a reasonable price. What you choose should be determined by the other minor differences between the two shelters in the guide above.
The Shelter Logic is the more attractive tent – more features, better price. But it is worth mentioning that the Rhino has been called "the king of car camping" and, with a strong reputation, should not be overlooked by any potential car camper.
Frequently Asked Questions (FAQs)
How Long Does the Rhino Shelter Last?
Rhino shelters are made with material that provides UV Light protection. The shelters can last somewhere between 7-10 years.
How Long Does a Shelter Logic Cover Last?
Depending on the type of fabric used on the shelter, your shelter will last you season after season. Remember, shelters made from heavy-duty material will last longer than ultra-duty ones.
Where Are Rhino Shelters Made?
Rhino shelter parts are made in China. However, the shelter assembling is done in Milford, CT 06460 business district.
How Can You Prevent Condensation in A Shelter Logic?
If you live in wet areas like Florida, your shelter will experience moisture accumulation issues. Open the windows during the day to allow airflow.
Conclusion
There is no point in buying a portable garage without proper research only to find out that it cannot satisfy your needs or end up getting faulty.
At the same time, many brands produce portable garages, the Rhino Shelter and ShelterLogic comparison above help you choose between the two mentioned brands.
Both brands offer strong, weatherproof, and affordable shelters. However, user experience determines the difference between the two portable garages.
Read the guide above and notice the deal breakers that will help you get your next season camping portable garage.