Gorilla Shed and Tuff Shed are both reasonable options to consider when you need to increase your storage. However, Tuff shed provides more variety in case of colors, materials, and customization.
Compared to that, Gorilla offers up to 15 years of excellent warranty over their storage options, but their sheds are way more expensive.
At the same time, the Tuff Sheds provide up to 10 years of warranty, yet they are famous and cheaper. Hence, you can easily decide which will suit you best for competing with those additional storage needs.
A Brief Comparison Table
| | | |
| --- | --- | --- |
| Specifications | Gorilla Shed | Tuff Shed |
| Shed Options | Elite, Prestige, Escape, Serenity | Garden, Premier, Pro |
| Designs and Colors | They have a limited number of designs and colors | They have a vast number of designs and colors |
| Building type | They provide you with:- Building, Office, Garage, And Studio Space solutions | They provide you with Building:- Shed, Garage, Studio or Garage Solution |
| Brands Popularity | No information on arrival. But it is less famous than Tuff sheds | Since 1981, the leading shed installer and storage place solution provider in the United States. It's more famous than Gorilla |
| Warranty | Up to 15 years of limited lifetime warranty | 5-Year, 7-Year, or 10-Year limited warranty on materials and workmanship |
| Materials usage | These sheds are made with pre-primed siding | They use a variety of material construction depending on your specific needs and requirements |
| Pricing | Cheaper options | Expensive Options |
Key Differences Between Gorilla And Tuff Sheds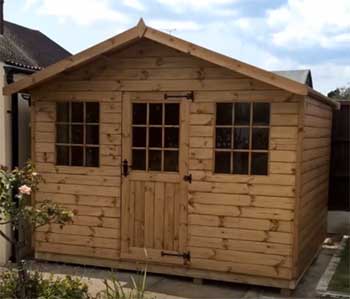 When it comes to choosing your favorite shed option, Tuff always gives you more options.
You can browse their website, which has enormous designs and features based on your desires and needs.
People can come with any customized needs and get what they want.
At the same time, Gorilla also doesn't disappoint you since they have classified options in various categories.
They can make customizable sheds and install them according to your needs.
When it comes to choosing designs, roofing, customized doors, and windows in those storage sheds, Tuff sheds constantly meets your needs and requirements. Gorilla also provides this stuff. But Tuff is way better.
So, when you are looking for more beautiful and appealing designs that would also meet those storage desires, Tuff is a better option.
But Gorilla may provide you with a few options that still stand well.
One of the significant similarities between these two brands is that both provide comprehensive storage solutions.
They also include delivery and installation with their sheds and storage homes, whether you need a storage solution for your garage, offices, homes, studio spaces, or more.
Hence, you can ask for the shed installation at any place from Gorilla and Tuff Sheds.
Tuff has been here since 1981 and is more famous than Gorilla. Gorilla doesn't provide much information regarding its release and fame.
However, Tuff is a branded company, and more customers appraise their extensive services in the United States. But both brands are good in quality and durability.
Tuff sheds use a wide range of materials for manufacturing these sheds. They use metal, plastic, and extreme wood based on your needs.
On the other hand, the Gorilla sheds are made with pre-primed siding material. They offer you included installation at your specified place in the United States.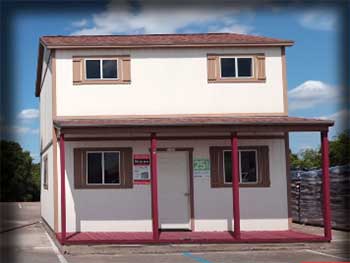 When it comes to warranty, Gorilla wins because it provides you with up to 15 years of a limited lifetime warranty.
It's a considerable period because the brand says its products will be durable and last longer than you expect.
At the same time, Tuff sheds have 5 to 10 years warranties based on their material and craftsmanship.
If you choose a superior product, you'll get more warranty than a standard or average shed.
It states that Gorilla is better in terms of warranties than Tuff sheds.
You would be surprised to know that Gorilla is cheaper than Tuff sheds. Their sheds go to $10,000 bucks.
But that's not the case with Tuff sheds. Their sheds are expensive as the maximum cost you'd be bearing would go more than $14000 bucks.
In this case, you can decide your budget and choose a specific brand to buy your favorite shed from either brand.
Which Shed Brand Is Best To Consider?
Since we have discussed both shed brands deeply, it would be easier to decide which one will suit your storage demands best. Gorilla is not as famous as Tuff, but their quality, warranty, and services are non-questioning.
At the same time, Tuff is an expensive brand but more famous and recommended by most shed owners.
So, I would say that your budget will help you decide which brand to consider. In my view, you won't disappoint with either of these.
Frequently Asked Questions (FAQ)
Is It Cheaper To Build A Shed Or Buy A Tuff Shed?
It depends on your expertise in building a shed. If you have the right skills and don't find it challenging to build your own, you may not find it hazardous and effort-taking work. And if you are just like me, you can buy a tuff shed that might cost you much.
Who Are Tuff Shed's Competitors?
Their competitors include Life Storage, Big Yellow Group, Lok'n Store Group, etc.
Does Home Depot own Tuff Shed?
The shed builders partner with the Tuff sheds in providing customized storage solutions.
What Is The Most Cost-Effective Shed?
A Shed with 10×12 specs is the most cost-saving one. This shed cost is less than most giant sizes sheds available out there.
Final Thoughts
You would choose Gorilla or Tuff sheds when you read the comparison between Gorilla Shed Vs. Tuff Sheds. However, I'd recommend you go with the Tuff sheds since it's a reputed brand and partners with Home Depot.
They can build whatever you expect and dream of for those customized storage solutions.
This way, you can have more storage to keep the essentials of your home. You can install a shed at your farmhouse to keep the field machines and accessories or several other places.
It could also be a short time shelter for you or your family picnic.