When it's time to replace the windows in your home, two big names often come to mind: Renewal by Andersen and Window World. But with so many factors to weigh like price, materials, warranties, and more, how do you choose between the Andersen and Window World?
As a homeowner, you want new windows that are high-quality, energy-efficient, and affordable. In this Renewal by Andersen vs Window World comparison guide, we'll look at the key differences between these two popular national window replacement companies.
You'll learn how Andersen and Window World windows compare on:
Pricing and value
Materials and construction
Energy efficiency
Warranties
Features and options
Professional installation
Customer reviews
By the end, you'll have a clear sense of which replacement windows brand is the better choice for your home and budget. Let's dive in!
A Brief Comparison Table
| | | |
| --- | --- | --- |
| Feature | Renewal By Andersen | Window World |
| Cost | $600 – $800 per window installed | $189 – $350 per window installed |
| Materials | Fibrex composite frame, Low-E4 SmartSun glass | Vinyl frame, double pane insulated glass |
| Energy Efficiency | Very high, meets or exceeds ENERGY STAR standards | Good, some meet ENERGY STAR standards |
| Warranties | 20-year glass, lifetime limited on frame and installation | 10-year glass, 20-year frame, 5-year installation |
| Customization | Extremely flexible size and design options | More limited options |
| Installation | Performed by their own highly trained experts | Done by local franchises, quality varies |
| Reviews | Consistently positive reviews, 4.9/5 stars | Mixed reviews, averaging 3.5/5 stars |
In-depth Differences Between Renewal by Andersen And Window World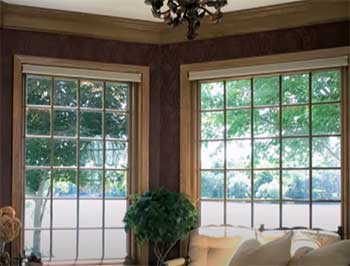 One of the first differences you'll notice between Renewal by Andersen and Window World is the cost and pricing.
Andersen windows are premium-priced replacement windows, while Window World offers affordable, budget-conscious pricing.
Renewal by Andersen windows are at the high end of replacement window pricing.
On average, Andersen windows cost $600 – $800 per window installed. Their prices are typically 2-3x higher than many other brands, including Window World.
Window World windows are very competitively priced, which is part of their appeal. On average, Window World windows cost $189 – $350 installed per window. Their affordable pricing makes them one of the lowest-cost national window replacement companies.
The price difference comes down to the materials, features, and overall quality. Renewal by Andersen is a premium window designed to last decades, while Window World offers an affordable & budget-friendly product.
Generally speaking, Andersen aims for the high-end market while Window World targets homeowners on tight budgets.
But price isn't everything! Let's take a closer look at what you get for the money with each window replacement brand.
Window Materials and Construction
The quality of materials and construction plays a big role in both the cost of replacement windows and how they perform.
Renewal by Andersen windows feature a Fibrex composite material developed by Andersen. Fibrex combines the strength and stability of wood with the low-maintenance benefits of vinyl. It creates a durable, long-lasting, and thermally efficient frame.
All Andersen window frames have a uniform finish and tight, consistent seals thanks to Fibrex's manufacturing precision. The Fibrex construction results in products with very high structural integrity. For glass, Andersen uses Low-E4 SmartSun glass and other high-end insulated glass options.
Window World primarily uses vinyl framing for their windows. This is a lightweight and affordable material. However, vinyl can be more prone to expansion and contraction issues than Fibrex. It also lacks the tight construction tolerances of Andersen's Fibrex.
For the glazing, Window World offers double pane insulated glass. They provide some Low-E coatings for increased efficiency, albeit not the top-tier glass Andersen uses. The vinyl and insulated glass keep costs down while still delivering good energy savings.
So in terms of materials and construction, the edge goes to Renewal by Andersen windows. The Fibrex and SmartSun glass lead to exceptional durability and efficiency. But Window World's vinyl frames still offer affordable reliability for the budget-conscious.
Energy Efficiency Comparison
One of the biggest reasons to invest in replacement windows is improving energy efficiency. This saves you money on energy bills and makes your home more comfortable.
When comparing Renewal by Andersen vs Window World, Andersen windows are the clear winner for energy efficiency: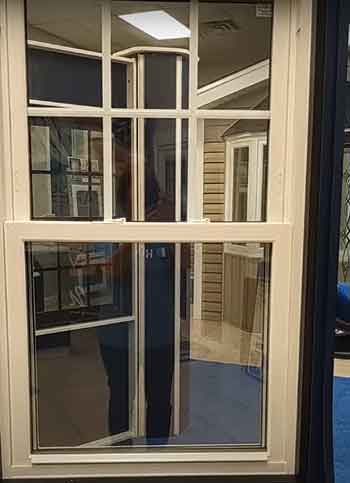 U-factor – Lower is better. Andersen U-factors go as low as 0.22 while Window World is around 0.27 to 0.30.
Solar heat gain coefficient – Lower is better. Andersen is around 0.22 to 0.28, while Window World ranges from 0.29 to 0.35.
Low-E glass – Andersen's Low-E4 SmartSun glass has the best heat blocking and heat gain performance.
Air leakage – Andersen Fibrex frames have virtually air-tight seals. Window World vinyl has moderate leakage.
ENERGY STAR – Most Andersen windows meet ENERGY STAR requirements. Only some Window World windows qualify as ENERGY STAR.
Overall, Renewal by Andersen windows are more energy efficient, especially their triple pane options.
You'll get superior insulation, thermal performance, and cost savings over Window World models.
However, Window World still delivers good double pane efficiency. Replacing old windows with new Window World models can still cut energy costs by 10-15% in many homes. They just can't match the 20%+ savings possible with Andersen.
The warranty coverage provides important peace of mind for such a major home investment. Renewal by Andersen vs Window World, who offers better warranties?
The short answer: Andersen has outstanding lifetime coverage while Window World's warranties are more limited:
Glass unit – Andersen covers glass seal failures for 20 years. Window World covers insulated glass for 10 years.
Frame – Andersen has a lifetime limited warranty on Fibrex frame materials. Window World frames are warrantied for 20 years.
Installation – Andersen provides a lifetime limited warranty on installation. Window World's installation warranty is 5 years.
Exterior finish – Andersen provides a 20 year warranty on the exterior finish. Window World does not offer an exterior finish warranty.
The takeaway: Renewal by Andersen unequivocally provides superior warranty protection. Their lifetime glass, frame, and installation coverage deliver real peace of mind.
Renewal by Andersen and Window World both offer a wide selection of replacement window styles. What sets Andersen apart is the customization and specialized features.
Andersen windows come in an enormous range of sizes, shapes, colors, hardware, and design options. Their specialists can create completely custom windows for your exact needs. Unique styles like curved windows are a Andersen specialty.
Other top features include:
High-performance Low-E4 SmartSunTM glass
Constructed for easy operation and maintenance
Stormwatch® protection system for extreme weather
Insect screens included with windows
Variety of hardware finishes like matte black
Integrated blinds and shades
Window World has a solid range of standard double hung, sliding, and casement windows. You get basics like screens, security locks, and sizing options.
But Window World's customization and special feature options are much more limited compared to Andersen. If you want truly unique, made-to-order windows with innovative features, Andersen is the clear choice.
Professional Installation
Proper installation is crucial for achieving the full benefits of your new windows. Both Renewal by Andersen and Window World offer professional installation by their own employees, not subcontractors.
The key difference is Andersen's installers are extensively trained window replacement experts. Most Window World locations focus mainly on home new construction window installation. Replacing windows in existing homes requires some different skills and expertise.
By using their own highly trained installation teams, Renewal by Andersen delivers outstanding precision fitting of windows. You get a perfect seal and alignment for maximum efficiency and performance. Their process also helps ensure a smooth, headache-free installation.
Window World franchise installers have more variability in skill level since they are spread across nearly 200 locations. The overall quality is decent but not necessarily the precision of Andersen installs. Make sure to vet your local Window World's experience with window replacements specifically.
Here's an overview of customer reviews for Renewal by Andersen vs Window World:
Renewal by Andersen earns consistently positive reviews:
More than 30,000 Andersen windows verified reviews averaging 4.9/5 stars
People praise their window quality, appearance, installation process, and warranties
Negative reviews focus on the high price which is expected given the premium materials
Window World reviews are more mixed:
Over 5,000 Window World reviews averaging about 3.5/5 stars
Many customers highlight the affordability and basic window quality
Complaints cite issues with pushy sales tactics, lack of customization, and variable installation
Reviews and quality can vary a lot depending on your local Window World franchise
Overall, Renewal by Andersen earns stellar feedback for their window products and service. As a national company, you know what to expect. Window World gets more mixed local franchise reviews, but remains a popular budget option. Checking your local Window World's reputation is recommended.
Which Is Better For You?
Now that we've compared Renewal by Andersen vs Window World across all the key factors, let's summarize the notable differences:
Price – Andersen is 2-3x more expensive than Window World. You pay a premium for their quality.
Materials – Andersen Fibrex is extremely durable and energy efficient. Window World uses basic vinyl framing.
Energy efficiency – Andersen windows are much more efficient, especially newer triple pane models.
Warranties – Andersen offers outstanding lifetime limited warranties. Window World's coverage is more basic.
Customization – Andersen provides unmatched customization and innovative features. Window World has fewer options.
Installation – Andersen's teams are window replacement experts. Quality of Window World installs can be uneven.
Reviews – Andersen earns rave reviews. Window World gets mixed feedback, varying by location.
If maximum quality and lifetime performance are your top priority, Renewal by Andersen is the better investment despite the higher cost. You get unbeatable materials, efficiency, and warranties.
For affordability on a tight budget, Window World makes sense. You still get new windows enhancing your home's comfort and efficiency. Just don't expect premium features and be diligent assessing your local Window World franchise.
Ultimately, the right replacement window comes down to your own needs and priorities. Use this side-by-side comparison as a guide to make the perfect Andersen or Window World decision for your home!
Frequently Asked Questions (FAQ)
Get additional questions answered about Andersenand Window World windows with this helpful FAQ.
Which is better Window World or Renewal by Andersen?
Overall, Renewal by Andersen makes better windows than Window World. Andersen windows feature superior materials like Fibrex framing, Low-E4 glass, and tighter construction. The result is exceptional durability, efficiency, and performance. Window World uses decent but more basic vinyl and double pane glass. Their quality and warranties don't match Andersen.
Why is Renewal by Andersen so much more expensive?
Several factors make Renewal by Andersen windows pricier:
Patented Fibrex composite framing material
Low-E4 SmartSunTM insulated glass
Highly customized options, specialty shapes, and unique features
Perfected manufacturing and construction tolerances
20-year glass warranty and lifetime for frame and installation
Their own extensively trained installation teams
Does Renewal by Andersen have a good reputation?
Yes, customer reviews consistently rate Renewal by Andersen windows excellent for quality, appearance, installation, and warranties. Among window brands, they are regarded as a premium manufacturer worth the higher cost. Homeowners praise how their windows transform homes with beauty and performance.
What windows are comparable to Andersen?
Some brands offering similar premium windows as Renewal by Andersen include: Marvin Windows, Pella Windows, JELD-WEN Windows, Milgard Windows, Simonton Windows, etc.
Final Thoughts
In summary:
Renewal by Andersen is widely regarded as the higher quality window, but you pay a premium price for that performance.
Window World offers a budget-friendly alternative, but the savings come at the cost of some durability, efficiency, and customization.
Carefully weigh the pros and cons based on your budget, needs, and priorities before deciding between Andersen or Window World.
Research professional reviews and talk to local homeowners to make sure you get the full picture.
Replacing worn out windows with either brand is likely to enhance your home's comfort, appearance, and value.
Hopefully this comprehensive comparison of these two popular national window replacement companies has helped provide clarity. Reach out with any other Andersen or Window World questions!