Are you caught between Popcorn ceiling patch and spray?
Then you are at the right place. Because here in this article, I will talk about both products and compare them with each other. And in the end, you'll leave with a clear choice in your hand.
A popcorn ceiling patch is a traditional way of repairing your ceiling where you have to apply the patch with a brush. On the contrary, Popcorn ceiling texture spray is an advanced way of repairing a ceiling with an aerosol spray. They have plenty of other differences between them.
So let's dive deeper and explore more.
A Quick Comparison Table
Here is a quick comparison table between Popcorn ceiling patch and Popcorn ceiling texture spray:
| | | |
| --- | --- | --- |
| Aspect | Patch | Spray |
| Product Type | Traditional | Innovative |
| Material | Polystyrene Chips | Vermiculite Or Polystyrene. |
| Special Feature | Come Pre-Mixed And Ready To Use | 4 Times Faster Than Traditional Ways |
| Application | Easy Application | Easier than Patch |
| Surface | Drywall Ceiling | Drywall Ceiling |
| Clean-Up | Water | Water & Soap |
| Price | 9.52 for 1-Quart | $17 for 14 Ounces |
In-Depth Comparison Between Popcorn Ceiling Patch And Spray
You have gathered some basic ideas about these products. But to make the right decision, you need more details.
So, here are some comprehensive key differences between these two ceiling patch types.
Both ceiling patch and ceiling texture spray serve the same purpose.
But their formation and application are different in many ways.
Popcorn ceiling patch is a ready-mixed formula that is convenient and easy to apply. This product is developed to repair any damage to the ceiling.
You can repair any scratches, blemishes, and water-made damage on the popcorn-finished ceiling.
Using this patch, you can make the damaged area looks new.
On the other hand, Popcorn ceiling texture spray is an innovative and professional grade ceiling repairing formula. It provides commercial popcorn aggregation like repairing damaged ceilings.
Most importantly, it offers an invisible repair to the damaged areas.
The popcorn ceiling patch is made of polystyrene chips. Its formula contains acoustic popcorn ceiling texture and polystyrene chips.
That's why it can provide a commercial-level invisible performance. It will easily blend with the original ceiling surface.
On the contrary, Popcorn ceiling texture spray is also made of vermiculite or polystyrene. But it comes in the form of an aerosol. It also offers commercial-grade performance on the damaged ceiling.
You won't have to take too much hassle applying a popcorn ceiling patch. They are pretty easy to apply. They come pre-mixed and ready to use.
Apart from repairing, this formula can also conceal holes, scuff, and cracks. You can apply this white color patch within a short period and without any mess.
In contrast, popcorn ceiling texture spray is water-based and offers an invisible repair. This formula is 4 times faster than traditional ways and offers 4 times more coverage. It can replicate the original popcorn-type ceiling aggregates and has a comfortable grip and a safety lock for storing leftovers.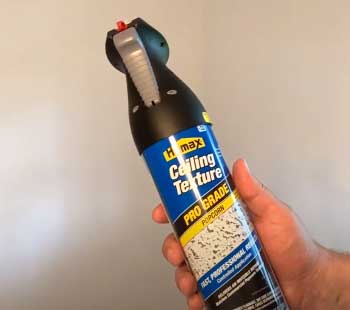 When it comes to application, the sprayer is more convenient and easy to apply compared to the patch.
You will have to apply the popcorn ceiling patch with a brush. It will take labor to complete the task.
In contrast to the patch, the popcorn ceiling texture formula is a spray. You have to apply it with the sprayer.
You will get a control trigger to spray on the damaged area. So, this is less hassle to apply to the ceiling.
Plus, you can comfortably hold the sprayer for its pro-graded and patented ergonomic grip for
Both the patch and the spray are designed to work for repairing damages from drywall ceilings. You can use both formulas to repair and conceal damages and holes on popcorn surfaces.
You must ensure your ceiling is dry before applying any of the formulas. You won't get a good result if you fail to do that. 
Cleaning up is easy for both formulas. But you will have to make sure you clean up instantly after you finish applying. However, you will need water to clean the popcorn ceiling patch from the tools.
On the other hand, if popcorn ceiling texture spray stains your cloth or anything else, you can clean it using soap and water. So, cleaning up is comparatively easy for the patch.
Prices are also different for these products. 1 Quart of Popcorn ceiling patch will cost around $9.52. By contrast, you will have to spend around $17 for 14 ounces of Popcorn ceiling texture spray.
So, it seems that the spray is costlier than the patch.
Which One Will Be Best For You?
Both formulas offer invisible repairing over damaged areas. So, you might become confused. But according to my above discussion, we can see that popcorn ceiling texture spray is better than the popcorn ceiling patch in many ways.
That's why I suggest you go for the spray. It costs higher than its counterpart, but it's easier to apply, faster, covers more area, and is easy to hold. So, you should purchase the sprayer.
Frequently Asked Question (FAQ)
Does spray on popcorn ceiling work?
Popcorn ceiling texture spray is an excellent product to repair damaged or stained acoustic popcorn ceilings. It works excellently and offers invisible repairers. Plus, it's fast and easy to use.
Is it better to spray or roll popcorn ceiling?
You will get almost similar performance from both products. But the spray is faster and easier to apply. It offers a good and long-lasting invisible performance on cracks and other damages.
What do you use to spray popcorn ceilings?
You can apply a popcorn ceiling patch on your damaged areas of the ceiling using the brushes or necessary tools. But there is a spray available for similar purposes. You can use it for better results.
What is the best way to fix a popcorn ceiling?
Spraying is the best, less time-consuming way to fix a damaged popcorn ceiling. It's pretty easy to work with. You won't face any messes while applying this formula to your damaged ceiling.
Final Thoughts
In the end, I would just tell you that sprayer will be the best solution for you to repair your ceiling. After reading everything about Popcorn ceiling patch vs. spray, I know you will agree with me. I will stop here.
Now it's your call.
I hope you'll make the right call. Regardless of which product you choose, ensure you take proper safety measures before working with these ceiling-repairing products.