Protecting roofs from rainwater and ice damps is mandatory in many places. What is best for it other than a surface leak barrier film?
Read my GAF StormGuard vs. WeatherWatch review to know the best option for your roof.
While StormGuard offers a durable and patterned synthetic surface, WeatherWatch features a mineral surface leak barrier. Besides, StormGuard is only available in 2.0 square roll sizes, whereas WeatherWatch comes with 1.5 and 2.0 square roll options.
Here. I will show you other in-depth differences between these two products. Eventually, you'll be able to decide which one will work best for you.
So, let's get right in.
A Quick Comparison Table
Here is a quick comparison table between GAF StormGuard and the WeatherWatch surface leak barrier:
| | | |
| --- | --- | --- |
| Aspects | StormGuard | WeatherWatch |
| Product Type | Patented Synthetic Surface Membrane | Mineral Surface Membrane |
| Special Features | High-Temperature Compatible Compound | Traditional Mineral Construction |
| Benefits | Offers Many Benefits | Offers Many Benefits |
| Usage | Shingles and Metal Roofs | Shingles Roofs |
| Performance | Superior Performance | High Performance |
| Warranty | Lifetime Limited Warranty | Lifetime Limited Warranty |
In-Depth Comparison Between GAF StormGuard And WeatherWatch
You have gathered some basic ideas from the above comparison table. But it's time to get into more details.
You need a comprehensive comparison between these two surface leak barriers to understand them properly and pick up the right one.
Here are some key differences between GAF StormGuard and the WeatherWatch surface leak barrier.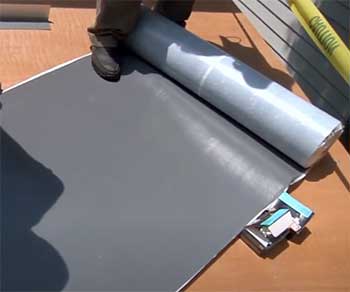 Although both StormGuard and WeatherWatch are designed for almost similar purposes, they have some differences in their formation.
StormGuard is a self-sealing surface leak barrier that provides protection in vulnerable areas of metal and asphalt shingle roofs.
It protects against wind-driven rainwater and ice damps.
StormGuard is made of GAF's patented synthetic surface that is strong, durable, and can fight against damps.
On the other hand, WeatherWatch is made of traditional minerals. This self-sealing surface leak barrier creates excellent sealing against asphalt shingles against rainwater and ice dams.
Its fiberglass-reinforced construction makes it durable and prevents the films from wrinkling and buckling.
When it comes to product features, quality is also crucial along with quantity. In that case, it's a good thing that GAF's StormGuard and WeatherWatch are full of high-quality features.
The most crucial feature of StormGuard is that it works excellently on both asphalt shingles and various metal roofs. With its strong protection, you can protect your eave, rakes, chimneys, valleys, and skylights.
This high-temperature-compatible compound provides a top-class leak barrier against gutter water, rainwater, and ice dams. Besides, you will get a wrinkle-free film from fiberglass construction.
On the contrary, WeatherWatch is only compatible with asphalt shingle roofs. It also has reinforced fiberglass to resist buckling and wrinkling and make your roof look nice and tucked in.
On top of that, traditional mineral construction makes the GAF WeatherWatch durable and robust.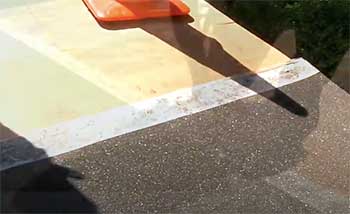 With so many superior features, no wonder you will get a lot of benefits from both sides. Let's find out what they have to offer.
With StormGuard roof surface leak barrier, you won't have to spend tons of bucks on costly ceiling and wall staining leakage repairs.
It meets the local building code requirements in most places.
Besides, it can seal automatically around fasteners to prevent any leakage. You will get excellent wet and dry traction from the blue synthetic surface. It also makes the surface cool and easy to work with.
In contrast to StormGuard, WeatherWatch self-seals around nails and protects your roof from leakage. Besides, you can peel off the layers and install them easily and fast with the split-back release film.
You can quickly eliminate the risk of costly repair by using the WeatherWatch mineral surface leak barrier.
As we already know, GAF StormGuard and WeatherWatch protect our roofs from gutter water, wind-driven rainwater, and ice dams. Even so, there are some subtle differences you should notice before making the final call.
StormGuard is a synthetic surface leakage barrier that works on two different roofs. You can use it on asphalt shingles roofs as well as all types of metal roofs.
In cold areas, StormGuard protects your roof from ice dams. But in warmer places, it protects against wind-driven rainwater.
In contrast, WeatherWatch works on only one roof type: asphalt shingles roofs. It protects the eave, rakes, valleys, and chimneys and offers self-sealing around fasteners.
A 2 squares StormGuard film will cover 200 square feet in asphalt shingles and most metal roofing systems. Plus, it can tolerate UV exposure for up to 90 days.
On the other hand, a 1.5 squares WeatherWatch will cover 150 square feet of asphalt shingle roofing.
Besides, its 2.0 Squares will cover 200 square feet in shingle roofs. But it can tolerate only 60 days of UV exposure.
As both products belong to the same company, the warranty is similar. Nevertheless, let's have a look at their respective warranties.
GAF StormGuard is eligible for a Limited Lifetime Warranty if you use it on the Lifetime Shingle roofing system and other GAF components. In addition, you will get a 10-year limited warranty if you use it with other products.
The warranty term is precisely the same for GAF WeatherWatch, a limited lifetime warranty or 10 years limited warranty.
A Layer Of Time- And Heat-Activated Adhesive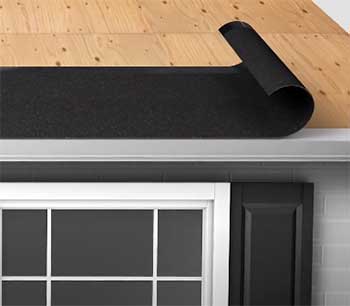 It doesn't matter whether you use Weatherwatch or Stormguard; both have this similarity or, say, a feature.
They come with a layer of time and heat-activated adhesive.
Such a quality helps you do unlimited repositioning without reducing the adhesion quality.
It helps you with an easy adjustment over the roof when you are working with either product.
Hence, one can make as many adjustments as possible, and the products will remain effective.
Therefore, achieving a seamless roofing surface would be easier for you to proceed to the installation of an asphalt shingle.
It's not only me who is assured of the greater durability offered by the Stormguard, but a great number of consumers say that Stormguard is way more durable than Weathertech.
They claim it to be a rigid and heavy-duty product that stays longer.
At the same time, Weathertech is also a great product, but it may not provide you with the same level of durability. People are leaner towards the Stormguard.
Many consumers have reported that Weathertech installation makes the roofing slippery.
However, Stormguard is better at it. It doesn't make those roofs slippery, so one can stand comfortably and finish the Asphalt Shingle installation.
This is another difference between these two products used for roof GAF protection.
Which Is More Recommended and Used
Based on reviews and customers' recommendations, I've realized they like Stormguard more than Weathertech.
It means they have higher recommendations for this product than Weathertech.
Therefore, whenever you are in the market, you can keep in mind that Stormguard is highly recommended, and you may want to consider it as well as compared to Weathertech.
It is another essential factor to consider when choosing this roof protection solution for home roofs. In that regard, installing and using Stormguard is way easier than Weathertech.
You do not need prior knowledge, skills, or tools to complete the job with Stormguard.
On the other hand, there might be a few complications when you are using Weathertech instead of Stormguard over your roof.
Price is also different for both roof protection underlayments. A 2-square GAF StormGuard will cost around $132.
On the contrary, you will have to spend about $140 for a 2-square WeatherWatch. As we can see, WeatherWatch is a bit costlier than StormGuard.
Which Product Is Best For You?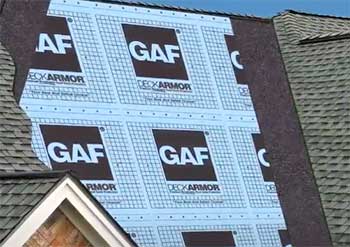 From my detailed discussion above, you can see that both products provide excellent results in roofing surface leakage barriers.
You might ponder which one you should choose. I would suggest you go for GAF StormGuard.
You can protect both asphalt shingle roofs and metal roofing systems with StormGuard. Plus, it survives more days under UV exposure compared to WeatherWatch.
On top of that, you will have to spend less on StormGuard.
For all these reasons, GAF StormGuard will be the best choice for your roof whether you live in a cold part or warmer.
Frequently Asked Question (FAQ)
Is GAF StormGuard waterproof?
GAF StormGuard is 100% waterproof. It creates an excellent watertight seal against gutter water, wind-driven water, and ice dams on various metal and asphalt shingles roofs.
What is GAF StormGuard?
GAF StormGuard is a synthetic leak barrier for shingles and metal roofs. With a self-sealing feature, it protects against various water and damps on vulnerable areas on your roof.
How do I use GAF WeatherWatch?
Using or installing GAF WeatherWatch is pretty straightforward. It has split back release film that allows easy peeling and quick installation.
How do you install StormGuard surfaced leak barrier?
First, clean your roof deck and remove any dust and debris. Then cut your StormGuard membrane into 20 feet sheets and cover your roof to the edge. Make sure no bubbles remain inside
Final Thoughts
We are at the end of this review. It all came down to this, installing a suitable roof leakage sealer barrier is crucial for your house. Otherwise, you might face leaking water all over your lovely home.
I'm delighted that I could help you with my GAF StormGuard vs. WeatherWatch review. Now it's your turn to do your house justice.