RUST-OLEUM's finisher polyurethane is a popular option to sand or refurbishes your old wooden floor. So, today, in this Parks Pro Finisher polyurethane for floors review, I'll try to figure out what's all the hype about this product.
As you already know, the quality of the polyurethane finish will have a massive impact on the quality of the floor's finishing. That's why it's important to know about polyurethane before you make a purchase. 
Here, my detailed discussion about Parks Pro Finisher polyurethane will help you make an informed decision.
Features of Parks PRO Finisher Polyurethane for Floors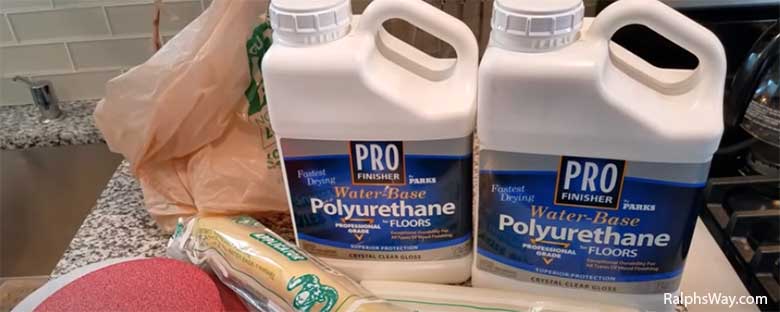 Why have I decided to talk about the Parks Pro finisher polyurethane among hundreds of products? Well, that's because of some distinct features of this product. Below, I have discussed those features in detail.
The formulation of this polyurethane itself is the main characteristic of this polyurethane. Typically there are two types of polyurethane available on the market. 
One is oil-based, and the other is water-based. While both have their pros and cons, the oil-based formula of Parks Pro makes it a superior choice on the market.
An oil-based polyurethane gives you an amber glow to the floor and can work with fewer coating. The Cost-effectiveness of oil-based polyurethane is another strong suit of Parks Pro. 
Lastly, oil-based polyurethane needs a lot less maintenance. So, you don't have to worry about it anymore once applied.
At the end of the day, the durability of polyurethane matters a lot. So, in that regard, Parks pro decided to make no compromise at all. 
This polyurethane has one of the hardest and most durable finishes available on the market. Because of its remarkable durability, you also get an exceptionally long lifespan out of the Parks Pro polyurethane finish.
While water-based polyurethane just has a lifespan of 5 to 6 years, Parks Pro can easily last around 10 years. So, the durability of oil-based Parks Pro is unquestionable.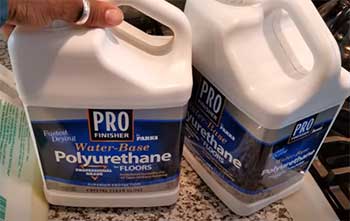 We all know oil-based polyurethane is great for scuff resistance, but do you know how it manages to do that?
To understand the answer, you have to understand the formula of the polyurethane finish. 
So, this oil-based polyurethane finish ultimately contains polyurethane resins. These resins are pretty soft.
Due to this softness of the polyurethane, scuff marks cannot sit on the oil-based Parks Pro polyurethane finish.
Because of this scuff-resistance, Parks Pro is considered an excellent choice for floors with high traffic areas.
High Solids For Exceptional Build
Over the years, the build quality determines the protection level you'll get from the polyurethane. So, how do you figure out the build quality of the polyurethane? 
By the ratio of solids in it. The more the solid count, the more protective your final result will be.
In that regard, Parks Pro comes in with a solid percentage of around 45 to 50%. Even when applying the finish, you'll be able to feel the premium build quality of this polyurethane. 
So, with Parks Pro, you don't have to worry about the build quality.
Oil-based Parks Pro will give you a natural and elegant color tone unlike any other polyurethane finish available on the market. While water-based polyurethane holds the same color tone for its lifetime, Parks Pro offers a rich amber hue for the floor. 
Some people might not like that amber hue, but in general, this tone is another reason why oil-based polyurethane like Parks Pro is so popular on the market.
Moreover, this color tone just continues to get richer over time. As time passes, the amber hue gets even darker. If you are a fan of dark-colored floors, Pars Pro is the perfect polyurethane for you.
Nothing can prevent abrasion more than polyurethane, and when it comes to oil-based ones, you don't have to worry a bit. Any type of abrasion, whether it's slurry, sliding, or impingement, Parks Pro can withstand them quite easily.
We are talking about floor finishing, and it's quite normal for floors to have heavy impacts. In those scenarios, abrasion resistance of Parks Pro polyurethane will come in very handy to protect your floor.
As I mentioned earlier, oil-based polyurethane pretty much has a single color tone, the warm amber hue. But are you looking for a little more variation? 
Parks Pro polyurethane has the solution. I really appreciate the effort of parks Pro to add variations to it. Every house is different, and the same goes for the interior. 
So, depending on your design, you might want to have different finishes. Parks Pro offers you to choose a gloss, satin, semi-gloss or matte finish over the amber hue.
Available In Different Sizes
We all agree that Parks Pro oil-based polyurethane isn't cheap. At the same time, every house has a different size too. Here, I love the fact that Parks Pro is offering their polyurethane in different sizes of packs, like one gallon and five gallons. 
Because of different sizes, now you can easily pick the right amount according to your need; you don't have to spend extra bucks on a bigger pack that you won't need for your project.
If you think it's something you want, watch its application video.
What Could Have Been Better With Parks Pro Finisher?
Alongside all the goodness I mentioned above, Parks Pro polyurethane has some minor drawbacks too. Though these drawbacks shouldn't affect your purchase decision, you should know about them before purchasing.
If you apply the finish yourself, you should carefully consider this aspect. Parks Pro is an oil-based polyurethane, and therefore it emits a strong chemical odor. Not only it's just hard to inhale, but it has a negative impact on our health too. 
Also, if you have respiratory issues, you should stay away from them while the application is going on. If you are applying it yourself, don't forget to use a respirator.
Long Drying And Curing Time
This is another drawback of Parks Pro. As an oil-based polyurethane, the drying and curing duration is a lot higher than conventional water-based polyurethane. While water-based polyurethane can be applied several times a day, Parks Pro needs a break of 12 to 24 hours between each coating. 
The same duration is required to dry after the application is complete. This way, your bedroom or your house can be out of commission for several hours. It might not be an issue for everyone, but you should definitely keep this factor in mind.
Final Thought
Here we are at the end of our article. I hope my Parks Pro Finisher polyurethane for floors review helped you to know the ins and outs of this product.
As you have seen, there are so many great things about Parks Pro Finisher polyurethane that makes it separate from its competitors. Those same features also make it so popular. Though there are some minor flaws, they are overshadowed by the high quality of this polyurethane finish.
So, if you are looking for a polyurethane that'll give you a beautiful finish alongside longevity, it's a no-brainer to look for other options than Parks Pro Finisher polyurethane.