When it comes to caulking, OSI is a top-leading brand in the market. Their high-end quality materials are perfect for exterior/interior windows, doors, and siding. QUAD and QUAD Max are the two popular products from this brand.
Homeowners often feel confused about choosing between OSI QUAD vs. QUAD Max. After all, each one is no less. 
We will walk you through the main difference between these two caulking and which one will be the best for your house.
A Quick Comparison Table
Want to have a quick overview? If you are in a hurry, consider checking this small table to learn some essential details about both items.
| | | |
| --- | --- | --- |
| Specifications | OSI QUAD | OSI QUAD Max |
| Usability | Suitable for many materials | Suitable for all materials |
| Temperature endurance | 20°F to 120°F | 0°F to 140° F |
| Stretching Power | Regular | 5 times |
| Type of sealant | Class 25 | Class 50 |
| Flexibility | Standard | Highly flexible |
| Price | More affordable | Slightly expensive |
| Durability | Decent durability | More durable |
In-depth Differences Between OSI QUAD And QUAD Max
So, you have got some initial details about both caulks. But is it enough to take a sensible decision? Let's check out their extensive details to learn them better.
Before choosing a particular caulk, you must know where to use it. It will go in vain for a specific adhesive or caulk if you can't use it in your desired place.
OSI QUAD is suitable to use on a wide range of materials. You can use it on the external door, windows, siding applications, vinyl siding, PVC trim, fiber-cement, and other materials.
In contrast, OSI QUAD Max is perfect for using all materials.
You can use it on EIFS, fiber cement, glass, vinyl, coated aluminum, cedar, brick, wood, fiberglass, stone, stucco, PVC, Kynar coatings, and flashing tapes, and so forth.
Caulks or adhesives must have a decent temperature endurance level so that their adhesive quality doesn't get affected by too high or too low temperatures.
OSI QUAD can firmly retain its adhesive power at a temperature of 20°F to 120°F. Hence, the adhesive quality won't be affected if your location has more or less than the average temperature.
On the other hand, QUAD Max has a superior temperature endurance ability. It can handle 0°F to 140° F easily, unlike most common caulks. So, it is not hard to see why the unit stands out from other top-end products. 
Compared to OSI QUAD, QUAD Max has a better stretching ability. You can stretch QUAD Max up to 5 times. This gives you more convenience to work on areas that need extra expansion.
However, OSI QUAD is not that bad at all. It is easily stretchable like regular caulks from other brands. Hence, using this product means you get an average stretching power type.
Movement Capability Class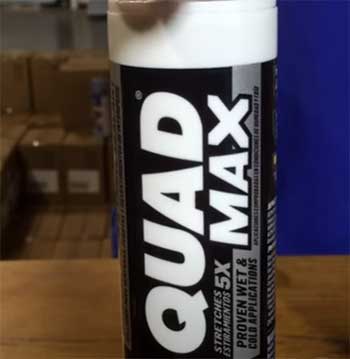 Choosing a particular type of sealant requires you first to determine what kind of seal you need for your specific project. OSI QUAD is a Class 25 sealant.
It means its joint movement capability is up to 25% expansion or contraction from its actual joint length.
You can use this type of sealant for any mid-range amount of movement.
Contrastly, QUAD Max has a 50% expansion or contraction joint movement capability from its actual joint length.
It is perfect for using glazing applications, building facade systems, and other things that need medium movement.
Compared to OSI QUAD, QUAD Max is more flexible since you can actually bend and stretch it higher than OSI QUAD. It is 100% solid, so it will not shrink, unlike many other caulks that can shrink up to 33%.
Apart from that, QUAD Max is a UV inhibitor, meaning it will not break down quickly. Its original color will not fade over time even after exposing the unit to ultraviolet or "UV" light.
Apart from being a quality sealant, this advanced caulk is strong enough to act as glue. Hence, the strength of this product is incredible. 
Another unbelievable thing about the bond is that you don't need any screws while using it on windows.
Your budget is essential when choosing a particular caulk for house-building projects. After all, not all of us are ready to pay the same amount of money.
QUAD Max has a slightly high price tag than OSI QUAD. Since the first one is a more updated version and has a better formula, it is expected to cost more.
However, that's doesn't mean it is out of budget. If you compare it with similar products in the market, it still has almost identical pricing options.
You have already got a hint about their durability from the above points. No doubt, OSI QUAD has decent durability to last for several years.
 Water, UV, dust, and dirt won't affect its lifespan so soon. There is no chance it will crack easily or become yellow.
But the QUAD Max is made to last for several decades. Their quality won't deteriorate over time, even after exposure to extreme environmental conditions.
Which One Is Ideal For Your Home?
It can be tricky to answer. After all, both items are for most household projects.
Choosing a particular caulk first requires determining the price, durability, and adhesive strength you prefer.
For instance, selecting OSI QUAD appears absolutely okay if you want an average durable caulk with an affordable price tag.
It is better than many cheap quality sealants on the market though they have a similar price.
Contrastly, when you prefer exceptional quality caulk sealant with an advanced formula, QUAD Max appears to be the best suitable option. Though it has a bit higher price tag, its lifespan and tough adhesion power deserve the amount you pay.
Frequently Asked Questions (FAQs)
What kind of caulk is QUAD MAX?
QUAD MAX is mainly a paintable caulk that you can use on various materials to create a strong bond between them.
What is OSI Quad Max made of?
The manufacturer mainly uses elastomeric polymers and top-grade synthetic resins to make OSI Quad Max. Elastomeric polymers have impressive colorability and are highly impact resistant. Plus, chemicals and cleaners can't affect their durability and adhesive power.
Can you tool QUAD MAX?
You should avoid tooling any QUAD MAX, especially on prefinished colored claddings. This will otherwise deteriorate the sealant's ability to withstand UV exposure. Their joint movement will be compromised too. As a result, the adhesive will turn yellow or white and lead to early joint failure.
How long does QUAD MAX take to dry?
QUAD MAX generally takes 24 hours to cure properly, and you can paint them within one hour. However, humidity, temperature level, and depth level of the sealant will affect the duration of QUAD MAX.
Can you apply QUAD MAX in the rain?
Yes, you can apply QUAD MAX in wet and cold conditions. This won't affect their durability. But choosing a perfect sunny day to use the product is better to apply the caulk precisely at the correct spot.
Final Thought
Using top-quality materials is always better for any house building project to ensure maximum durability and safety. This will prevent the hassle of re-installation.
So, what have you decided to choose between OSI QUAD vs. QUAD Max?
The first one is a standard version, and the latter is a premium version. You just need to determine your preference and pick the best one.