Nylog Blue is an all-in-one sealant that works on many substrates. On the other hand, Loctite has different sealants for different surfaces.
Again, Nylog Blue is made from refrigeration-grade compressor oil and works as a sealant and lubricant. But Loctite is made from Polyurethane and works as a sealant only.
A sealant is an essential item for every house. From fixing the gasket to pipes and light machinery, the proper sealant will make your life much easier. I will show you the differences between these two well-known sealants for you.
A Quick Comparison Table
| | | |
| --- | --- | --- |
| Specifications | Nylog Blue | Loctite Sealant |
| Product Type | Sealant & Lubricant | Sealant |
| Special Feature | Does Not Contaminate Systems | Flexible and Non-Shrinking |
| Usages | Many Uses | Many Uses |
| Available Sizes | 1 Available Size | 2 Available Sizes |
| Application Temperature | -35°F to 425°F | Above e 50°F |
| Price | Around $12 For 30 ml | Around $18 for 10 Fl. Oz. |
Key Comparisons Between Nylog Blue And Loctite Sealant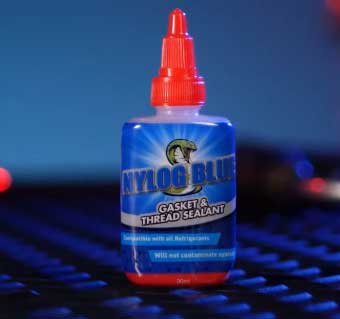 An incredible thing about Nylog Blue is that it works as a sealant and lubricant.
This viscoelastic liquid is made of refrigeration-grade compressor oil.
You can also use this synthetic ester oil as a high tack lube for assembling o-rings, ball valves, shaft seals, Schrader valves, etc.
Nylon Blue is compatible with all HFO refrigerant systems, PVE oil, and CO2.
This sealant will always remain resilient to temperature and vibration. But this tenacious fluid has a bit of petroleum odor and color.
On the other hand, Loctite Sealant has many variants based on where you will use them. But mostly all of them are made from Polyurethane. Some of the Loctite sealants are made from Polyseamseal and Silicone. But they are made from one component only.
These sealants create permanent and waterproof seals on many surfaces. They are manufactured in a way that they can seal and lock any crack pretty fast.
Nylog Blue sealant lubricant is fully miscible and works with all HFO refrigerant systems. Interestingly, it will never become dry or heat-fixed to the surfaces where you apply it.
Besides, it can effectively seal high-pressure leaks by forming a hydraulic seal in the cracks or joints.
You will get sealed flares and threaded connections by using this sealant. Most importantly, it will not contaminate the systems.
Plus, it will never cause any system failure, restrictions, and fouling. That's why industries and OEMs all around the world use Nylog Blue.
Loctite is a flexible sealant and very durable. It tolerates joint movement as high as 25%. Being completely waterproof, you can use this sealant outdoors and in highly humid environments.
Plus, you can paint over it when it becomes fully cured.
The non-shrinking polyurethane formula of Loctite sealant will resist deterioration, and as a result, it will last longer. It protects the surface from rust and corrosion as well.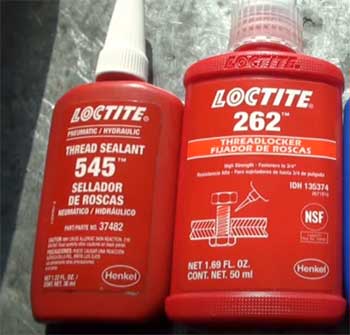 You can use Nylog Blue for a lot of applications. It can join flare and work as a threaded connector.
Nylog Blue can also be used on Gaskets. For that, you will have to apply it on both sides of the gasket.
Plus, you can also use it with tapered pipe, saddle taps, compression fittings, o-rings, etc.
In addition, it can be used as a liquid lubricant as well.
On the other hand, you can use Loctite sealant for fixing exterior and interior joints, expansion joints, precast units, vertical & horizontal joints, etc.
This high-performing sealant can fix water pipes, oil pans, light machinery, valve covers, and many other things.
You will get Nylog Blue in only one size. It's available to purchase in a 30 ml bottle. In contrast, all Loctite sealants are available in two sizes. You can choose from 3 oz. and 10 oz. tubes.
Available size becomes essential for some customers. Because some look for small sizes and some look for big ones. That's why having multiple-size options is always a plus.
Nylog Blue has a vast application temperature range. That's because it's temperature resistant. You can use this lubricant sealant between -35°F and 425°F.
Conversely, you must be careful about the temperature while using Loctite sealant. The temperature should always be above 50°F. Otherwise, it won't work correctly.
Price is a crucial factor for any product. Nylog Blue's other good side is its price. You will have to spend just $11.98 for a 30 ml Nylog Blue lubricant sealant.
On the contrary, a 10 oz. Loctite will cost you $17.48. So, you can see that Loctite sealant is more expensive than Nylog Blue.
Which Sealant Will Be Best For You?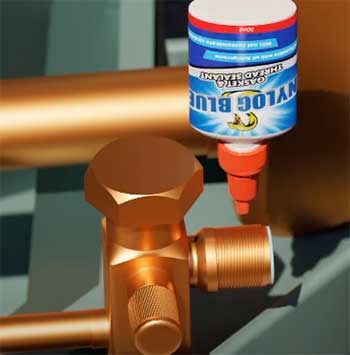 Both Nylog Blue and Loctite sealants work pretty well.
They are well-reputed because of their performance.
But as you already know, Nylog serves two purposes simultaneously: it works as a sealant and a lubricant.
So, I suggest you go for Nylog Blue.
Nylog Blue will never become rigid or heated dry, so there's no hassle of curing and drying.
Plus, this elastic fluid lubricant and sealant are compatible with all HFO refrigerant systems.
Frequently Asked Questions (FAQ)
What is Nylog blue?
Nylog Blue is a sealant and lubricant in viscoelastic liquid form made from synthetic refrigeration oil. It can seal joints and cracks on many surfaces and threaded connectors.
Can you use Nylog blue on gas lines?
Yes, you can use Nylog Blue on gas lines and gaskets. This sealant is made from refrigerant compressor oil and does not contaminate any system. So, you can use it on gas lines.
Who makes Nylog?
Nylog is a combination of sealant and lubricant in a liquid form. Refrigeration Technologies, a family-owned company, manufacture this sealant. This company makes chemical solutions for HVAC/R.
Where do you put Nylog?
You can use Nylog literally on everything. It can seal and lubricate gaskets, threads, o-rings, compression fittings, saddle taps, pipes, and everything else.
Final Thoughts
To conclude, I can say with lots of confidence that you won't face any more trouble choosing between Nylog Blue and Loctite sealant. Although both are excellent products, Nylog Blue has some edge over Loctite.
Not only it serves multiple purposes; it's even cheaper than its counterpart. So, after reading this article, I see no reason you won't go for Nylog Blue.