While the price is the same, Ninja Speedi and Ninja Foodi have quite a few differences in capacity, intelligent features, functionalities, and accessories.
Multi-cookers are a concept that has been introduced previously in the world of cooking. Putting multiple cooking applications into one machine has become popular over the years, and many appliance brands have entered the industry.
However, Ninja was one of the first brands that incorporated the air frying feature into the multi-cooker. Today, we'll compare Ninja's Speedi and Foodi multi-cookers and discuss what separates them.
Quick Comparison Table
| | | |
| --- | --- | --- |
| Specifications | Ninja Speedi | Ninja Foodi |
| Capacity | 6-qt. | 8-qt. |
| Cooking functions | 12 | 14 |
| Pressure cooking | No | Yes |
| Cooking speed | Faster | Slower |
| Accessories | Less | More |
| SteamCrisp | No | Yes |
| SmartSwitch | Yes | No |
| Doneness and protein setting | No | Yes |
| Recipe app | Yes | No |
| Cost | Less expensive | More expensive |
Key Differences Between Ninja Speedi And Ninja Foodi
The size of your family and how much you need to cook daily are essential factors here.
If we look at the total cooking capacity, Ninja Speedi can cook six qt. food at a time while the Foodi can cook eight qt.
So, Speedi is more suitable for a family of about three people, while Foodi can prepare a meal for four to five people.
Moreover, you can double the cooking capacity and cook a layered meal with Ninja Foodi thanks to the reversible rack.
More cooking functions and modes mean you have various recipes and cooking techniques to try. It also widens your scope as a home cook with a multi-cooker.
In this regard, Ninja Speedi has twelve functions, while Foodi has fourteen. While both options have almost the same number, Speedi has more polished and advanced functions that allow better cooking flexibility.
This single feature can be the decision maker in this comparison between Ninja Foodi and Speedi. While pressure cooking is considered a bit slow and old-school, it has a lot of fans out there.
Ninja decided to exclude it from their latest product Speedi, which can only steam cook. On the other hand, Ninja Foodi can both steam and pressure cook. If you love pressure-cooked food, this feature will be a deal breaker.
The whole point of a multi-cooker is to put everything in one place and make cooking faster and more convenient for you. So, cooking speed matters a lot. If we compare Ninja Speedi and Foodi, well, Speedi has speed written all over it.
If your target is a quick meal with optimal taste, then Speedi is your ideal choice. On the other hand, if you are after comparatively slower traditional cooking, Ninja Foodi is the right call.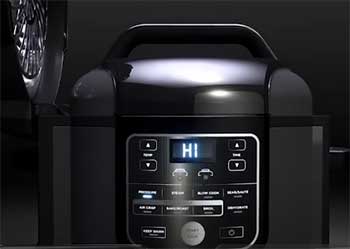 Accessories that come with Ninja Speedi and Foodi can maximize the cooking capability of these machines.
In that regard, Ninja Speedi only includes a little of accessories with it. You'll only get a crisper tray and the six qt. cooking pot.
On the other hand, Ninja Foodi comes with an eight qt. cooking pot, five qt. cook and crisp basket, reversible rack, cookbook, and, most impressively, a smart thermometer.
This monitor is a great help to accurately measure the food temperature and turn off the cooker automatically.
SteamCrisp technology of Ninja Foodi is a handy feature for cooking advanced and layered meals. Steam paired with air work inside, this feature gives your food the perfect tenderness without drying out.
Whether it's air frying, baking, or cooking, you'll see a way faster cooking result with SteamCrisp without compromising the quality. Unfortunately, Ninja Speedi doesn't have this feature as of now.
There are a ton of recipes out there that involves both air frying and rapid cooking at the same time. Thanks to the latest SmartSwitch feature in Ninja Speedi, you can switch between both modes effortlessly.
A switch on Ninja Speedi allows you to shuffle between frying and cooking in a second, according to your recipe. On the other hand, Ninja Foodi doesn't have this switch, and you need to reprogram the machine to switch between the modes.
Doneness and protein setting
Protein coking can be a massive challenge in multi-cookers since you cannot see or check them in real time. If your guesswork fails, you might end up with overcooked meals.
However, Ninja Foodi includes these impressive features of setting the doneness of proteins. Select the protein and doneness, and Ninja Foodi will cook it the way you like. This feature can be convenient for people new to multi-cookers.
Unfortunately, Speedi doesn't yet include any such feature.
Speedi is the latest multi-cooker from Ninja, and they have tried their best to add all the latest features here. That includes a killer recipe app too.
With the flexible programmability and the app, you can quickly cook various recipes with your ingredient. It's another feature that can be super handy for new people who want to experiment with a multi-cooker.
Which Ninja Cooker Will Be Better For You?
After the comparison, both Ninja Speedi and Foodi have pros and cons. If you are looking for quick and smaller meals, you'll love the Ninja Speedi. The SamrtSwitch and recipe app makes it a great option.
On the other hand, if you believe in more traditional quacking, have a large family, and want your proteins perfectly cooked, you should check out the Ninja Foodi.
Final Thought
That's a wrap for today. My comparison between Ninja Speedi and Ninja Foodi will help you determine the differences and pick the right product. Ninja Speedi is the latest multi-cooker from the manufacturer, released just last year.
Due to the upgrade features and the same price tag as the previous Ninja Foodie, it ran out of stock quickly. While there are a lot of minor differences, the purchase decision ultimately comes down to the capacity and pressure cooking ability.
But no matter your choice, your life will get much easier with these Ninja multi-cookers.