With amazing 1080p HD video and two-way audio provided by the Nanit floor stand, you can see and hear your baby without any need for mounting.
You can also do sleep tracking, breathing motion monitoring, and auto-memory capture with your Nanit floor stand.
Reading reviews written by professionals is the greatest way to get a high-quality Nanit floor stand substitute. But you might not have the time to do that.
That's why we have made things easier for you, and in this article, you will get to know about amazing Nanit floor stand alternatives.
Nanit Floor Stand Substitutes That You Can Consider
These are the alternatives I am about talk about:
Motorola PIP1510
Eufy Video Monitor
Miku Pro Smart
Chillax Baby Giraffe Cam Pro
Let's dig deep into these substitutes that will work just as fine as Nanit floor stand –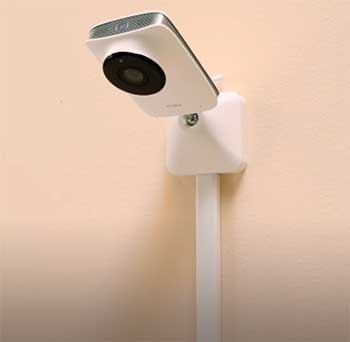 Like the Nanit, the Miku Pro is a smart monitor that records breathing and sleeps patterns information.
However, it doesn't need any wearables at all, unlike Nanit.
Its unique camera alone can monitor a baby's breathing and sleep patterns, whereas the Nanit requires a breathing band to track breathing.
You won't need any extra bands, clothing, positioning, accessories, or charging to set up Miku pro smart.
You can just set your kid in your bed, and the Miku recognizes it all. It has two-way audio that can play original sleep sounds and lullabies.
Additionally, a crypto chip is included which is a very hard-core security feature. The Miku doesn't charge a monthly fee to access sleep statistics and previous footage, in contrast to the Nanit.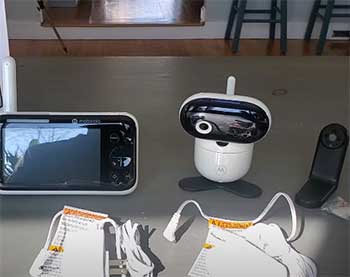 This brand-new Motorola model, introduced earlier this year, is your best option if you're searching for a plain, uncomplicated Wi-Fi-enabled monitor.
You might like it because of its three crucial aspects.
First off, it has a new and fresh design. It is black and white and looks more contemporary and streamlined than a lot of what's out there.
The 1080p camera has a rounded head and body that will make you think of the Pixar robot Wall-E. The second aspect is how super-easy and extremely self-intuitive it is to use.
You can plug it in without even reading the instructions, and it will work beautifully.
The third feature is how it may be operated via an app or the screen. The five-inch color display comes with other features like two-way talk, noise-level indicator bars, infrared night vision, room temperature monitoring, a wall mount, and five-inch color night vision.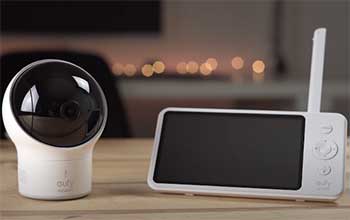 Many experts recommended the Eufy as the best non-Wi-Fi baby monitor.
It uses radio frequency to send data and necessitates both a camera and a parent unit (or a separate viewing device instead of an app on your phone).
Its parent unit is slim and light, with outstanding image quality and a simple user interface.
There is a vast contrast between Eufy and the majority of other non-Wi-Fi displays. The camera of the Eufy, which comes with a wide-angle lens attachment, can pan 330 degrees and tilt 110 degrees, and the parent unit has a five-inch screen with a generous display.
Suzie Zeldin Russell, a co-owner of the SmartSitting network for child care professionals, is a fan of the device's two-way audio.
It covers a range of up to 1,000 feet and has the capacity to link to up to four cameras. It's really simple to flip between cameras, so we can watch our baby nap while keeping an eye on your toddler in the playroom.
Chillax Baby Giraffe Cam Pro
The Chillax Baby Giraffe Cam Pro is the finest monitor you could find for parents who want both —Wi-Fi and a dedicated private channel monitor.
Among the monitors evaluated, the 1080p monitor had the best picture quality, which allows you to see minute details like if a baby is just beginning to wake up, sucking their thumb, or has dozed off.
Clear instructions made it simple to set up the portable monitor and immediately pair the camera with the app using a QR code. Despite being less expensive than the Eufy, it does not compromise on visibility, sound quality, or usage in general.
Things to Look for in A Floor Stand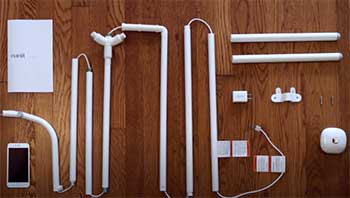 You should always consider the quality and durability of the product, brand value, and customer reviews before making any purchasing decision.
First of all, you must decide which type of floor stand you want to buy.
Then pay attention to the actual camera.
Some Wi-Fi monitors have fixed cameras, so you can't remotely pan, tilt, zoom, or make any other adjustments. And finally, compare the other features and price of the Nanit floor stands alternatives to find the right one for you.
Frequently Asked Questions (FAQ)
Can I use Nanit without a stand?
No, your Nanit camera must be mounted high on a wall or floor stand to follow your baby's sleep habits. Otherwise, the Nanit camera can not monitor your baby properly.
Is Nanit being discontinued?
Yes, the original one is discontinued. Despite being discontinued, Nanit is still for sale. The camera offers decent picture quality and records in 1080p. Overall, not many modifications have been made between the first generation Nanit, the Nanit Plus, and the Nanit Pro.
Can you use Nanit without wall mount?
No, your Nanit camera must be mounted high on a wall or floor stand for Nanit's algorithms to follow your baby's sleep habits.
Can Nanit be mounted at end of crib?
No, due to the Nanit app's strict alignment requirements, the camera must be placed in the center of the crib on a long side.
Final Words
A baby monitor is one of the top items on a checklist for new parents. A floor stand can be extremely helpful for parents' mental well-being and sleep-training efforts.
What baby monitor is best for you depends on your lifestyle, personality, and parenting approach.
However, with so many alternatives available – from audio-only monitors, to Wi-Fi-enabled ones, it might be difficult to pick the one that's best for your family. We hope this guide on alternatives to the Nanit floor stand could narrow down the options for you to choose the perfect floor stand.