The companies Midea and Mitsubishi have both stood out as remarkable options when in search of a reliable mini-split. It's a fact that each of these companies performs with great service, but nonetheless, it's important to compare before making a purchase.
Mitsubishi has existed for a greater length of time and has built a better reputation. Midea on the other hand has also set a good mark and is growing exceptionally.
Let's look at a comparison analysis to know more.
A Quick Comparison Table
| | | |
| --- | --- | --- |
| Specifications | Mitsubishi | Midea |
| Price | Higher | Lower |
| Noise | Average 32 decibels | Average 42 decibels |
| Dual Filtration for Dust | Available | Available |
| Filter Technology Type | Nano Technology | Micro Technology |
| Total Filters | 3 | 2 |
| Popularity | More Popular | Less Popular |
| Infra-Red Sensor | Unavailable | Available |
Key Differences Between Mitsubishi And Midea Mini Splits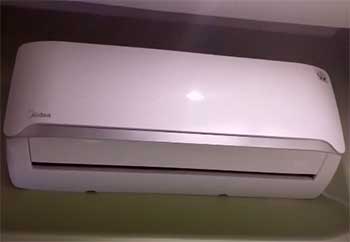 Budget is obviously very important when making a purchase.
It makes you wonder if a product is worth the extra bucks if you can find a cheaper and decent alternative.
Mitsubishi offers from low to high price ranges and the specs vary respectively, the more cash value, the more technology is added to the device.
But if you're on a tight budget or think that the offered basic specs are decent enough to go on with, then Midea is the way to go.
It's like this, the lowest average price range offered by Mitsubishi is around the highest for Midea. So, if you've got a tight budget, an affordable Mitsubishi product or high-end Midea is perfect!
We're all familiar with the slight sound heard when a mini-split is switched on. This is hardly ever a disturbing sound but thanks to technological advancement even that low volume can go lower.
Mitsubishi has managed to ensure a low average of 32 decibels which is only as loud as a whisper!
Midea promises an average of 42 decibels which is still quite soft but comparatively not as soft as Mitsubishi.
The sound produced by Midea mini splits won't be unbearable in any way, but this comes down to whether you would like something with a lower noise value.
Both companies offer dual dust filters!
Both brands are in perfect sync with this matter since this is something so important. Frankly speaking, in this modern era of technology, there is hardly any brand that doesn't have dual filtration technology.
Since both brands offer dual filters, now it just comes down to which type of filter they use.
Mitsubishi has advanced to nanotechnology for their filters while Midea is still as microtechnology.
As a result, Mitsubishi offers comparatively better filtration.
Midea's micro technology isn't bad, it's just generic on a comparative basis. On its own, it is genuinely swell.
The filter does the same job quite well for both brands, the extra filter in Mitsubishi just means it's a slight step ahead.
But if you think you want the space to be as filtered as possible then go for Mitsubishi. However, if the priority isn't too strong and adaptable then Midea will do a fine job.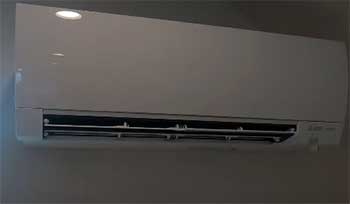 Both offer dual filtration, but the difference is that Mitsubishi also comes with a triple-allergen filter for further removal of harmful particles in the air.
This feature can be a game changer, but this comes down to whether this bonus is worth the extra price.
Since this innovation is still new and fresh it is still considered a luxury benefit.
Even if Midea doesn't include this yet in quantity, they make up for it in the quality of their available filters. The 1st dust filter removes large dust filters while the 2nd active carbon filter handles the removal of smaller harmful particles.
Mitsubishi entered the market earlier and has set a benchmark thus is more popular and reliable in the eyes of many. It is simply more preferred based on that.
Midea has yet to reach that epitome of fame, but despite its lacking in popularity they have performed excellently over the years and have won several awards for its exceptional product service.
Henceforth, Midea mini splits are advancing well enough to be a good and reliable purchase.
Midea offers infrared sensors for their mini splits, unlike Mitsubishi.
The sensor allows the mini-split to detect the presence of a person in the, it switches to waiting mode when no one is in the room and goes back to the auto-restart mode when someone enters.
This is quite convenient and eco-friendly as it ensures that energy is utilized precisely when needed. This nifty feature plays a significant role in reference due to its environmentally friendly focus, plus will gradually change the temperature of the room which is easier to adjust to.
Frequently Asked Questions (FAQs)
What is best brand of mini split?
Preference is a strong factor here; it depends on what you're needs are. But with reference to this article, Mitsubishi ranks higher.
Is Mitsubishi mini split the best?
One of the reputably best ones out there, yes. Since it is a well-known brand, most people easily turn to it, hence on that basis, one wouldn't be completely wrong to assume that it is one of the best.
There are of course other great mini-splits of other companies (like Midea!).
What are the top 5 mini split systems?
1. Gree Vireo Gen3 (single zone)
2. Carrier Infinity (single zone)
3. Fujitsu Halcyon (single and multi-zone)
4. Daikin Aurora (single and multi-zone)
5. Mitsubishi Hyper Heat Systems (single and multi-zone)
Are Mitsubishi mini splits reliable?
They are 100% reliable! Mitsubishi mini splits keep improving their device technology to function with efficiency. Despite not being the most affordable brand on the market, the price they put is worth the purchase.
Conclusion
Through this article that debates the comparison in the battle of Midea vs. Mitsubishi mini split, I would recommend giving Midea a shot, especially if you want something budget-friendly.
Mitsubishi has dominated the market with innovative features, but Midea isn't underperforming.
If you want something high-end and additional features, Mitsubishi is a suitable choice. But if you're fine with great performance, and simplicity and want to save more money, Midea is the best choice to rely on.